for ISKCON News on April 26, 2017
ISKCON of Washington D.C. and ISKCON Communications are supporting the massive People's Climate March in the U.S. capital this Saturday April 29th, and will be sending devotees to attend.
The march will be held on the 100th day of the new Trump administration in protest of the parts of his agenda which organizers say are disastrous to the environment. Devotees attending, of course, are not supporting one political party or another but are there to support Mother Earth.
ISKCON Communications Director Anuttama Das and Bhumi Project Director Gopal-Lila Das will be among those participating in the historic march, which was organized by the World Wildlife Fund, Greenpeace, Green Faith and others.
A previous march organized by the same coalition of organizations in New York in 2014 drew an astonishing 400,000 people, so there's no telling how many will turn up this time.
Participants will be made up of eight different contingents, each one representing several different communities affected by climate change.
These will include indigenous peoples, environmentalists and climate activists, immigrants, labor unions and government workers, scientists, and educators. One contingent called "Guardians of the Future" will be made up of children, parents, elders, youth, and students.
ISKCON will be part of the "Keepers of Faith" contingent, which will include representatives of all major faiths in North America. Their motto is "All faiths respect the earth. Stewardship of our planet is a moral duty."
Any ISKCON devotees who wish to participate are invited to join the Keepers of Faith, who will be assembling at 3rd Street NW between Madison Drive and Jefferson Drive, immediately in front of the U.S. Capitol Building. Devotional dress is encouraged. Some devotees will be leaving the march by 2pm to join the main ISKCON Baltimore temple opening events starting at 4pm – so participation will not conflict with that celebration.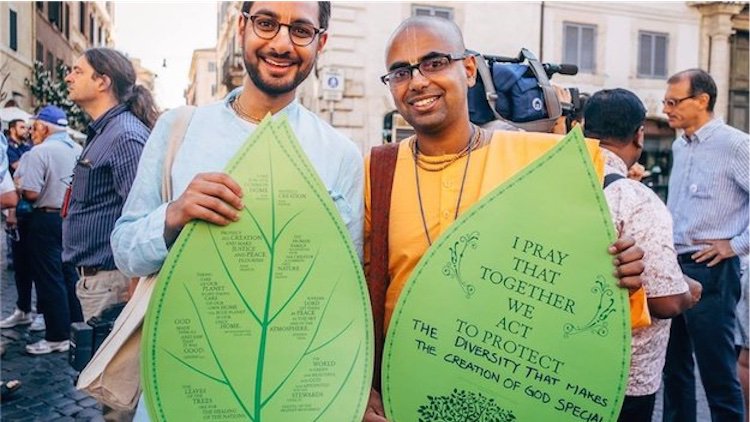 The march will start at 11am outside the Capitol Building in Washington D.C., make its way up Pennsylvania Avenue, and then surround the White House and sit down for a two-minute silence.
Protestors will then head down to the Washington Monument. There, at 4pm, there will be musical performances and speeches about how the participating communities can help with solutions to the climate crisis. The event will conclude at five o'clock.
Gopal-Lila Das, an ISKCON devotee and Director of the Oxford Centre for Hindu Studies' Bhumi Project, explains that most of the world is moving towards more renewable energy and away from fossil fuels. U.S. President Donald Trump's policies, however, push for increased coal production and fossil fuel useage; while his cabinet includes strong climate change deniers and people who have worked in industries that are primary causes of climate change.
The People's Climate March hopes to demonstrate to Trump that climate change is something that the American public care very deeply about, and want him to seriously address.
As far as ISKCON devotees are concerned, Gopal-Lila says that while Srila Prabhupada may not have explicitly discussed "climate change" – a phrase which wasn't in use in his time – our tradition's practices are very earth-honoring, with principles to live simply, have a vegetarian diet, and not over consume.
"It's important for ISKCON devotees to take opportunities like this to engage on our doorstep with something that's a significant concern of our country," he says. "We need to take outreach opportunities like this to show our relevance to the wider world. Because we have a lot to offer."
For more information visit https://peoplesclimate.org
[
bhumi-project
] [
climate-change
] [
environment
] [
gopal-lila das
]