for ISKCON News on Jan. 21, 2019
In 2016, ISKCON centers all around the world celebrated the 50thanniversary of the society's incorporation on July 13th, 1966 by Founder-Acharya Srila Prabhupada. Now, ISKCON UK is set to celebrate the 50thanniversary of its own incorporation, a story which has itself long been ISKCON legend.
Throughout 2019, already-scheduled festivals like London Rathayatra, Janmastami, and 24-Hour Kirtan will be given a UK 50 flavor. But to avoid the internal "50thennui" that occurred during 2016, most of the energy will be focused on just one discrete month packed with events.
The month will run from August 15thto September 15th, the actual date of ISKCON's incorporation in the UK. Events will all be tied together with a "pioneer" theme.
"Our message to our congregation and to the media is that ISKCON is a movement built by pioneers," says UK National Communications Director Mina Sharma. "If you look back 500 years, Chaitanya Mahaprabhu was a pioneer, trying to bring the Holy Name to every town and village. And after Him the six Goswamis, Bhaktivinode Thakur, and Bhaktisiddhanta Sarasvati, were all pioneers in their own right – as well as of course Srila Prabhupada, who started ISKCON."
ISKCON in the UK was also started by six pioneers, sent by Srila Prabhupada: Mukunda and Janaki, Shyamasundara and Malati (with their baby Sarasvati), and Gurudasa and Yamuna.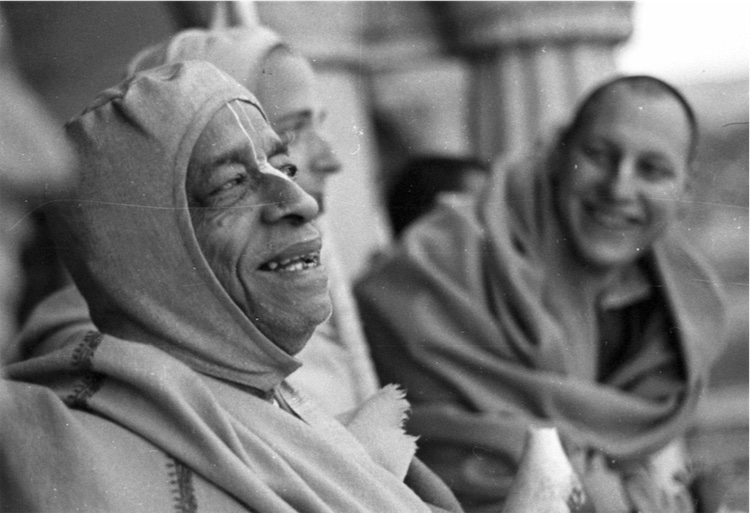 Gurudas with Srila Prabhupada
The group of friends came to the UK in 1968 with faith in their guru and the Lord, and pulled off the seemingly impossible. In December 1968 they befriended The Beatles, the biggest band at the time and still the best-selling band of all time today.
Within a year, John Lennon opened up his home, Tittenhurst Estate, to Srila Prabhupada and the devotees. George Harrison helped them open a center and produced the Radha Krishna Temple album on the Beatles' Apple Records. Two singles from the album, Govinda and Hare Krishna Mantra, quickly rose to the top of the British charts, leading to devotees appearing on Top of the Pops and turning Hare Krishna into a household phrase.
George Harrison also donated money to pay for the printing of the book "Krishna: The Supreme Personality of Godhead," and in 1973 donated Bhaktivedanta Manor to ISKCON.
"As devotees, we've heard the story so many times," says Mina. "But the general public hasn't been told. So telling that story in the media is another element of our focus."
Along with the story, Mina is also in talks with the Times newspaper to feature previously unseen photos of George Harrison and the devotees. And she will release to the media a recreation of The Beatles' iconic Abbey Road album cover, with celibate monks – brahmacharis – in saffron crossing the road instead of The Beatles.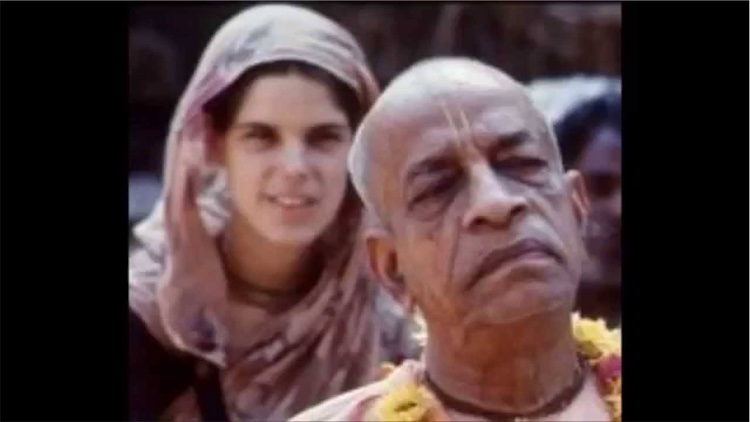 Malati Devi with Srila Prabhupada
This will also all tie in to the month of events planned from August 15thto September 15th. For instance, ISKCON will partner with the School of Oriental and African Studies (SOAS) in London to host a keynote event.
At the event, aimed at a Western audience, some of the original pioneers will share the story of how they brought Krishna consciousness to the UK and befriended the Beatles. In addition an academic lecturer will give an anthropological view on the history, how ISKCON has changed over the years, and the contribution that ISKCON has made to the UK.
During the event a UK 50 photobook will also be launched, depicting the past fifty years of history, but also going back 500 years to Sri Chaitanya Mahaprabhu, and 5,000 years to Lord Krishna to show that ISKCON is not just a new movement but is rooted in ancient history. The photos from the book will be featured in a pop-up exhibition that will tour the UK.
UK 50 organizers also hope that bringing new focus to the pioneering mindset of Srila Prabhupada and his early disciples will inspire devotees to take on a similar mindset today.
"Our tagline is 'Be a Pioneer: Do Something Extraordinary,'" Mina says. "So this year we're inviting every devotee in the UK to become a pioneer and take ISKCON UK forward for the next fifty years. To think, 'What can I do in my own temple or my own city as an offering to Srila Prabhupada?' If there's a project you've always wanted to do, this is the year to do it!"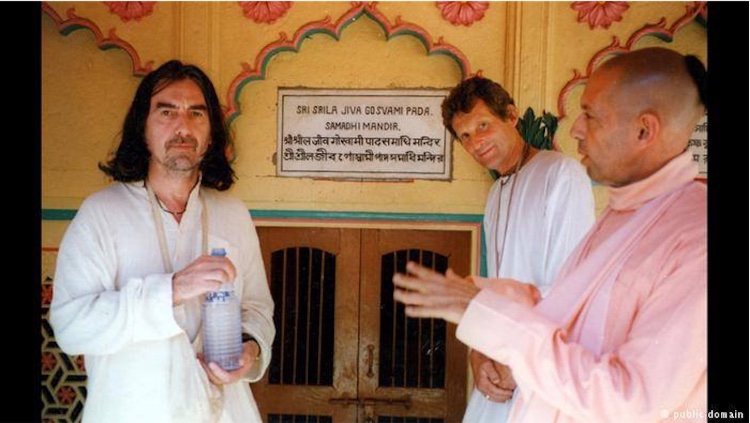 George Harrison with Shyamasundar Das and Mukunda Goswami in Vrindavan
In addition, during one day dubbed 'The Hare Krishna Experience," all ISKCON centers in the UK will be encouraged to host an event showcasing their speciality. ISKCON Birmingham, for instance, could showcase the kirtans it is especially known for; Leicester its historic building and outreach work with the College of Vedic Studies; and London its presiding Deities of Sri Sri Radha Londonisvara, installed by Srila Prabhupada himself.
All these events will happen simultaneously across the UK, along with simultaneous Harinama and cupcake distribution.
"We're going to try and create a buzz on social media, with photos," Mina says. "There will also be an opportunity to 'Meet a Monk.' We just want to showcase everything that we're really good at as a movement, and give people a chance to immerse themselves in Hare Krishna culture."
Also tying in with the fact that three of the pioneers Srila Prabhupada sent to the UK were women – he chose grihasta couples instead of brahmacharis – will be the launch of a new initiative called Devi, focused on the empowerment and protection of women.
The project will empower and encourage women to be part of management teams in ISKCON centers across the UK. It will also provide legal advice and help for women in dangerous situations such as abusive relationships.
Devi will be launched at another event at SOAS, where a diverse group of Vaishnavis of different backgrounds, ethnicities, ages, and professions will each give a ten-minute presentation sharing their own experiences within ISKCON and offering their thoughts and suggestions.
"ISKCON is a movement built by pioneers - from Lord Chaitanya to Srila Prabhupada himself, our very foundations are crafted from that pioneering spirit and desire to do something extraordinary for Krishna," reflects Mina Sharma. "We are celebrating ISKCON's 50th UK anniversary this year, and are looking back at the incredible achievements of the past years as well as forward to setting a new legacy for the next fifty years. I'm really inspired about the year ahead and the exciting things to come - our pioneering days are now."
* * *
For more information, please contact Mina Sharma at mina@krishnatemple.com
ISKCON UK 50 video: https://www.youtube.com/watch?v=cPoeyxgfIuA&fbclid=IwAR3mevtGLubUcV_RKihDU3tzwGFaUv6J6oKPlyJeDCHXyLP-1tNnVhTWbuk
[
iskcon50
] [
london
] [
uk
]