for ISKCON News on Sept. 26, 2016
As part of the ISKCON50 program series, Vaishnavas in Hungary organized a two-day national book distribution event, taking place at different locations of the country. The book distribution was coordinated by the two main centers -- the by the ISKCON temple in the capital city Budapest, and the internationally well-known farm community, Nava Vraja-Dhama.
During the two days, 36 participants from the farm sold 619 books, while the 195 devotees on the streets of Budapest distributed 2,650 books.
Devotees who had never distributed books before, or had not taken part in sankirtana for a long time were also involved. The distributing spots were set up on central squares or locations where the inexperienced participants could work together and encourage each other, while others with more experience took part in the mission by going out in small groups of two or three.
One of Radhanatha Swami's Indian disciples, Sarodha Dasi visited Hungary right during the Sankirtana Days. Although her knee had been operated shortly before, hearing that devotees were going out for the pleasure of Srila Prabhupada, she enthusiastically decided to join them for an hour. Eventually she spent the whole day outside encouraging others with her attitude to such extent that at the end of the day she needed helping hands to get her in the car due to her health condition.
One morning devotees received some of Tirupati Balaji's maha-prasada that was a present from Sivarama Swami. One of the ladies, Prema-keli had a convincing thought for a second that there would be good results by Balaji's mercy that day. Later, while distributing books, she approached an Indian couple who were very kind and contributed to the endeavor of ISKCON Hungary with a nice donation. They even signed the donor's sheet where Prema-keli read the name with a great surprise: "Balaji".
The two-day program ended with a festival including stories, reports, feast, and a great kirtana in both centers. By distributing Srila Prabhupada's life-changing books, devotees' wanted to express their gratitude for Him in a very appropriate way. At the same time, it was a good opportunity to get prepared for the upcoming Srila Prabhupada Marathon in December.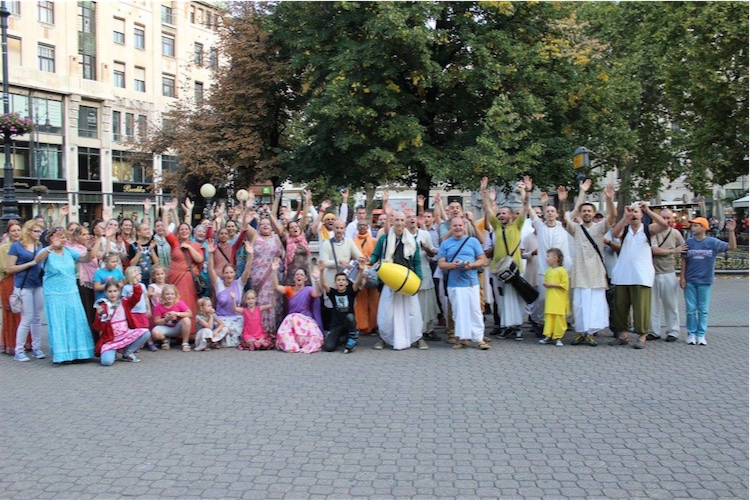 "Once you come to Krishna Consciousness, you actually see how crummy the world really is, how really contaminated things are, how envious people are, and how horrible material life is. You can see that. You do not feel that you yourself can change it, but you feel that whoever gets one of Prabhupada's books and looks at it will be changed in a spiritual way. There was no question about it. We also felt a big change would come in the world in the future as Krishna Consciousness spread. Prabhupada also said that if people just touch one of these books their lives will change. Our faith was in the books and Srila Prabhupada." (Prabhupada Book, Chapter 7)
[
book-distribution
] [
budapest
] [
hungary
] [
krishna-valley
] [
new-vraja-dhama
] [
sankirtana
]