for ISKCON News on March 30, 2018
Throughout this year, ISKCON New Vrindaban is reaching out to local leaders, neighbors, congregation, and both present and past residents to celebrate its 50th anniversary.
New Vrindaban, established in the rolling hills of West Virginia in 1968 at the behest of Srila Prabhupada, is a unique place. It's ISKCON's very first farm community, and the first cow protection program in the Western World.
It was specifically defined by Srila Prabhupada as a place of pilgrimage, non-different from Vrindavan Dhama in India. And it was founded upon his direct instructions about spiritual rural living.
Today, New Vrindaban is a vast property covering over 2,200 acres including private devotee homes. It has 200 residents on site, and receives 30,000 visitors a year.
Many are tourists drawn by Srila Prabhupada's Palace of Gold. A smriti Samadhi, or memorial shrine, it is the only Samadhi to Srila Prabhupada in the Western World.
The first of New Vrindaban's 50th anniversary events – the Golden Jubilee Appreciation Festival -- was held on the weekend of March 24th and 25th. Around 65 to 70 families, all donors who have supported the community for many years, were honored.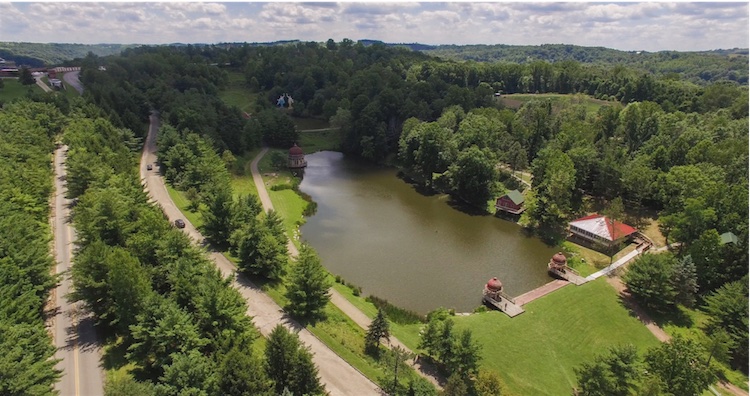 New Vrindaban today is a beautiful place of pilgrimage covering 2,200 acres
The first day of the festival included a morning parikrama to the many holy places recreated in New Vrindaban; a fire yajna; time with the cows; speeches thanking the donors; and entertainment featuring kirtan, drama, and dance.
A new film about New Vrindaban's history and Srila Prabhupada's instructions for it, by second-generation professional film-makers Abhay and Halava Sofsky, was also shown.
The next day, Lord Rama's appearance day, was filled with lectures, abhisekha, storytelling, kirtan and feasting.
A second donor-appreciation event, on April 21st and 22nd, will honor even more congregation members with similar devotional activities.
Next on May 17th, political, religious, educational and business leaders from the area will be invited for a two-hour VIP program. Taking place in the recently built yoga-shala with floor-to-ceiling windows overlooking the Kusum Sarovara lake, it will include speeches and a dinner amidst the beautiful flora and fauna of New Vrindaban.
"Our goal is to create relationships with them, show them some of the history of our community, and tell them where we are at and where we plan to go," says president Jaya Krsna Das.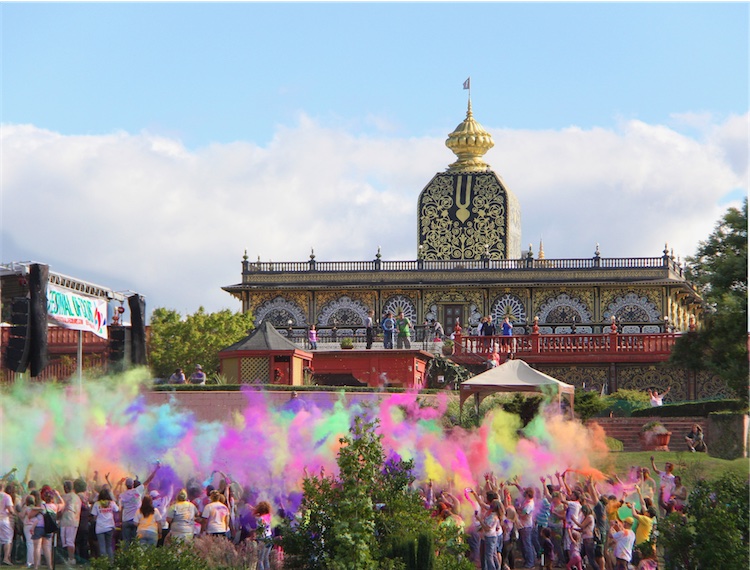 A recent Festival of Colors at New Vrindaban
On July 22nd, meanwhile, 600 to 700 members of the public from the Ohio Valley area are expected for an Open House Festival. In a neighborly gesture designed to build relationships, there will be a full day of New Vrindaban tours, entertainment, kirtan, meditation, yoga and prasadam. There will also be a full schedule of activities for children of different age groups, such as Krishna conscious art projects, time with the cows, and more.
Finally, the 50th anniversary events will conclude with a three-day Golden Jubilee Festival for previous and current residents of New Vrindaban from September 28th to 30th.
"It will be a celebration of the achievements and sacrifices of the past, honoring the devotees who brought us so far," says Jaya Krsna. "We hope to welcome about 500, and are working on a sponsorship fund so that we can pay their travel money to attend."
Senior devotees who will be invited but are not yet confirmed include Radhanath Swami, Devamrita Swami and Chandramauli Swami.
A major part of the festival will be a visit to Old Vrindaban, where the community was focused in its early days, and where Prabhupada spent 32 days in May/June 1969. While there, devotees will share stories of New Vrindaban history, and particularly of Srila Prabhupada's instructions and their exchanges with him during his four visits in 1969, 1972, 1974, and 1976.
Throughout the festival there will be much chanting, dancing, feasting, storytelling, and association. "A lot of the previous residents have not been here for many years," says Jaya Krsna. "So it's a chance for them to spend time with the current residents and reinforce their friendships."
After this year of celebration, New Vrindaban will be stepping into the next fifty years. So what will they hold?
"I would say that we have only touched on Srila Prabhupada's instructions for New Vrindaban, which focus on five primary areas: cow protection, self-sufficiency, holy pilgrimage, spiritual education, and above all, Loving Krishna," says Jaya Krsna. "The next fifty years are there to really implement them, and to come closer to his vision."
"For instance, he asked us to make the whole of West Virginia Krishna conscious – so outreach is an important factor to expand. Of course, our internal development is too – we hope to grow together, develop our relationships, and deepen our Krishna consciousness."
[
farm
] [
new
] [
vrindaban
]