for ISKCON News on Feb. 5, 2016
Italy's ISKCON 50th anniversary celebrations commenced on November 25th, 2015 with the planting of a sacred Banyan tree in the historical garden of Piazza Vittorio in Rome.
The Bhaktivedanta Cultural and Educational Library donated the tree to the city of Rome on the occasion, which was auspicious as it was also the 500th anniversary of Sri Chaitanya Mahaprabhu's arrival in Vrindavana.
Even more auspicious was the fact that the tree was originally brought to Italy in 1997 from Yoga Pitha, Sri Chaitanya Mahaprabhu's birthplace in West Bengal.
The Superintendent of Rome's public parks Dr. Alessandro Mori presided over the planting of the tree, along with Dr. Massimiliano Polichetti, Director of the National Museum of Oriental Art.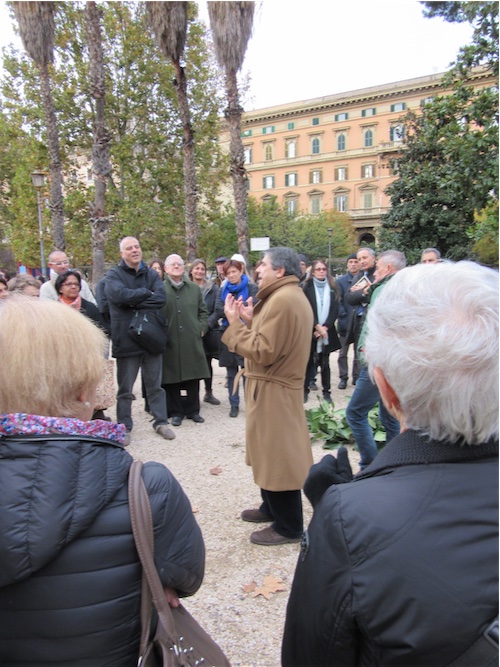 Dr. Massimiliano Polichetti, Director of the National Museum of Oriental Art, speaks
Mr Massimo Livadiotti, president of Respiro Verde Legalberi – an urban greening organization -- was also present and acted as the coordinator of the event.
The tree was planted along with a commemorative plaque reading: "Dedicated on the 50th anniversary of ISKCON, International Society for Krishna Consciousness (New York 1966), Founder-Acharya A.C. Bhaktivedanta Swami Prabhupada."
The event included kirtan, an arati ceremony and distribution of prasadam in the form of herbal tea and cake.
Next, ISKCON Italy is soon set to start participating in the ISKCON 50/50 campaign, by encouraging each member of its devotee congregation to distribute at least one of Srila Prabhupada's books a week throughout the year 2016.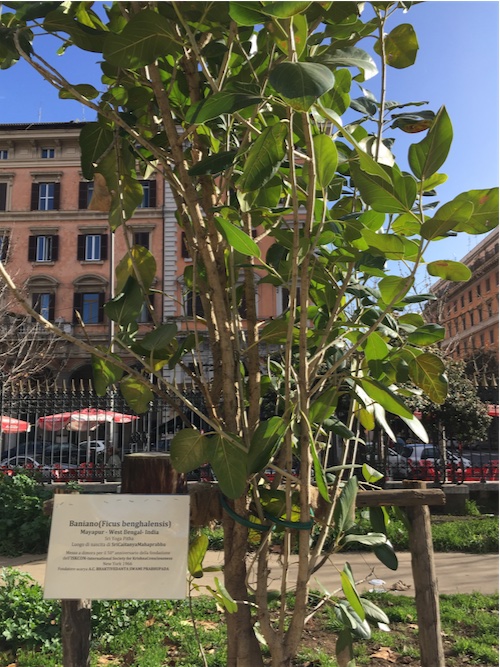 The banyan tree with its plaque commemorating ISKCON's 50th anniversary
"Our Travelling Sankirtan Party of brahmacharis dedicated to full-time book distribution has also promised to increase their efforts this year," says Villa Vrindavana temple president Parabhakti Das. "And in Rome, devotees have a program where they place books in hospital waiting rooms, railway stations, prisons etc; and they plan to find 50 new places in 2016!"
Meanwhile, Villa Vrindavana – located near Florence – plans to hold 50 Harinamas in 50 different Italian cities. Its new Museum of Sacred Art will begin its official season this March. And Parabhakti is working on an ISKCON 50 event for the Italian Parliament this fall.
"It will be an official presentation of ISKCON and Srila Prabhupada," he says.
[
italy
] [
rome
]