for ISKCON News on July 24, 2016
On Sunday, 17th July, London witnessed its 48th Rathayatra festival in the heart of Central London. Their Lordships, Lord Jagannath, Lady Subhadra and Lord Baladev from ISKCON-London were carried in three beautifully decorated wooden chariots. In celebration of ISKCON's 50th anniversary the chariots also carried the "ISKCON 50" logo.
The journey commenced from Hyde Park corner. The chariots bearing the bedecked deities were pulled by hand in a joyous procession of exultant devotees with much euphoric chanting, mesmeric swaying and dancing. The Divinities were carried with all the attendant pomp and circumstances along some of London's most famous spots, including Park Lane, The Ritz, Piccadilly Circus, and Nelson's Column.
Devotees from all parts of the UK came to celebrate what is heralded as one of UK's biggest Rathayatra festivals. They were joined by many sanyasis including Atmanivedana Swami, Bhakti Rasamrita Swami, Janananda Goswami, Kadamba Kanana Swami, Mahavishnu Swami, Prabhodananda Sarasvati Swami, and scores of senior Srila Prabhupada's disciples from across Europe.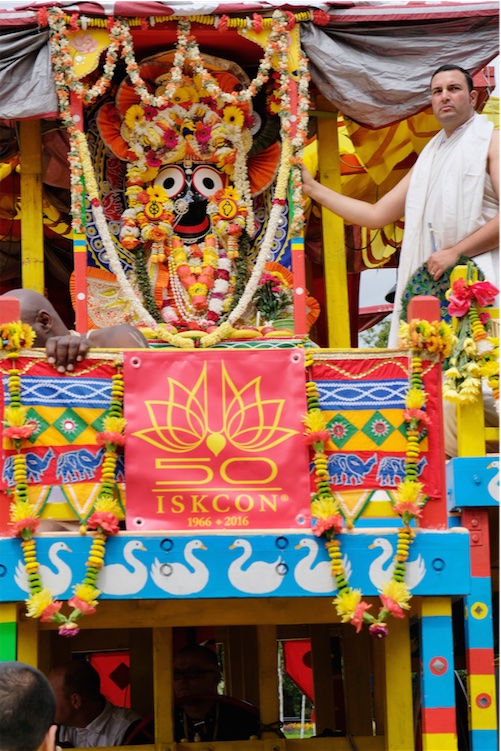 The 50th Anniversary logo on Jagannath's chariot
The colourful pageant culminated at the city's iconic Trafalgar Square. The square was bustling with activity as it greeted the magnificent chariots of Their Lordships. Chanting and music filled the air with a festive atmosphere. On the main stage bhajans were led by Ananda Monet, Jahnavi Harrison, Gopibhava devi dasi and disciples of Srila Prabhupada. The onlookers were entertained by a beautiful Odissi dance performance by Avatari devi. Stalls for yoga, mantra meditation, spiritual literature, and face painting stalls were also set up as part of the festivities.
The story is told that as a boy in Kolkata, Srila Prabhupada longed to have a cart of his own to perform his personal Rathayatra. He asked his father Gour Mohan to have one made for him. But it would cost too much to make. Srila Prabhupada left the carpenter's shop in tears – his dream unfulfilled. Returning home, they were accosted by a sympathetic old woman who asked the lad why he was crying. Gour Mohan explained that the boy wanted a Rathayatra cart but they could not afford it. "Oh! I have a cart," said the woman. She then sold her cart to Gour Mohan. Srila Prabhupada was ecstatic. With great enthusiasm he planned all the festival programmes. Under the able leadership of his sister Bhavatarini, he got his friends to help him with the celebrations. He also convinced mothers in the neighbourhood to cook special meals for distribution. (This incident was narrated by Satsvarupa dasa Goswami in his well-researched work, "Srila Prabhupada-lilamrita".)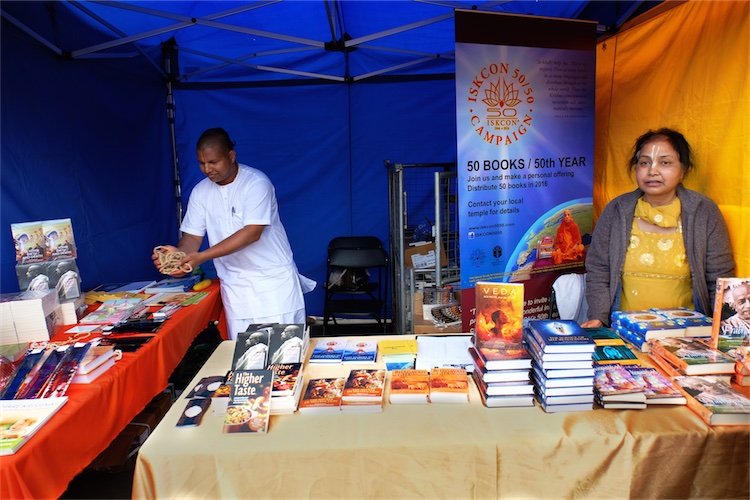 The 50th Anniversary booth
In a very important way the festival was also a reverential tribute and thanksgiving to Srila Prabhupada who brought this - his favourite - community event to the West. There was a special 50th stall with an exhibition storyboard tracing the history of ISKCON from the appearance of Lord Krishna and Srimati Radharani some 5000 years ago, arrival of Lord Caitanya Mahaprabhu 500 years ago and the advent of the Hare Krishna movement in the west 50 years ago. Of particular interest to the devotees and onlookers alike were the information panel showcasing the achievements in the last 50 years, bookmarks, 50th magazines, and activities intended to raise awareness and stimulate interest in the movement amongst the public.
Srila Prabhupada disciple Stritama devi dasi who managed the stall on the day shared her experience in these words: "The 50th Anniversary of ISKCON was celebrated at London Rathayatra, with a picture display of all the accomplishments and the 50th anniversary colour magazine. Passers-by were amazed by what has been established by ISKCON and were more than happy to take the souvenir magazine home. Many asked me how many years I have been with ISKCON and I was honoured to tell them 41. The que for the free feast also saw the beautiful display. All in all, it was a great success and I was happy to have been of some service."
Visitors also enjoyed a free delicious vegetarian feast prepared at Bhaktivedanta Manor. Over 20,000 plates of this wholesome meal were distributed. The festival ended with an energetic kirtan rendered by the Hare Krishna Festival devotees.
[
london
] [
ratha-yatra
] [
uk
]