for ISKCON News on June 16, 2017
ISKCON devotees in Johannesburg, South Africa, have shown their unwavering determination to serve Srila Prabhupada and Krishna.
Last October, brahmachari Narottam Das and his friend Mukharavinda Das walked an incredible 654 kms from Johannesburg to Durban to raise funds for a new Sankirtana bus so that their Brahmachari ashram could bring Prabhupada's books and the Holy Name to people.
The journey, which took them eighteen days, saw them walking alone with no supporting vehicle through baking sun and torrential rain.
When the walk didn't raise enough funds to purchase their Sankirtana bus, they didn't give up but pressed on with their campaign, hoping someone would feel inspired enough by their efforts to help.
Devotees and well-wishers, including several ISKCON leaders and gurus, stepped forward and finally after eight months, Johannesburg brahmacharis purchased a 17-seater VW Crafter minibus in May.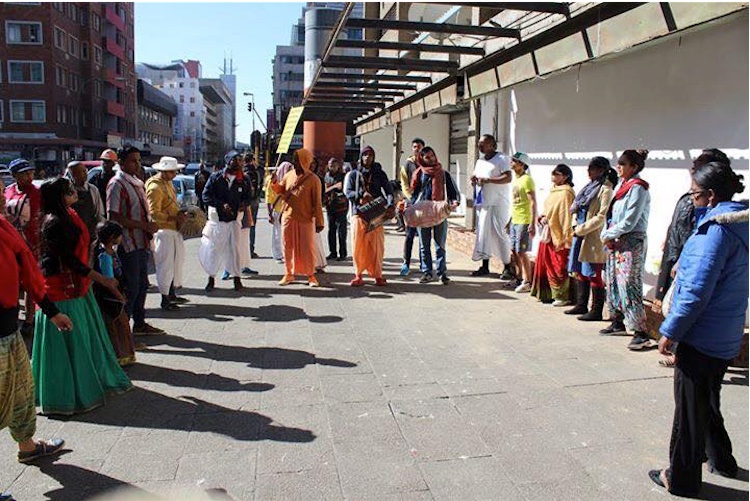 On Harinama with devotees and students
During the week Narottam and other brahmacharis run a Bhakti-Yoga Society at the University of Witwatersrand (WITS) in Johannesburg. On Friday nights they use the new minibus to bring interested students back to the Johannesburg temple. Then over the weekend they bring a crew of 17, including temple devotees and university students, out in the minibus to do Harinama and book distribution.
So far the team has visited townships like Soweto and Sharpeville as well as nearby cities in the Northwest Province like Hammanskraal, Mafikeng and Rustenburg. Everywhere they go they bring a colorful, joyful presence as they chant, dance and distribute books and Back to Godhead magazines.
Throughout the weekend they pick up and drop off people in the different townships who want to participate.
Once a month, they chauffer students from the University of Witwatersrand to the Johannesburg temple for a special "Evening of Inspiration," then drive them back after the program.
"Between 40 and 60 young people attend the program, which is vibrant and full of life," says Narottam. "Our next one will take place on July 1st, 2017. We are busy working on more exciting plans to grow the program and make it more appealing and colorful to the younger generation."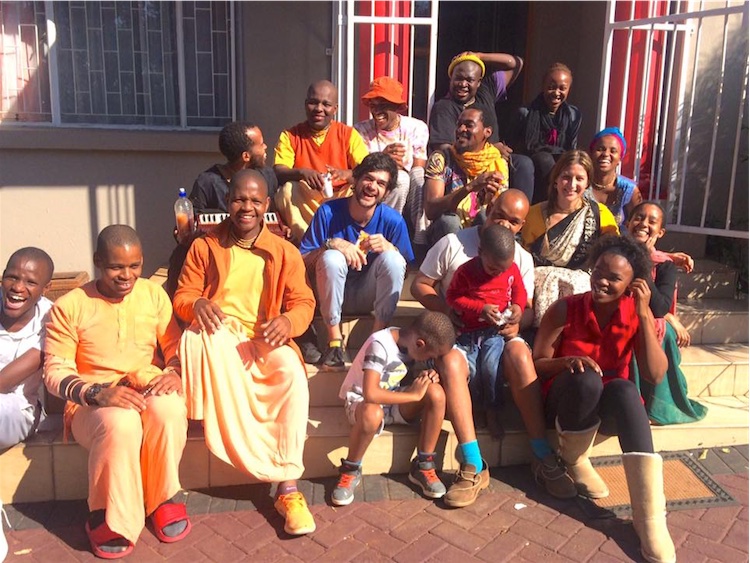 Staying at a supporter's home while on the road
Plans are also currently underway to visit other parts of South Africa beyond the Northwest Province, and to brand the Sankirtana bus to make it recognizable. Devotees also want to purchase a trailer, mini-tent, and foldable tables and chairs so that they can hold festivals at every township.
Narottam expresses his deep appreciation for all those who helped by contributing to the new minibus. He says it gives the Johannesburg brahmacharis inspiration and purpose and sets up a direction for the future.
"More and more devotees and students are now eager and excited to come out for Harinamas and book distributions than ever before," he says. "They always ask us questions like 'When is the next Harinam?' and 'Please let me know in time!' There is a lot of excitement and a feeling of achievement amongst the older and younger devotees and students."
[
johannesburg
] [
south-africa
]