for ISKCON News on Dec. 15, 2017
Beloved kirtaniya and Prabhupada disciple Agnideva Das has been discharged from hospital and is on the road to recovery, causing devotees around the world to breathe a sigh of relief.
During a kirtan tour of Australia and New Zealand, Agnideva was rushed to the hospital in Sydney on October 14th with a lung infection and very low oxygen levels.
When he began coughing and spitting up blood, doctors placed him in an induced coma to stabilize his condition, as well as on a ventilator to assist his breathing.
After an angiogram, he was found to have a faulty Mitral Valve in his heart, as well as a clogged LAD artery (the main artery serving the heart), and another smaller blocked artery.
Agnideva received double bypass surgery, and was then kept in an induced coma for some time. Just over a week ago, he was moved from the hospital to a rehabilitation center, where he received 5 hours of physiology therapy per day.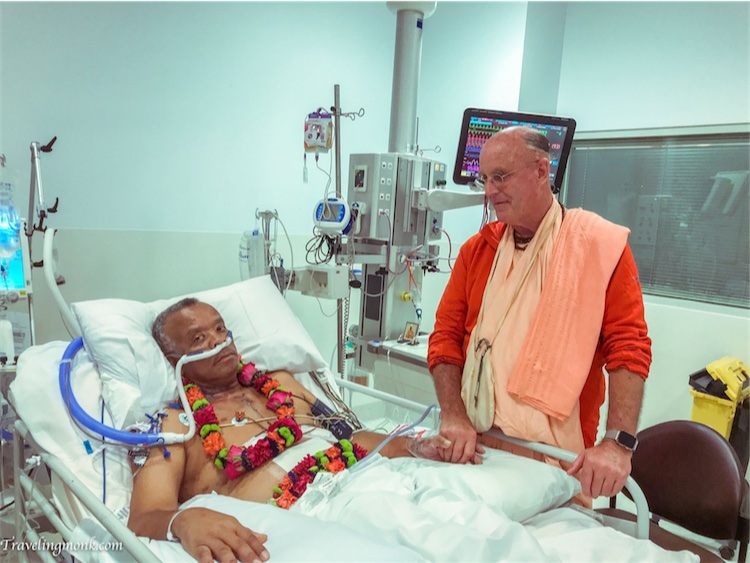 Indradyumna Swami visits Agnideva in hospital
On December 12th, his physiotherapist announced that he could walk unaided without his walker. He was discharged from the hospital the following day.
"He will now move into an apartment with his son Sadbhuja dasa and his daughter-in-law, Jackie in Sydney," says Indradyumna Swami, who started a Gofundme campaign to raise funds for Agnideva's medical expenses.
"Next Friday, he will have a post-surgery cardiac evaluation after which he will attend a prescribed physio/exercise course as an outpatient at the hospital. It will be around three to four weeks before his breathing is back to normal, and when safe, he will fly back to Portland to stay at Sadbhuja's home."
Indradyumna Swami also thanked the many devotees around the world who donated towards Agnideva's recovery, raising $141,000.
"It is heartwarming to have seen so many devotees, friends and well-wishers come forward to support him in his time of need," the Swami says.
[
agnideva
] [
hospital
] [
kirtan
]