for ISKCON News on Jan. 1, 2019
An ISKCON devotee who grew up in the Hare Krishna Movement, Gaura Mani devi dasi, and her group Vrajavadhus Kirtan, have become a kirtan phenomenon.
Reaching 30 million people a week with kirtan posts on Facebook, regularly chanting Hare Krishna to audiences of several hundred thousand at Rathayatras, and changing lives everywhere, they are proving the sheer power of the Holy Names and Srila Prabhupada's message.
Born in the Chicago ISKCON temple in the late 1970s and raised in ISKCON gurukulas, Gaura Mani spent much of her time singing kirtan and chanting Sanskrit verses. As she grew older, she developed a strong desire to take her training further and share it with everyone she met.
When she moved to Vrindavana, India in 2000, she and her husband Param Das would realize that dream, forming Vrajavadhus Kirtan and singing kirtan outside Srila Prabhupada's Samadhi Mandir ever weekend for a ready-made audience of thousands of tourists and pilgrims.
"People began inviting us to chant at their homes, temples, and festivals, and it turned into a snowball effect," Gaura Mani says.
Today, Vrajavadhus Kirtan is a full band of twelve international devotees, including Gaura and Param on lead vocals and harmonium; their daughter Radhe Dasi, 11, on vocals; son Kana Das, 14 on mridanga; Jaya Mangala Das from Russia on bass guitar; Radha Bhavani Dasi from Ukraine on violin; and Vaishnava Das from South Africa on keyboards. Flute, clarinet, and electronic percussion add to the layered instrumentation.
Param Das supports their kirtan outreach with his family business, so that they can serve the Holy Name full time; and the group performs ten to twenty kirtans per month all over the world – including the U.S., Russia, Dubai, Australia, South Africa, Bali, and Indonesia.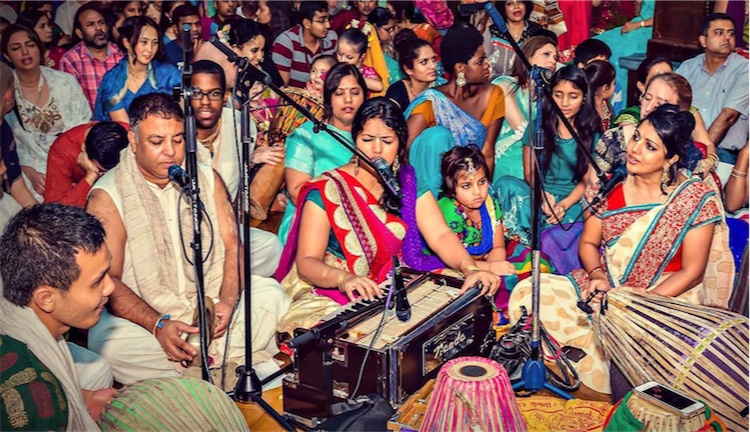 Gaura Mani Devi and HG Param Das chant at the Prabhupada Festival in ISKCON Dallas
In the West, audiences are relatively small but very attentive. At yoga studios in the U.S., Vrajavadhus draw 100 to 150 people, and at festivals like Bhakti Fest, ISKCON Rathayatras and 24-hour kirtan events, a few thousand.
But in India, the numbers are staggering. At festivals, such as Janmastami, Radhastami, and Balarama Purnima, Vrajavadhus attract anywhere from ten to forty thousand people. At ISKCON Rathayatras across the country, they chant before 300 to 400 thousand. And at Ludhiana Rathayatra, the second biggest after Jagannath Puri, they perform to an unfathomable crowd of over 900,000.
Gaura Mani and her band must have endless stamina at these Rathayatras – they often chant the Hare Krishna mantra for nine nonstop hours, starting at midday and ending at 9 o'clock at night. But the serious commitment and energy this takes is worth it.
"In India, they have these defeaningly loud speakers that turn the whole city into this huge chanting festival," Gaura Mani says. "People clap and dance and chant. And when you have hundreds of thousands of people chanting the Holy Name, it completely transforms the entire environment. People feel a boost of spiritual energy that overcomes any kind of depression or negativity, and they experience an instant life change, right then and there. I see it happen, right before my eyes."
Audiences catch the ecstasy bug wherever Vrajavadhus go. "We just did a program at the end of November in a village near Saduara, Haryana," says Gaura Mani. "When they heard that the Hare Krishnas were coming to do a kirtan that night, not only the whole village, but the surrounding five or six villages came. And when we called out 'Repeat after us – 'Hare Krishna!'" the inhabitants of all six villages jumped up at once and shouted the Holy Name. It was amazing."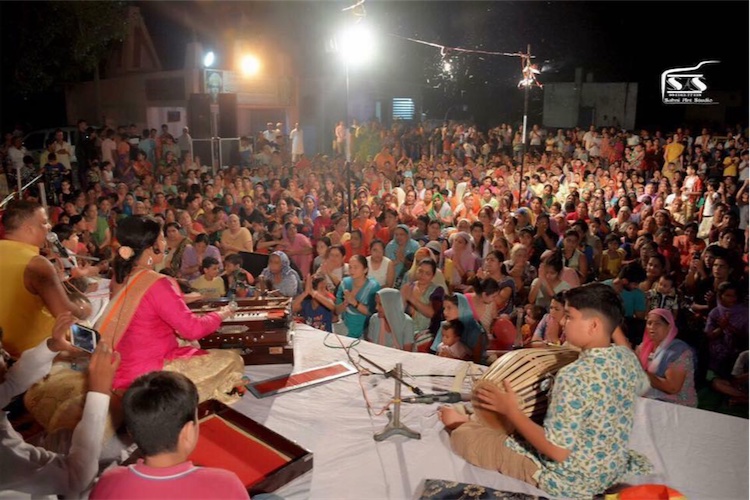 Chanting during the 72-hour nonstop kirtan at Hare Krishna Utsav in Yamuna Nagar, U.P.
Despite the massive scale of these kirtan concerts, it is in fact on the Internet that Gaura Mani and Vrajavadhus have their biggest audiences.
Videos on the Gaura Mani Official Youtube channel (https://www.youtube.com/user/gaurajolly) have racked up anywhere from 5k to 500k views. But it's on Facebook that she proves the incredible potential of Internet Krishna conscious outreach, with over 1 million followers and a weekly reach of 30 million people. (https://www.facebook.com/VrajavadhusKirtan)
Gaura Mani is extremely active on her page, going live at least once a day to share Vrajavadhus kirtans as they happen wherever the group is in the world. Around 2,000 viewers watch every time – more than could fit in most temple rooms.
Gaura Mani also shares photos of Krishna, photos of Vrajavadhus concerts and programs, and more.
"I spend a lot of time reaching out to my audience on a personal level, connecting with them, finding out how they feel, and giving them a daily prayer and an alternative to the struggles and challenges in their lives," she says. "We like to give people hope – to show them that when you chant Hare Krishna, you will be happy. That's a guarantee. I tell them it's already changed my life, and it will change yours too."
This isn't empty hyperbole. After performing kirtan at the Osho international festival in Delhi recently to an initially skeptical group of eighty yoga instructors, the instructors cried, "We've never experienced this kind of joy or ecstasy before!" All eighty of them then took up Gaura Mani's invitation to visit Vrindavan, where they attended mangala arati at the Krishna Balarama Mandir and were introduced to japa.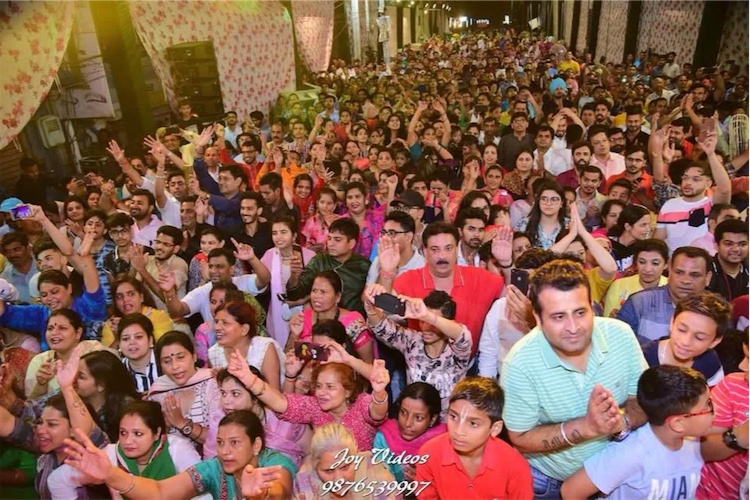 A mega audience of some 900,000 people at Ludhiana Rathayatra -- the second biggest in the world -- chant along as Vrajavadhus perform
After returning to their countries, three of the yoga instructors, from Scotland, New Zealand and Germany, continued to stay in contact with Gaura Mani, began attending their local ISKCON temples, and are now fully practicing Krishna consciousness, chanting sixteen rounds of japa daily.
On another occasion while Gaura Mani was holding a program in Haryana, one young woman ran up to her, exclaiming, "I'm chanting sixteen rounds! I'm reading Bhagavad-gita! You are my spiritual teacher. I need to learn more, please teach me more. I want to dedicate my whole life to Krishna."
The girl had never met Gaura Mani before but had been following all her online kirtans and spiritual talks. And she's not alone. Hundreds of young women and men hang on Gaura's every word online and have begun reading Bhagavad-gita and chanting japa as a result.
The effect has spread so far and wide that even when Gaura Mani is at the airport or on vacation in the U.S., seeming strangers dash over to her, trying to hug her and saying, "You've given us hope! You've changed our lives. Thank you, thank you so much!"
Gaura feels uncomfortable talking about this kind of adulation, and offers it on to ISKCON's Founder-Acharya. "It's all Srila Prabhupada," she says. "He's just giving us this chance to serve his mission."
At the same time, Gaura Mani does not shrink back from having only the biggest ambitions for the Lord.
"After a decade of doing this service, my prayer is, 'Krishna, please give me the chance to transform the world with your Holy Names,'" she says. "Because that is what Lord Chaitanya and Srila Prabhupada want from each and every one of us. If there's any purpose to living in this world, it should simply be to bring the names of the Lord to every person alive on this planet Earth today."
* * *
To reach the official "Gaura Mani Devi Ji" Facebook page, visit https://www.facebook.com/VrajavadhusKirtan/
Find the Gaura Mani Official Youtube channel here:(https://www.youtube.com/user/gaurajolly
[
gauramani
] [
kirtan
] [
vrajavadhu
]