For many years, the Rathayatra at Laguna Beach, California has been tailored more towards devotees. Once again, this year the festival on July 20th featured a parade in front of the ISKCON temple, followed by a class and feast in the temple with special guest Radhanath Swami.
"So we decided to add an outreach portion for the tens of thousands of people walking around the beach in the summertime," says temple president Tukarama Das.
Dubbed "Mantra Fest," the new event will be held on Sunday July 28th in downtown Laguna Beach, and will be a uniquely interactive experience for the public.
"We felt that it was time to move away from things like the big displays of text about Changing Bodies or Vegetarianism," says co-organizer Jagai-Nitai Das. "All these concepts are very familiar to people nowadays, so having a display about vegetarianism, for example, feels tired. Instead we wanted to really engage people and have a hands-on experience of Krishna consciousness."
Mantra Fest will run from 10am till 5pm, with about twenty thousand people expected to walk through the festival throughout the day. Those interested will be able to meander through several booths, participating in a variety of activities.
They'll be welcomed by greeters with gift bags full of books, stickers, prasadam and incense.
They'll join in at the kirtan tent, where devotees will be chanting to Adya Prabhu's Jagannath Deities, the first Deities installed in ISKCON by Srila Prabhupada himself at 26 2nd Avenue.
They'll get to try making a garland, before offering it to Lord Jagannath and getting a prasadam garland in exchange.
There will be facepainting for kids, and henna for adults.
Shakuntala Zakheim, a celebrity children's art teacher from Los Angeles, will lead arts and crafts. Activities will include painting Krishna on canvas, creating clay sculptures using mixed media, and creating a pop-up 3D Indian elephant.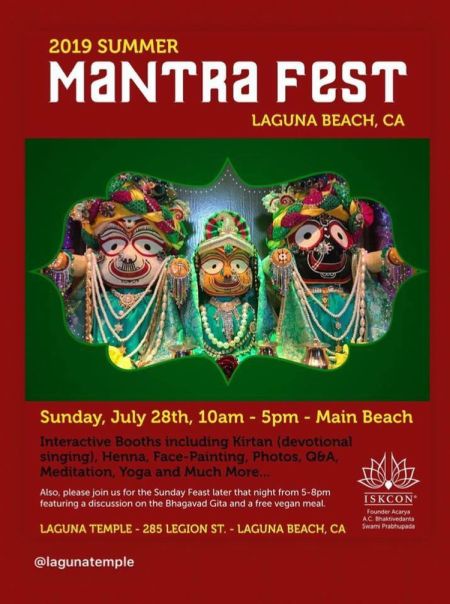 "There will also be large four-foot letters spelling 'Bhakti,'" says Jagai-Nitai. "And you'll be able to do graffiti on them by writing what devotion means to you, or even drawing pictures. By the end of the day, hopefully the letters will be covered in people's inspirations about devotion."
Festivalgoers will also be able to visit a booth where they can try on a sari or dhoti, put on tilak, pick up kartals or a mridanga, and take a selfie as a Hare Krishna devotee. The special selfie stand will take their picture, then email or text it to them. In addition, photos will be uploaded to a micro site where all images of the festival can be viewed.
That's not all – there will be a meditation booth where people can learn how to chant on beads; a question and answer booth where they can grill a devotee on the big mysteries of life; yoga classes; and a book table where they can purchase Srila Prabhupada's books.
Finally, every festivalgoer will receive special coupon cards for the Sunday Feast and will be encouraged to attend the feast that evening at 5pm at the temple, which is just three blocks away from the festival site.
All this is being made possible by a generous donation from Nihar, in honor of his father Dvarkadish Das, who passed away last fall. A highly respected longtime devotee in the Laguna and Los Angeles ISKCON communities, Dvarkadish and his family have contributed much service over the past thirty years.
"Nihar originally came forward when the event was Rathayatra," says Jagai-Nitai. "Now that it has branched off into Mantra Fest, it's even more special – because it's a festival specifically sponsored by Nihar for his father as an outreach to the community."
From this year on, Mantra Fest will continue annually as its own separate festival at Main Beach.
[
laguna-beach
] [
mantra-fest
] [
outreach
] [
ratha-yatra
]