for ISKCON News on Sept. 22, 2017
The Latin Recording Academy is set to present singer and composer Havi Das (Ilan Chester) with a Lifetime Achievement Award at the 18th Annual Latin GRAMMY Awards on November 16th.
A multi-talented musician, Havi Das – a Srila Prabhupada disciple – is a highly successful pop and traditional artist in his native Venezuela as well as throughout South America.
He grew up listening to Venezuelan folk, Afro-Caribbean dance, British progressive rock, and American R&B, all of which influence his own music.
This will be his second Latin GRAMMY award, having previously received Best Folk Album for 2010's "Tesoros De La Música Venezolana."
"The Lifetime Achievement Award is presented to performers who have made unprecedented contributions of outstanding artistic significance to Latin music and the Latin community," stated the Latin Recording Academy in a press release.
The release added, "Ilan Chester has transformed a deep mystical devotion and his fascination with many different sounds into a long-lasting career of staggering variety and depth."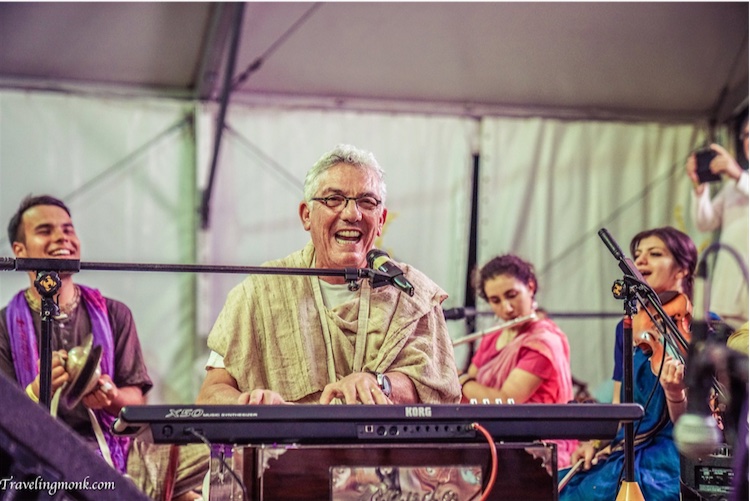 Havi Das chants at this year's Bhakti Sangam festival in Ukraine
For his part, Havi commented, "I must admit that the phone call I received from The Latin Recording Academy, informing me of the decision to award me special recognition for my musical career, was quite a surprise. I am deeply grateful."
Alongside his commercial pop career, Havi has produced several Krishna conscious albums over the years, including the 1970s concept rock albums "Night and Day Dream" and "Songs of the Future," and the more intimate "Bhakti: Devotional Songs from India" in 1998. More recently in 2013, he released the hugely ambitious orchestral album "Symphony of the Soul," putting Vaishnava songs to epic classical music.

But even in his pop career, Havi wears his true loves on his sleeve. "I am proud of my connection with Srila Prabhupada, with Krishna consciousness and ISKCON, and I am very open about this with the public and the media," he told ISKCON News in a 2010 interview.
He added, "Krishna consciousness is and has always been my true source of inspiration. It is the love found in the hearts of the devotees for Krishna that has motivated me to write songs. Few know my songs to have an internal and complex undertone."
* * *
You can see Havi Das accept his award at the 18th Annual Latin GRAMMY Awards, to be broadcast live from the MGM Grand Garden Arena in Las Vegas on Nov. 16, from 8–11 p.m. ET/PT (7 p.m. Central) on Univision.
For more information and the latest news, please visit the official Latin Recording Academy® website at: www.LatinGRAMMY.com (#LatinGRAMMY).
FB: LatinGRAMMYs | Twitter: @LatinGRAMMYs | Instagram: @LatinGRAMMYs
[
grammy
] [
havi
] [
ilan-chester
] [
latin
] [
music
] [
venezuela
]