for ISKCON News on July 19, 2016
ISKCON of Soho St, London and Bhaktivedanta Manor have been setting the standard and celebrating ISKCON 50 in style this July – the month when in 1966 Srila Prabhupada incorporated his society.
On Saturday July 2nd, performing arts group "Something Spiritual" put on "Departing for the West," a spectacular production depicting the life and struggles of Srila Prabhupada with a cast and crew of sixty-five young people at Harrow Arts Centre.
The performance told an epic story, showing Srila Prabhupada's entire life starting as a child in Calcutta, then a young man meeting his spiritual master, braving the Jaladuta steamship to the USA, and establishing ISKCON in New York; all the way through the rapid expansion of his movement and even his glorious passing from this world.
An audience of 400 was moved to tears by Milan Parmar's performance as Srila Prabhupada and those of the cast around him. "The response was extremely encouraging," says director Abhisekh Joshi. "This is just the beginning of an era which will help conquer Britain through drama as Srila Prabhupada said. This is just the beginning of Something Spiritual."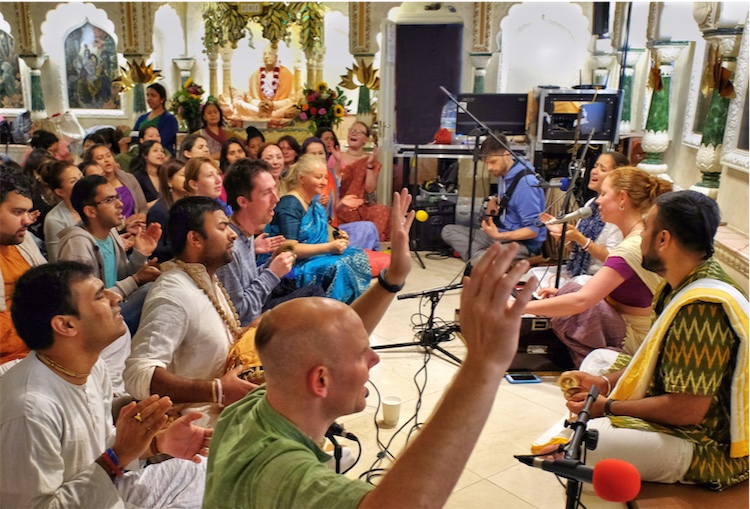 Jahnavi Harrison leads the chanting at Soho St temple's London Mellows
Next from July 9th through 10th, the Radha Krishna Temple on London's Soho St held its first ever Kirtan Mela, "London Mellows." Devotees from all over the country as well as interested members of the public, making up a total of about 500 participants, chanted the Holy Names from 10am until 10pm each day.
The unique offering saw 50 Hare Krishna melodies for ISKCON 50 being recorded professionally for Radha Krishna Records, which will release it as a double album for Radha Londonisvara's 47th anniversary in November.
Chanters included Jayadeva Das, who used his famous technique to turn the audience into a "Mantra Choir;" Radha Krishna temple president Jaya Nitai Das, who led a group of devotees he is mentoring in a classic Srila Prabhupada melody from the 1970s; recording artist Ananda Monet; Kirtan London's Jahnavi Harrison; and local favorite Radha Londonisvara Das. Many children also performed, singing their hearts out individually or with their families.
Electronic drum loops, bass guitar, Spanish guitar and saxophone added some spice to the proceedings, especially in the evening when things got groovy and everyone danced until they were exhausted but ecstatic.
"This is an offering to Srila Prabhupada for the 50th anniversary of his movement," temple president Jaya Nitai told the crowd. Organizer Gopibhava Dasi adds, "It was beautiful, to offer continuous kirtan to Radha Londonisvara and Srila Prabhupada for twelve hours a day. We plan to do it every year from now on."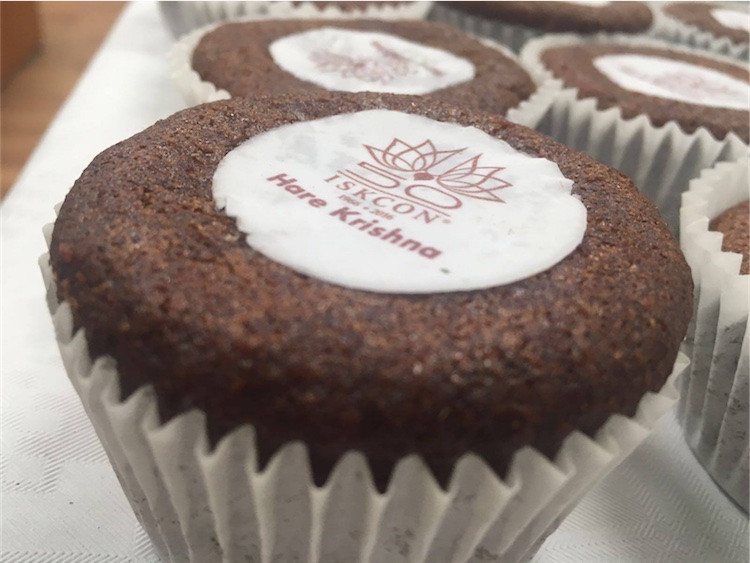 5,000 ISKCON 50 cupcakes were distributed to say 'Thank you London!' on Incorporation Day
Meanwhile on July 13th, the actual day of ISKCON's incorporation back in 1966, devotees distributed 5,000 cupcakes decorated with the ISKCON 50 logo and the words 'Hare Krishna' to commuters. Recipients included the Mayor of London, Sadiq Khan, and the effort was covered on BBC News.
On the same day at Bhaktivedanta Manor, Yogesvara Das, author of the new authorized Prabhupada biography "Swami in a Strange Land," spoke on the importance of the day and the depth of Prabhupada's sacrifice. He emphasized the timelessness of Prabhupada's message and its relevance today on issues such as global warming, the peace process, and genetically modifying nature.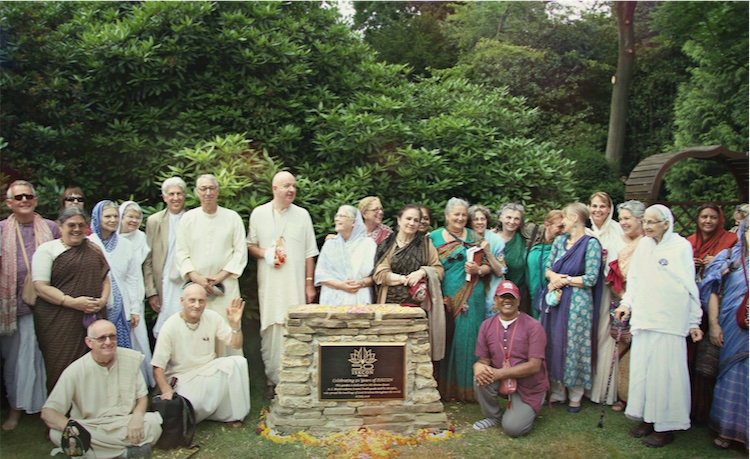 Srila Prabhupada's disciples gather around a commemorative plaque in the new guru-disciple garden at Bhaktivedanta Manor
Incorporation Day celebrations also included a beautiful performance on Prabhupada's life by gurukula students, heartfelt speeches of gratitude from senior devotees, and offering gurupuja and 108 dishes to Srila Prabhupada in his personal quarters at the Manor.
On July 16th, the murti of Srila Prabhupada was carried out onto the grounds of Bhaktivedanta Manor to view the opening of a gorgeous new garden dedicated to the ISKCON founder and his disciples. The garden includes an elegant fountain and arches, as well as rocks engraved with the defining qualities of the guru-disciple relationship such as enquiry, homage, service, shelter and realization.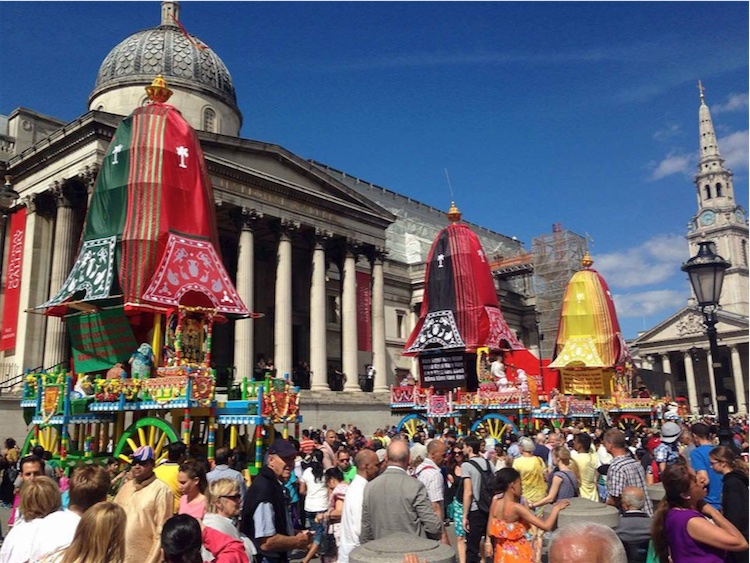 Rathayatra, Srila Prabhupada's favorite festival as a child, comes to London
In their speeches, Manor president Srutidharma Das and Prabhupada disciples Kripamoya Das and Yogesvara Das all spoke about how apt it was for a garden to commemorate the guru-disciple relationship. They compared traits of good gardners, like attentiveness, patience and hard work, to those of good disciples, and likened ISKCON to a sequoia tree in the garden, whose seed had been planted by Prabhupada and whose disciples were the branches that spread the philosophy around the world.
Then, as Jahnavi Harrison sang verses from Guru Vandana, a black and gold plaque was revealed, reading: "Celebrating 50 years of ISKCON: This garden is dedicated to His Divine Grace A.C. Bhaktivedanta Swami Prabhupada and his disciples, who spread the teachings of Lord Krishna throughout the world."
Finally, on July 17th, a huge and highly successful Rathayatra festival was held in London, with about 4,000 people participating in Lord Jagannath's parade from Hyde Park to Trafalgar Square, 12,000 plates of prasadam distributed, multiple lively kirtans, and entertaining stage performances.
Each of the three chariots carrying Jagannath, Baladeva and Subhadra carried the ISKCON 50 logo, there were ISKCON 50 booths with literature to raise awareness of ISKCON amongst the public, and ISKCON 50 was also the main theme onstage. The festival was another ideal offering to Srila Prabhupada on this occasion, as he famously grew up celebrating Rathayatra as a child and it was one of his favorite festivals that he brought to the West.
Even after all this, the UK's ISKCON 50 celebrations are not over yet. There will be a 50th anniversary book distribution marathon from July 18th to 29th, an Open Day to encourage the public to find out more about Krishna consciousness on July 30th, and a grand finale Kirtan on the Thames on July 31st.
[
england
] [
london
] [
uk
]