for ISKCON News on Dec. 14, 2018
The Manor Preschool, located on the campus at ISKCON's Bhaktivedanta Manor in England, has received an "Outstanding" grade after a recent Ofsted inspection.
Ofsted (The Office for Standards in Education, Children's Services and Skills) is the government organization responsible for inspecting all schools and nurseries in the UK.
Arriving unannounced so as to see the Manor Preschool as it is, the Ofsted inspector observed the quality of teaching during activities indoors and outdoors, met with manager Jagaddhatri Dasi to check procedures and policies, spoke to parents, and looked at school paperwork and children's folders.
After the visit the Preschool received the following letter from Hartfordshire Children's Services:
"Congratulations to you and your staff, team and the children and parents. The Manor Pre-School has achieved an outstanding grade. Only a small number of providers achieve this level, and you must have demonstrated that you provide exceptional care, learning and development support to the children in your care to have achieved this.
Please accept our heartfelt gratitude for your hard work, commitment, and professionalism."
Currently fifteen children are enrolled in the Manor Preschool, with a long waiting list. Jagaddhatri hopes to expand the school's facilities in the future to be able to admit more students.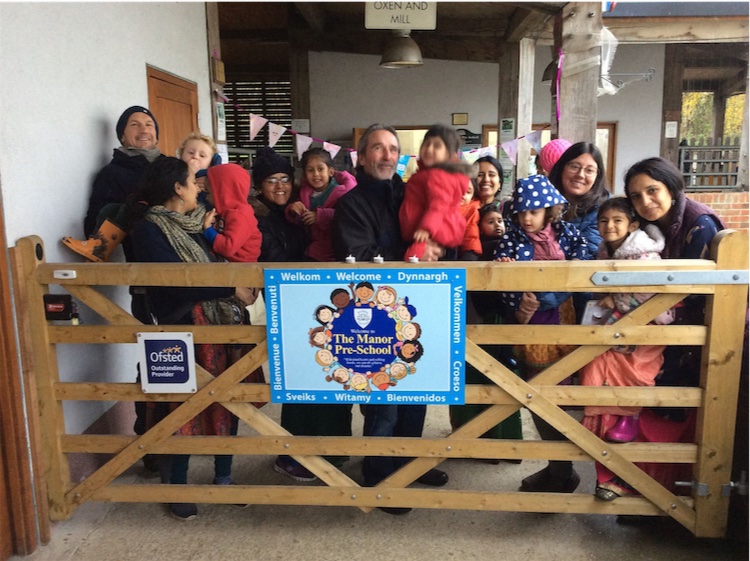 Parents and children on Ofsted inspection day at the Manor Preschool
The Preschool follows the UK government's Early Years program, which covers the full cost for students to attend. It also allows staff to achieve required educational goals through Krishna consciousness.
"We learn a lot of pastimes by singing songs, dancing, drama and art," Jagaddhatri says. "The children are so eager to hear and learn about Krishna's pastimes, so it's an absolute joy for me."
She adds: "We're in a rural setting and are right next to the goshala, so the children can identify the different cows and bulls and their names. It's a very nice environment for them."
Jagaddhatri is delighted to receive the outstanding Ofsted grade, but hastens to make clear that it is due to a team effort.
"I would like to acknowledge our wonderful temple president Srutidharma Prabhu, who has always supported and encouraged us, and sent his own son to our preschool," she says.
She quotes Srila Prabhupada, who said, "If we want them to become great devotees, then we must educate the children with love," and "If you can make one child Krishna conscious, it is a great service."
"So I'm just very happy that we can offer this Ofsted grade to Srila Prabhupada and Krishna," she says. "It shows that we've got a wonderful standard acknowledged by everyone; that the Hare Krishnas look after their children nicely."
[
education
] [
manor
] [
uk
]