for ISKCON News on May 25, 2019
ISKCON-London's Radha-Krishna Temple is celebrating the 50th installation anniversary of its presiding Deities Sri Sri Radha-Londonisvara this year with a series of events and creative projects.
Among these is the launch on Sunday June 9th, at the Radha-Krishna Temple, of Mantra Lounge Volume 3. Produced by the Temple's own label Radha Krishna Records, it is inspired by the weekly Mantra Lounge program at Covent Garden.
The album was produced by Jagannath Suta Das, who has worked for Universal Music and Sony, and produced the single Night People which sold more than half-a-million copies world-wide.
Mantra Lounge Volume 3 was recorded at Iguana Studios in Brixton, which Jagannath Suta shares with Charlie Andrews, one of the biggest producers in the UK, who won a Brit Award in 2017 and has produced the popular band Alt-J.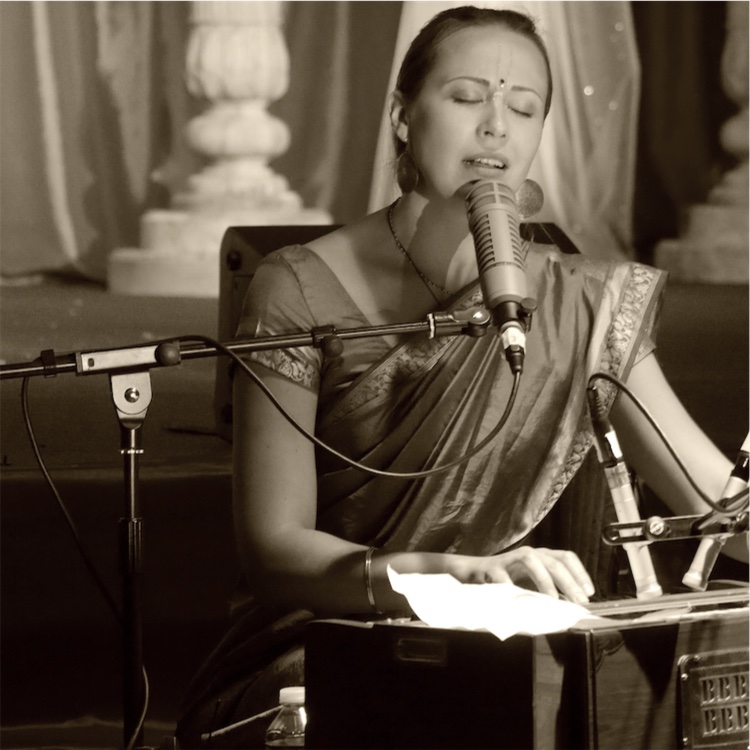 Ananda Monet sings 'Govinda - the Origin of All' on the album
The album features such kirtan artists as Jahnavi Harrison, who co-founded Kirtan London; Ananda Monet, whose epic 2015 record Inevitable Time told the story of the Mahabharat; and popular local kirtaniya Radha Londonisvara Das. There's also Asta Bria, whose music was recently played on BBC radio and was described by Derek Robertson of Drowned in Sound as "a masterpiece soaked in quiet reflection."
Tracks include "Hari Hari Biphale - The Treasure Of Divine Love," a moving, emotive song with lyrics that will truly touch the heart such as: "The treasure of divine love in Goloka Vrindavana has descended as the congregational chanting of Lord Hari's holy names."
Another standout is "Narasimha Mantra - The Ultimate Protection." Showcasing a unique melody, it begins gently, and slowly builds to an epic finale.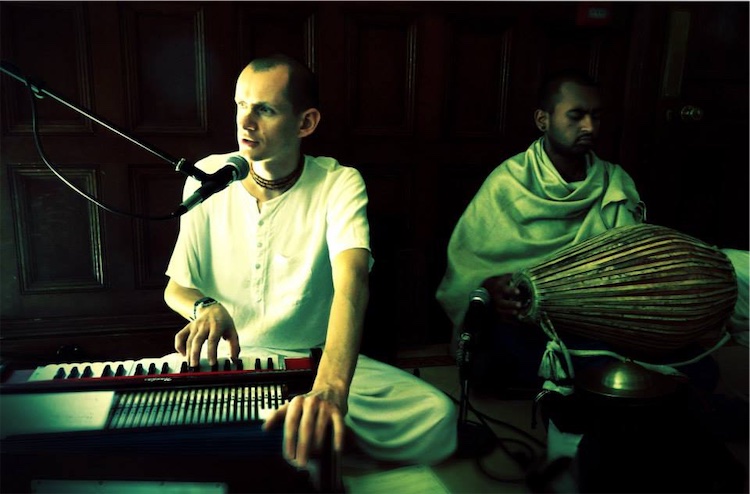 Radha Londonisvara Das sings 'Hari Hari Biphale - The Treasure Of Divine Love'
"Narasimha the Protector is known to be fierce in fighting and removing all that is evil," Jagannath Suta says. "As a result, he protects all His devotees from every negative aspect of life."
Musically, Mantra Lounge Volume 3 is innovative and varied. Among the instruments are clarinet played in an improvised Indian style; Dilruba, which has a haunting mystical sound; and violin, bass and acoustic guitar by Hugh Burns (who played on albums for George Michael and Paul McCartney). Meanwhile mridanga, tabla, dholak, kartals, ankle bells and taiko provide the percussive elements to the album.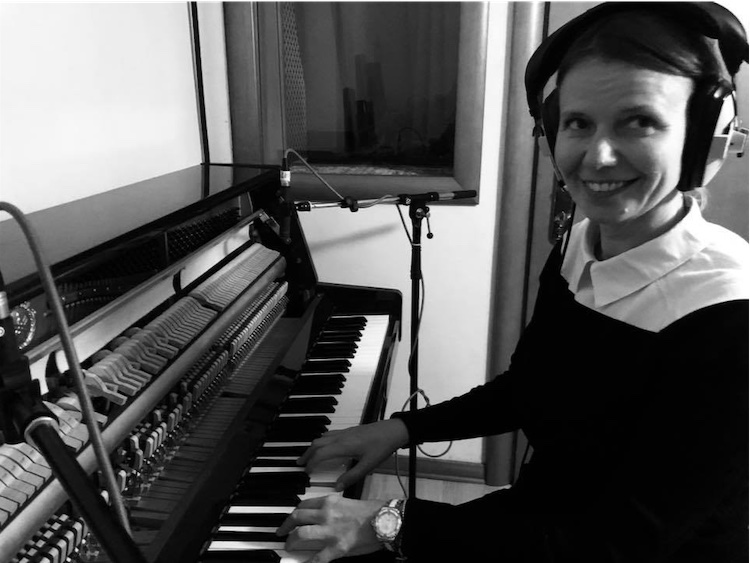 Asta Bria recording pionao for Gopinatha - Journey Towards Truth
The full tracklisting is as follows:
1) Mama Deva Deva - My Everything - Jahnavi Harrison
2) Govinda - The Origin of All - Ananda Monet feat. Jagat Pita
3) Hari Haraye - Living Names - Radhika das feat. Jaggi Suta
4) Narasimha Mantra - The Ultimate Protection - Kishori Jani
5) Gopinatha - Journey Towards Truth - Asta Bria
6) Krishna He - Calling Out To Krishna - Caitanya Cintamani feat. Hari Kirtan
7) Radhe Govinda - Supreme Love - Gopibhava feat. Shyam
8) Hari Hari Biphale - The Treasure Of Divine Love - Radha London Isvara
9) Maha Mantra - In The Mood Of Separation - Narada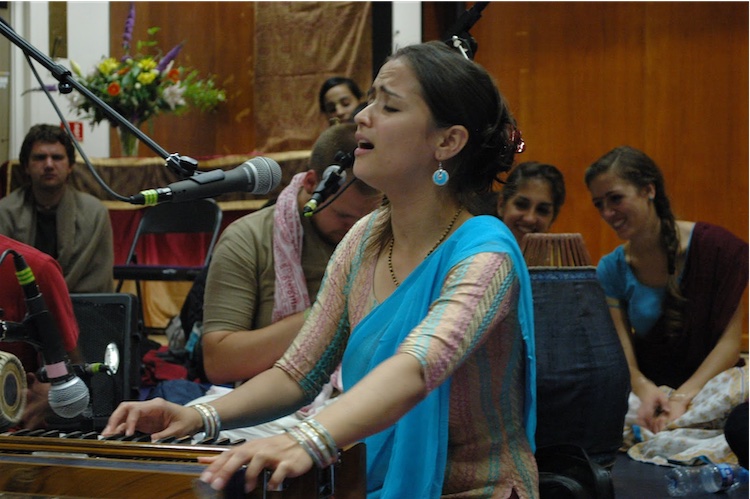 Kishori Jani sings 'Narasimha Mantra - The Ultimate Protection'
Jagannath Suta aims for an audience of devotees, kirtan fans and those seeking solace and upliftment through sound vibration.
"My hope is for the audience to listen in a meaningful and deep way," he says. "Not for entertainment, but rather as a transformation tool to change their way of being, and become more aware, conscious, and thoughtful with their actions."
* * *
Mantra Lounge Volume 3 is available for pre-orders now at http://www.radhakrishnarecords.com/shop/products/c34ec458-a384-43b0-89b9-280ffe32b9e1
The package includes a high quality audio CD, complete with a meditation poster depicting Krishna at the center, by ISKCON artist Radhe Gendron.
The album will also be available digitally from June 9th via iTunes, Amazon, Google Play & Deezer.
[
ananda-monet
] [
jahnavi-harrison
] [
london
] [
radha-krishna-records
] [
uk
]