for ISKCON News on Feb. 25, 2016
ISKCON of Phoenix, Mauritius, is planning a whole host of exciting events and projects for ISKCON's 50th anniversary year, including a new school and medical center, and the groundbreaking for a new $3 million temple.
Devotees have already secured a 5-acre plot of land in the town of Phoenix in the center of the island, and hope to hold the groundbreaking ceremony within the next few months.
The ambitious project, which is expected to take a minimum of three years to construct, will include a 600 to 800-capacity temple hall for Radha-Golokananda, a guest house and accommodation for devotees, a prasadam hall, a conference hall, exhibition areas, an auditorium and a five-star restaurant. It will blend traditional domes with modern western features.
Arriving sooner is the Bhakti Preschool, for which the building has already been constructed at ISKCON Phoenix. The school, which will open in October to both devotees and local children of all backgrounds, will start by admitting around fifteen children, but has a capacity for sixty. Its staff of qualified devotee teachers will teach the government curriculum, and add Krishna conscious elements like reading stories of Krishna's pastimes.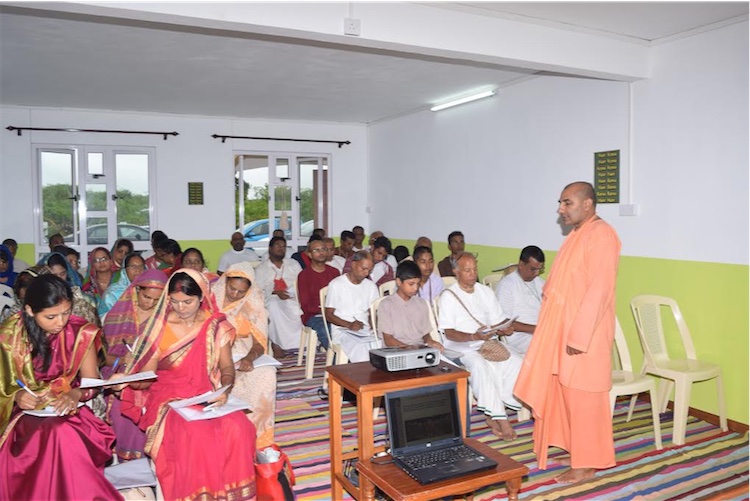 Bhakti Brihat Bhagavat Swami teaches a class to a Namahatta group in Mauritius
New brahmachari quarters called "Bhaktivedanta Ashram" are under construction and will also open in the fall. Spiritual leader Bhakti Brihat Bhagavata Swami will spend six months of the year there, training new celibate students.
The final construction project of the year – expected to begin in August with a view to completion by December – is a medical care center on the Phoenix temple property. Qualified devotee doctors, including temple president Ajay Chaitanya's son Abhay and daughter Prishni, will volunteer their services for free after work. Ayurvedic care, massage, and free medical service will be offered for devotees.
Besides these construction projects, many events and festivals are planned in celebration of ISKCON 50 in Mauritius.
"We like to delegate here," says Ajay Chaitanya. "So our 15 or so Namahatta congregational groups in the south of the island will all organize different programs."
Already, in January, the Quatrebornes Namahatta group in the center of the island began holding 50 Srila Prabhupada guru pujas in 50 different congregational devotees' homes.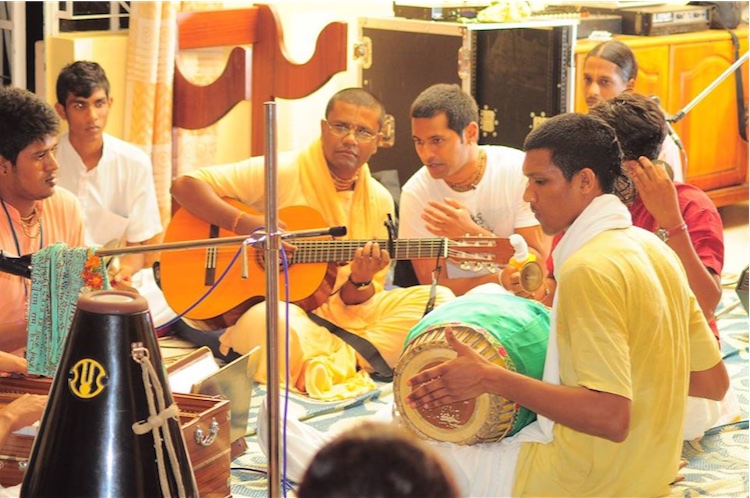 Mauritius youth are holding all-night kirtans every Ekadasi in 2016
The Namahatta in the town of Rose Hill plans to put on an open air Mantra Rock concert at the Rose Hill Plaza featuring professional musician Gaura Gopal Das and his band.
Vaikuntha Pati Das from the Rose Hill Namahatta will also organize a three-day program on Rodrigues Island, a tourist hot spot about 350 miles off the coast of Mauritius, in April. It will be preceded by Harinamas and will include kirtan, a talk, a film or slideshow, and prasadam. Devotees also hope to take a similar program to Reunion Island, a French colony 144 miles from Mauritius.
After these, all the Namahatta groups will congregate for a special Namahatta Mela.
There will also be a national ISKCON 50 program at a major university auditorium, for which about 500 to 700 people, including dignitaries and politicians, will be invited. Senior devotees will speak about Srila Prabhupada's contributions, the history of ISKCON, and where the society is today.
"Another exciting program, which we started on January 5th, is holding all-night kirtans every Ekadasi throughout the year," says Ajay Chaitanya. "We start at Gaura arati at 6:30pm and go until Mangala arati at 4:30pm. The devotee youth are really into it!"
Finally, this year Vidura Dasa's twice monthly radio program on MBC (The Mauritius Broadcasting Corporation) is featuring discussions on ISKCON's 50th along with the usual kirtan and spiritual topics by devotee guests including visiting sannyasis.
"During every Sunday Feast at ISKCON Phoenix, I make an announcement to the 350 people who come: please, do something special for Srila Prabhupada," Ajay Chaitanya says. "And then people come up with ideas. ISKCON's 50th anniversary is a great opportunity to serve Srila Prabhupada and Krishna. It really motivates devotees. They get so inspired!"
[
education
] [
healthcare
] [
mauritius
] [
school
]