for ISKCON News on Feb. 23, 2018
Bhakti Ananda Tirtha Swami visited Bosnia and Herzegovina from the 13th to 21st of February. He first visited the town of Mostar, in southern part of the country where he gave a lecture entitled as "Humans and Technology" at the Stjepan Herceg Kosaca Center. The lecture was appreciated as inspiring and thought-provoking by the attendees.
However, it was his stay in the capital, Sarajevo, which really roused the interest of the general public.
After his lecture at the Prana Yoga Studio, maharaja was invited to several media, two of them government owned. First he was interviewed on February 16th by Arjana Tafro Buljubasic, a well-known journalist of the BiH Federation Radio. "In the time of constant discords, disturbances and divisions of humanity on different basis, Bhakti Ananda Tirtha Swami brings wisdom how to attain internal peace, understand our role and purpose in this world, achieve harmony with other people who are different from us," she said.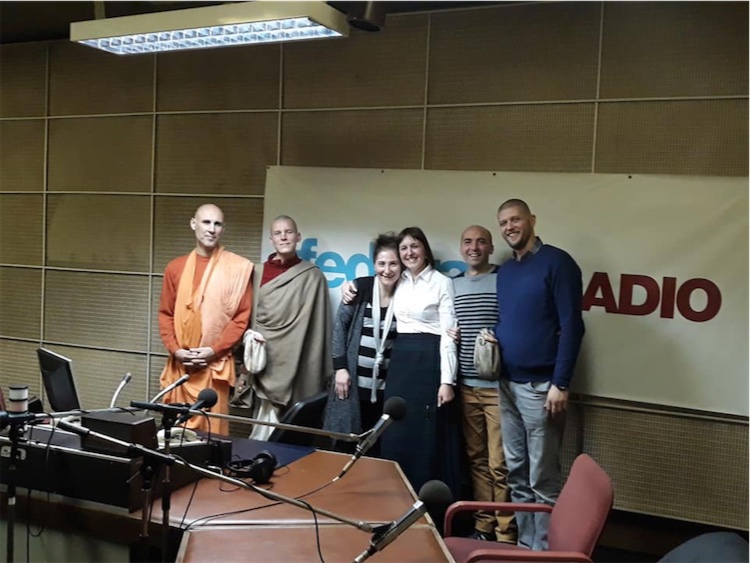 After that, Lana Stanisic from FACE TV, a very popular private TV station, interviewed him on February 19th. She said that the topics he talked about like the purpose of life, Bhagavad-gita, how to find true happiness, were captivating and that FACE TV would broadcast his pearls of wisdom in several installments.
The last interview was on Tuesday, February 20th, in the 'U programu ste' daily show of the national television, BHRT1. "It is a pleasure to host Ananda Tirtha Swami, who dedicates some of his precious time to visit us in the studio. He is a dear guest of all Sarajevo spiritualists," said Adisa Kusundzija, the show's presenter.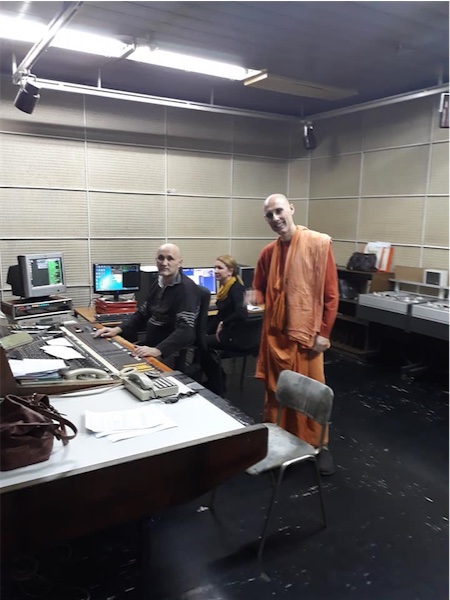 Being the first swami from the Balkans who speaks Croatian, maharaja is clearly understood and thus well accepted in Bosnia and Herzegovina, Serbia and Croatia. There is no language barrier between him and the local population, which is a great asset in bringing spiritual knowledge to both ISKCON devotees and the general public. A herald of a new chapter in collective spiritual evolution of the region some would say.
One thing is for sure, Sarajevo is eager for more wisdom and will welcome the stimulating swami any time.
[
amala
] [
balkans
] [
bosnia
] [
swami
] [
tirtha
]