for ISKCON News on Oct. 12, 2018
At MAN-tra, ISKCON's first ever men's retreat last weekend, devotee men bonded and dedicated themselves to self-improvement. They learned how to find themselves, become stronger, happier and more productive in society, balance Krishna consciousness and other duties, and how to become better husbands and fathers. They also aired and addressed challenging personal issues not often discussed.
One hundred and twenty-five men attended MAN-tra, held from October 5thto 7thin New Vrindaban, West Virginia, and subtitled "Being a K.C. Guy in the 21stCentury." They came from as far as Costa Rica, Montreal, Toronto, California, Colorado, Chicago, Houston, New York, Washington D.C, and Alachua, Florida.
The group ranged in age all the way from 18 to 68, and included fathers and sons, brothers, and many godbrothers. There was also a good mix of grihastas, unmarried men and brahmacharis.
A torch-lit walk and kirtan with Bhaktimarga Swami followed, touring the sacred lakes and temples of New Vrindaban. It concluded in Srila Prabhupada's temple room at his Palace, with an ecstatic kirtan by English Prabhupada disciple Kripamoya Das.
"The atmosphere was electric," recalls co-organizer Anuttama Das.
The day concluded with longtime local residents telling stories of Srila Prabhupada's visits to New Vrindaban around a bonfire.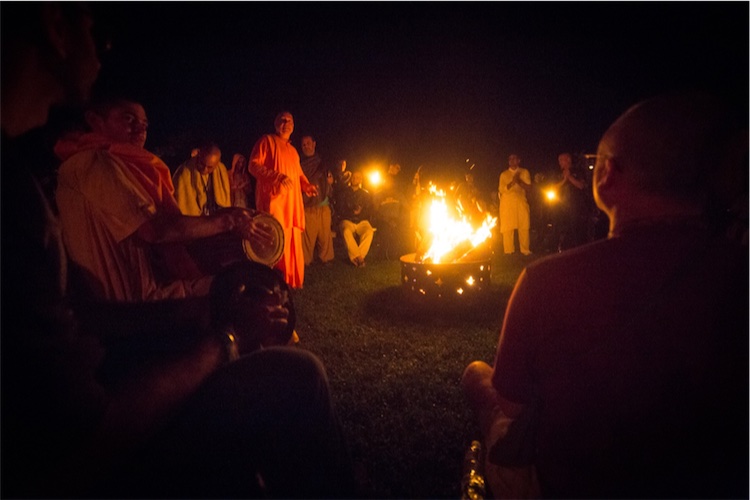 Kirtan and telling Prabhupada stories around the bonfire
The next morning, GBC Anuttama Das gave a class on Srimad-Bhagavatam 1.8.5, in which Prabhupada talks about the benefits to society of properly protecting brahamanas, women, children, and the elderly. Talking about what real protection means and cautioning against men's abuse of power, Anuttama said that we all have a Duryodhana and a Yudhistira inside of us, and must choose which one we listen to.
In his keynote address which followed, Professor Burke Rochford, a sociology professor who has studied ISKCON for forty years, spoke about the evolution of the concept of manhood in ISKCON.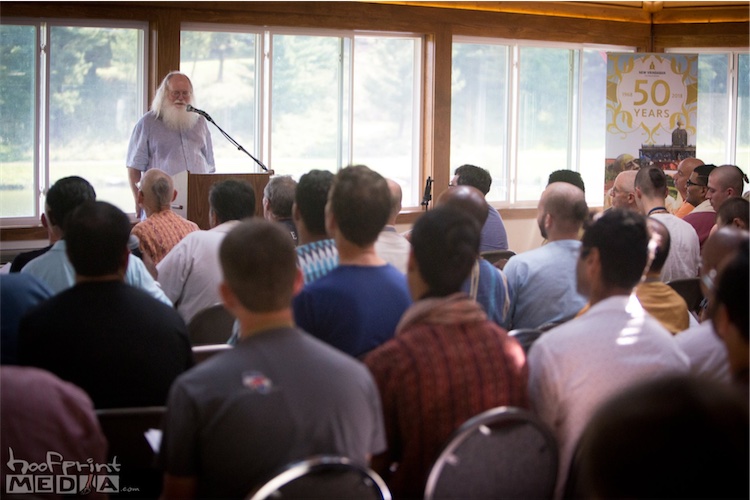 Professor Burke Rochford speaks
Rochford spoke on the importance of recognizing the contribution of rank and file devotees on the ground, who actually make things happen – not just charismatic managers, and not just men. He discussed the evolution in ISKCON from a tight family mood at the very beginning of the society, to an emphasis on renunciation to the detriment of family, to a shift today to a more natural independent grihasta ashram, with men fulfilling their roles with their families. We must, he said, understand the importance of the family unit within ISKCON.
After comedian Yadunath Das lightened the mood with his famous racetrack commentator skit about the struggles of spiritual life, there was an inspirational panel on "Being Yourself in Krishna's Service." There were four people on the panel: a doctor, Madhvacharya, from D.C.; Gaura Vani, a kirtan artist; Manish, an accountant and finance specialist from Houston; and Ranaka, who has managed the farm and cows at New Vrindaban for over forty years.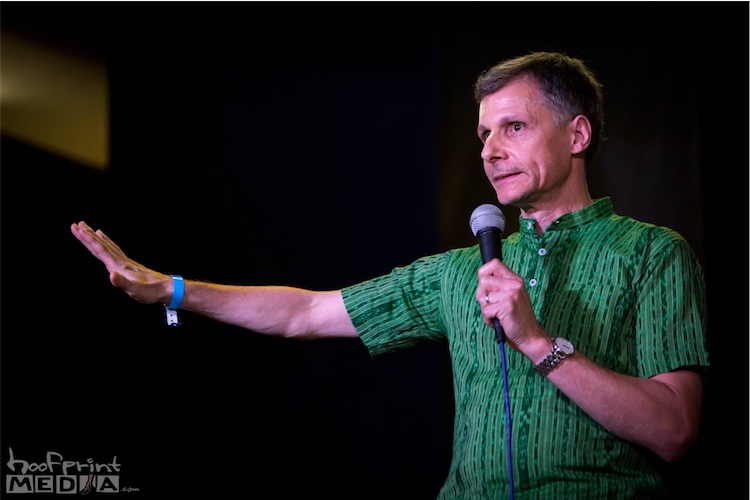 Comedian Yadunath Das cracks everyone up with a routine about the endless uses of the word 'Haribol' in ISKCON
Each talked about the various challenges they faced; how they got through them; where they got their strength; and what decisions they wished they could do-over. Many cited strong commitment, and a strong foundation in sadhana, chanting or home Deity worship as key to success.
Other popular workshops included Manorama Dasa's "The Ability in Man: How to Find Your Style," which helped younger devotees figure out what they wanted to do with their lives; and Anuttama's The Matter of Spirit: Harmonizing Worldly & Spiritual Pursuits.
The young men also enjoyed some downtime outside with frisbee and wrestling despite the rain, and a contest in which they threw gulabjamuns and tried to catch them in their mouths, ensuing in predictable hilarity.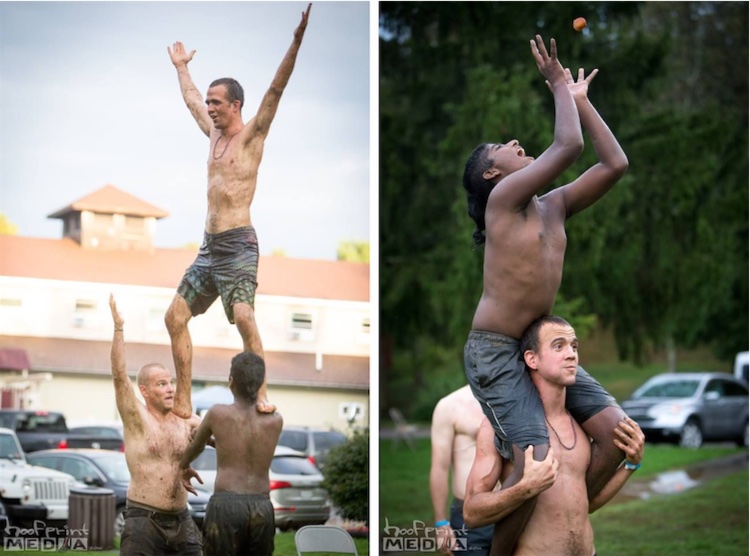 (left) - Guys being guys. (right) - Sometimes ya just gotta sit on your friend's shoulders and catch a gulabjamun in your mouth
An evening of entertainment included Bhaktimarga Swami's play "Many Fathers, Many Mothers" about King Chitraketu's son, who came back to life to explain philosophy to his father; and a half-hour one-man comedy show by Yadunath in which he espoused on the endless uses for the word "Haribol" in ISKCON.
Turning serious at the end of his performance, Yadunath drew attention to the fact that there are many questions in the world today about men abusing their power. We must get over that, police ourselves more, and ensure that we come to the highest standard, he said, receiving a standing ovation.
On the last day of the Retreat, a panel of women presented "Navigating The Male Female Paradox." Four Vaishnavis – premarital counselor Uttama Dasi, teacher and youth leader Jaya Sri Radhe, Rukmini, who works with children with autism, and PhD Ganga – all emerged to the Mission Impossible theme music wearing sunglasses, poking fun at the fact that their task was help all the guys in the room understand how women think.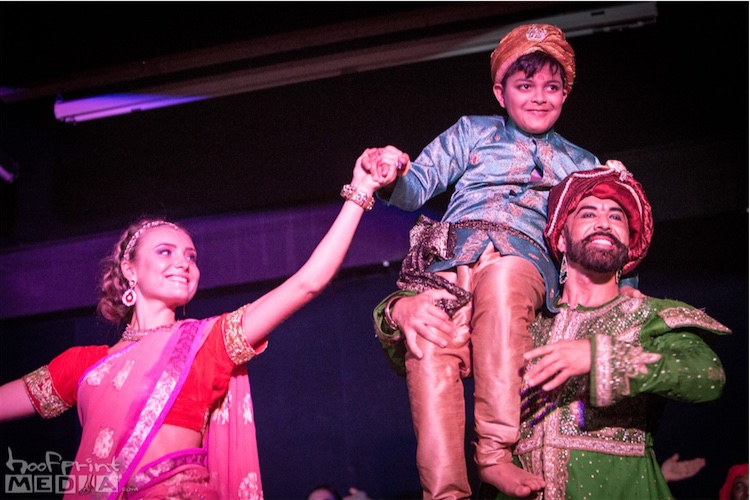 A scene from Bhaktimarga Swami's play 'Many Fathers, Many Mothers' about King Chitraketu and his son
The panel then answered questions such as "What do you feel the role of women should be?" "What do you need in relationships?" "What does 'protection' mean for you?' and "What do women look for when they ask for emotional support from their husbands or partners?"
Meanwhile in a plenary entitled "Grow Stronger Through Challenges -- The Kurukshetra in Our Lives" with Partha Das of the Grihasta Vision Team, men anonymously submitted challenging personal questions and there was a discussion on issues of male identity, affection and sexuality, addiction and the four regulative principles.
"Everyone was relieved and satisfied that those issues were addressed and aired," Partha says.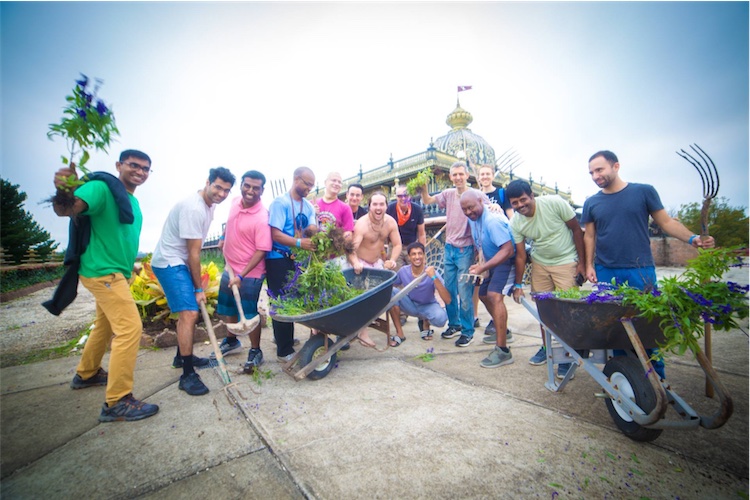 The men gather for service at Prabhupada's Palace
The Retreat concluded with a closing ceremony encouraging participants to take what they had learned back home, share it with their friends, and start male sanga groups in their own areas.
"The kirtans, prasadam and hosts at New Vrindaban were wonderful," Anuttama says. "Many men said they really appreciated the opportunity for male bonding, and the honest talks about the challenges that men face and about how we can improve ourselves. Being Krishna conscious in the modern age is not easy, and we need networks, friends and support. The Retreat helped us realize that we are not alone – that there are other men facing similar challenges, and that we can share solutions and encouragement with each other."
[
man
] [
man-tra
] [
retreat
]