on Nov. 5, 2018
Over 70 devotees from all over the greater New York area – including the Queens and Bhakti Center temples – as well from Connecticut recently participated in the first New York Monthly Sankirtan Festival for many years.
Over the weekend of September 28th to 30th, they were trained in the art of book distribution, distributed books, and and dived deep into studying Prabhupada's books themselves. Many were new to book distribution and thrilled at what they could accomplish with guidance and an effective structure.
Monthly Sankirtan Festivals (or MSFs) started in ISKCON Silicon Valley in 2007, the brainchild of sankirtan strategist Vaisesika Das. From there they have spread out to many temples across the USA, Canada, and the world, including India, South Africa, Mauritius and the UK.
In New York, the MSF is being revived – it was first held many years ago under veteran book distributor Atmanivedanam Das. The new effort is spearheaded by Vaisesika along with ISKCON New York preachers Hansarupa Das, Chaitanyananda Das, and Gopal Champu Das, and strategist Vrndavan Vinodini Dasi.
"I had been thinking about launching this in New York for a long time, because the MSF is more than just a book distribution or sankirtan event – it's a way to bring communities together," Vaisesika says. "It's important to have a common purpose, a practical service that brings devotees together as one unit. And book distribution is ideal because it was so much emphasized by Srila Prabhupada and our sampradaya that everyone agrees it is a worthy cause."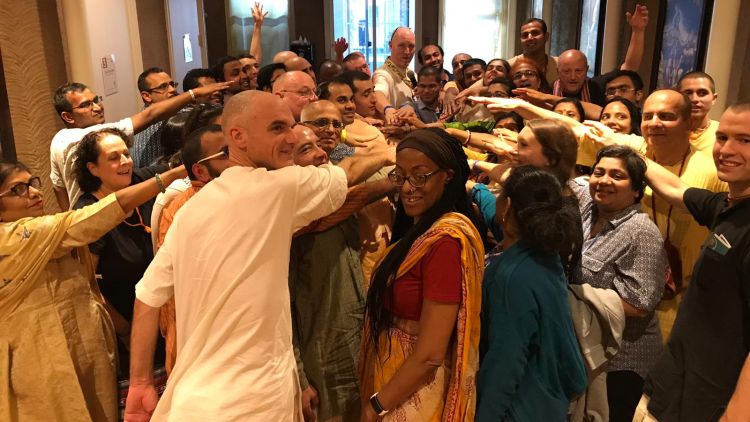 Planning the first New York MSF began several months in advance. It involved Vaisesika presenting a detailed vision to New York devotees; several phone conferences; and planning tools, sankirtan spots, and prasadam ahead of time.
The festival began with a Sankirtan Orientation Session (SOS) on Friday evening at ISKCON's first ever temple -- 26 2nd Avenue. As well as the devotees attending in person at the storefront, a couple of thousand watched online as it livestreamed on Facebook.
In his Powerpoint entitled "The Pen is Mightier than the Sword," Vaisesika explained why book distribution is a sound strategy for spreading Krishna consciousness, giving examples from history of the many ideologies that have been efficiently spread through literature distribution.
Quoting world-renowned academic scholar Joseph T. O'Connell, he also described how our Gaudiya Vaishnava sampradaya – and in particular Srila Prabhupada -- are especially fond of books as a way to disseminate spiritual knowledge.
The next day, all the assembled devotees met at the Bhakti Center in Manhattan for a full morning program, followed by a hands-on training session on how to sell Bhagavad-gita As It Is on its own merit.
"Devotees learned a template, then faced each other and practiced it, so that they knew exactly how to sell a Bhagavad-gita," says Vaisesika.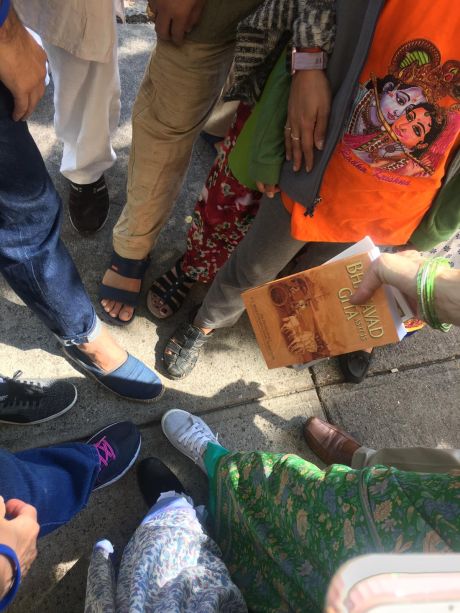 The MSF motto - 'Just touch the pavement. Everything you do after that is extra.'
Vaisesika also taught a number of powerful strategies. For example he took pressure off devotees who were going out for the first time by telling them that all they had to do was touch the pavement. "Getting to your spot is the hardest part," he explained. "So once you do that and touch the pavement as a team, you're done for the day. Anything you do after that is extra."
According to Vaisesika, even if devotees don't manage to distribute any books, just going out with that intention is a great act unto itself. "When we go out the door and leave our comfort zone, we feel spiritual tension," he says. "And from that tension, we grow."
He also taught devotees not to try to convince people, but instead to use special techniques to identify those who are favorable, or "ripe fruits." This also ensures more success and less stress.
"More than anything, we emphasize that book distribution is high sadhana, and is for self-purification," he says. "All the numbers come as collateral benefit."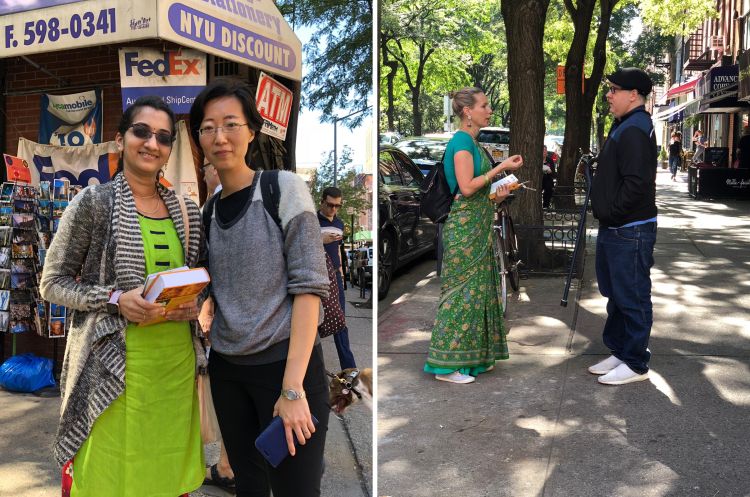 Distributing books during the New York MSF
After the training all seventy devotees – including renowned book distributor Navina Nirada Das and Bhakti Center temple president Virabhadra Rama Das – were divided into four groups and went out to predesignated spots in the city to distribute books and prasadam. As they did, Vaisesika routinely visited each group to see how they were doing.
In three-and-a-half hours devotees distributed an impressive 266 books, 300 pieces of prasadam and 100 mantra cards. Among the distributors were several children, who were thrilled to be taking part and specialized in copies of Chant and Be Happy.
Afterwards, everyone met back at the Bhakti Center to share prasadam and sankirtan experiences together. Many devotees who were first-timers and didn't think they would be able to sell a book expressed how Krishna made amazing arrangements for them to do so, by having them meet very favorable people.
On Sunday the nectar continued with over 100 devotees participating in an extended day of hearing and discussing the very books they were distributing. For two 2-hour sessions at the Bhakti Center, Vaisesika read Srimad-Bhagavatam and stopped at regular intervals for devotees to share their reflections and ask questions.
"When I met Srila Prabhupada in 1973 with our sankirtana team in San Francisco," Vaisesika says, "He told us, 'I've not written these books just for selling. I've written them for my followers to read, become pure devotees, and go back to Godhead.'"
After reading and discussing, everyone took turns offering suggestions on how to improve the MSF for the next event.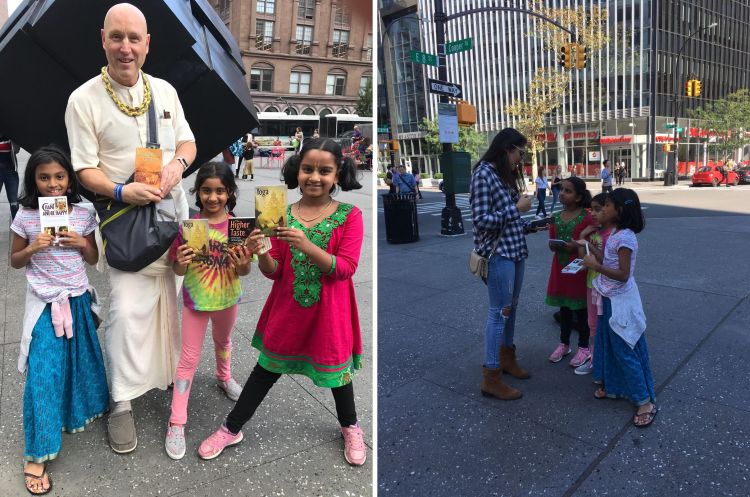 Left - the children are also excited to distribute books with Vaisesika Prabhu. Right - devotee children present Prabhupada's books to an inquisitive passerby
"We compiled a big list, and aim to make at least three new improvements for each upcoming Monthly Sankirtan Festival," Vaisesika says. "And the improvements are systemic. Just because it's a sankirtan program doesn't mean we're only improving sankirtan. One of the benefits of having this as a focal point is that other parts of the community will be improved too."
Going forward, MSFs will be held every month in New York City, with Vaisesika aiming to attend as often as possible to encourage devotees. In addition other ISKCON communities in the greater New York area such as New Jersey and Queens will hold their own MSFs simultaneously. Using a Whatsapp group, all the teams will keep in touch and support each other with comments, photos and videos, so that despite the distance between them they feel as if they're all together.
Meanwhile Vaisesika encourages devotees everywhere to start their own Monthly Sankirtan Festivals simply by following the detailed instructions in his book "Our Family Business." Devotees in several places around the world, such as Narottama Priya Das in Juhu, Mumbai, have already done so and have been wildly successful.
"The recipe is there, and anyone can do it – it's not hard," Vaisesika grins. "In fact, it's the most fun you could have in a weekend!"
[
iskcon-new-york
] [
monthly sankirtan festival
] [
vaisesika
]