for ISKCON News on Jan. 5, 2018
It seemed like Jason La Shard was living the dream.
Born in Quebec, Canada to Kashubian parents (a Slavic ethnic region in Northern Poland), his incredible physical stature – 7 foot 1 with size 20 shoes – set up his destiny early on.
La Shard started out playing ice hocky, then moved to England in 2005 and became a pro wrestler for the UK Wrestling Force, playing a villain character called "The Titan." Meanwhile, he studied art history and film at Kent University.
Soon he began getting roles as a stunt performer in major feature films. Rather than being a stunt double – someone who stands in for star actors during dangerous scenes – La Shard played small character roles himself that were heavy in fight scenes.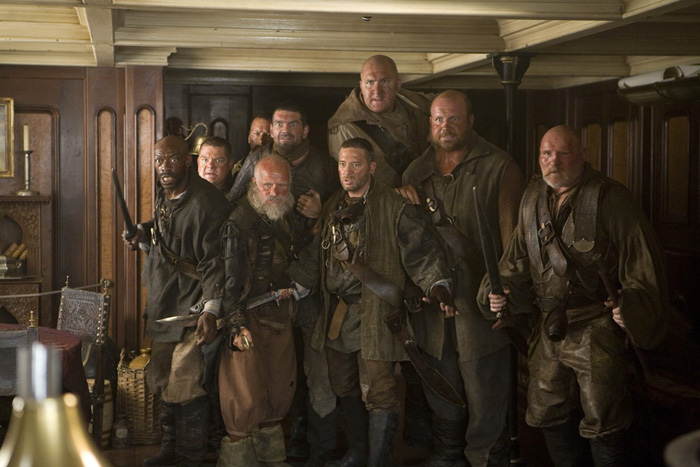 Jason La Shard (aka Bhima) towers above the other pirates in the film Stardust
His first part was as a giant pirate in the 2007 fantasy adventure film Stardust, with Robert DeNiro and Michele Pfeiffer. His breakout came when British director Guy Ritchie offered him the part of the Russian enforcer "Chechyan" in the crime movie RocknRolla, wherein his character clashed with English gangs headed by Gerard Butler.
Over the years La Shard appeared in twenty films, including a role as a Russian soldier in the massive hit X-Men: First Class. He also performed in commercials, and in music videos for British bands like The Zutons and Razorlight.
He learned stage combat, how to use weapons, and how to ride motorcycles. He performed hair-raising stunts, in one film clinging to the roof of a speeding van and smashing its windscreen. He enjoyed the job, challenging and filled with adrenaline. He met stars such as Robert De Niro, Michelle Pfieffer, Gerard Butler, Tom Hardy, and even the late acting legend Peter O'Toole – of Lawrence of Arabia fame – just a few years before O'Toole passed away.
But despite all this, La Shard was very unhappy.
"I was starting to see the emptiness of the material world; the hollowness of material development," he says. "And I was looking for something more."
The answer came in 2014, between acting roles, when La Shard was working at Ripley's Believe it Or Not in London's busy Picadilly Circus. As he stood outside the building, dressed as a jungle explorer and selling tickets, a Harinama Sankirtana party passed by.
"One devotee, Rishi Rai Prabhu from Soho temple, stopped to talk to me, and gave me a Bhagavad-gita As It Is," he recalls. "The power of the maha-mantra was so powerful that before I knew it, I was dancing and chanting with the devotees, in my Indiana Jones outfit!"
La Shard began reading the Bhagavad-gita. "Suddenly, everything made sense," he says. "I had been looking for answers, and now everything came together. I started understanding the laws of karma, reincarnation – the power of this knowledge made a huge impact on me."
Devotees from ISKCON's Soho St temple began visiting Jason and bringing him maha-prasadam and more books. "I read Chant and Be Happy, and the idea of self-realization through chanting really appealed to me," he says.
"Next, I read Prabhupada's biography, 'Your Ever Well Wisher.' I started to become very interested in the person of Srila Prabhupada. I read more and more about his mission, and the history of how he founded ISKCON in the United States. That's when I became vegetarian. Step by step, my consciousness was changing."
La Shard began to look for devotee association. He visited the Soho St. temple, and then took the three-month Veda course, an introductory program to Krishna consciousness, at Bhaktivedanta Manor. There, he studied the Gita chapter by chapter, and learned about Vedic culture, Vaishnava saints, the history of ISKCON and more.
In the summer, he joined Parasurama Das's team of preachers, putting on Rathayatra festivals all over Scandinavia as well as Northern England and Scotland. Parasurama, delighted to make the acquaintance of the "biggest devotee in ISKCON," warmly nicknamed La Shard "Bhima."
"There could be no other name," he grins.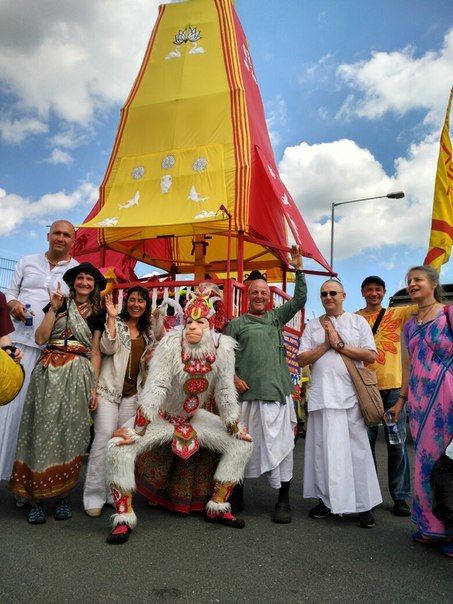 Jason La Shard (far left) at Rathayatra during the Northern UK tour
Bhima threw himself into service, distributing Prabhupada's books while traveling from city to city, happy at the chance to pass on the knowledge that had changed his life. He also performed in a production of the Ramayana at every Rathayatra, playing the giant demon Kumbakarna to the glee of audience members, especially children.
Today, Bhima works with Parasurama's Food For All charity, distributing 1,000 hot prasadam meals daily to homeless people and students throughout London along with books like Bhagavad-gita and The Higher Taste. He is also now aspiring for initiation from ISKCON guru Mahavishnu Swami.
Bhima still has an agent and is attending castings. His most recent role was in the 2015 ITV show Jekyll and Hyde, as the Cutter, a monster with a lobster claw for an arm.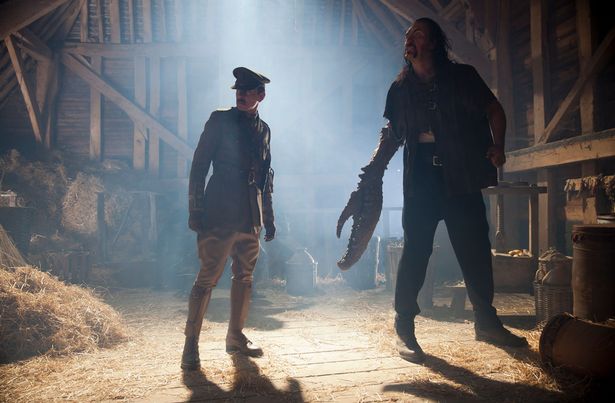 La Shard as the Cutter in TV's Jekyll and Hyde
But it's clear what his top priority in life is now.
"I love to show people compassion by distributing books and prasadam," he says. "And my own wellbeing has improved with the benefits of a vegetarian lifestyle – I feel so much more positive and energetic. What to speak of the of the happiness that comes from chanting the Hare Krishna maha-mantra!"
[
acting
] [
food-for-all
] [
ratha-yatra
]