for ISKCON News on June 10, 2019
As ISKCON UK anniversaries come thick and fast, Govinda's Pure Vegetarian Restaurant in London is celebrating its 40th anniversary this year, snapping up a steady flow of awards and celebrity endorsements and changing more than a few lives along the way.
The Soho St. restaurant, which stands next to London's famous Radha Krishna Temple, was first launched on Srila Bhaktisiddhanta Sarasvati Thakura's appearance day in February 1979.
Since then it has served high quality prasadam – food offered to the Lord and taken as His mercy -- to millions of people. Today, staff headed by manager Thirupati Gauranga Das continue to serve an average of 400 people daily seven days a week, or about 145,000 every year.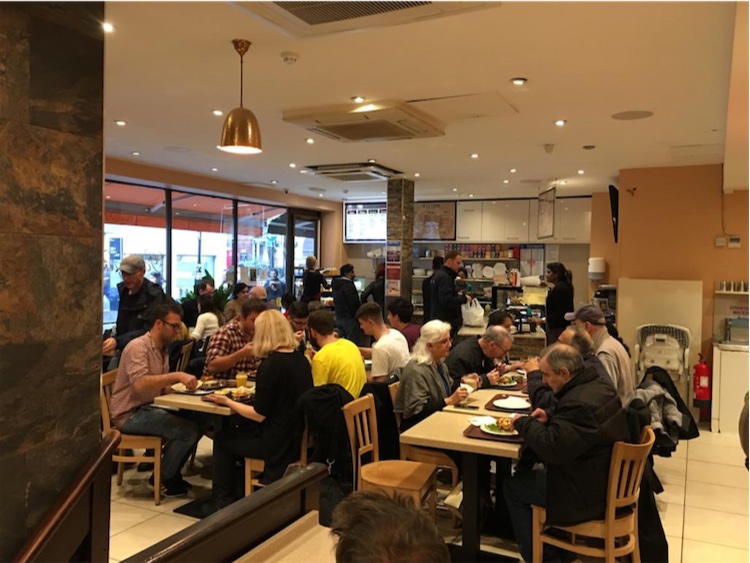 The newly remodeled restaurant is always bustling
Many of these customers' favorite item on the menu is the popular thali, or combination plate – there are four choices, all healthy and affordable, and served in traditional shining stainless steel plates and bowls. A typical thali includes brown or vegetable rice, lentil soup, kidney beans, two curries, chili or mattar paneer, papadam or chapati, a bread roll, salad, and a dessert. Add separate options like lasagna, pizza, mango lassi, and assorted cakes and pies, and you have a feast fit for a king.
A lot of people seem to agree. Last year, Govinda's was listed in the London Evening Standard's "Best Vegan Food in London," as well as in top restaurant lists by personal lifestyle concierge service Inner Place and website MyLondon. "They are a registered charity, so tucking into their amazing traditional Indian cooking is a selfless act, if you really think about it," joked the latter.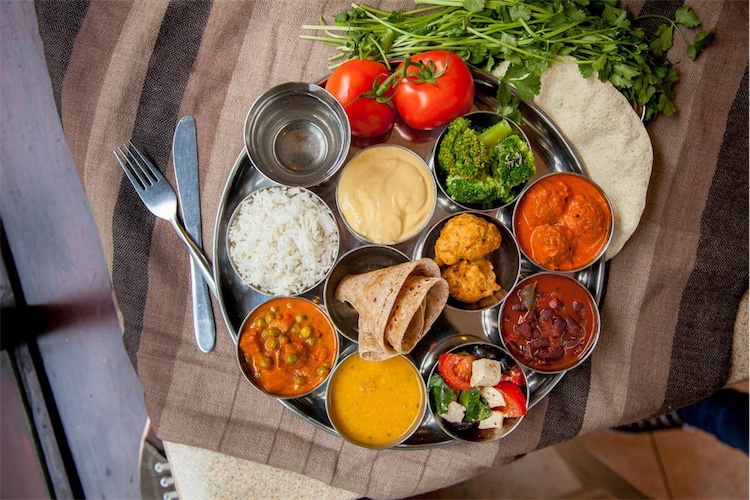 The beautiful thali plate at Govinda's
Govinda's was also the runner-up in the "Vegetarian Restaurant of the Year" category at the London Curry Awards, and appeared in The Londonist's article on "London's Best Lasagna." It received a 2018 Certificate of Excellence from Trip Advisor for "consistent achievement of high ratings from travelers," and the Eco Award from GreenGate Bio Packaging for using eco food packaging which has potentially diverted 66 kgs of away from landfills in 2018.
Govinda's is also championed by several celebrities. Comedian and actor Russell Brand regularly promotes both Govinda's and the Radha Krishna Temple in his shows, and orders prasadam cookies from Govinda's – in a package with the words "Hare Krishna" in a heart – for every single member of his audience.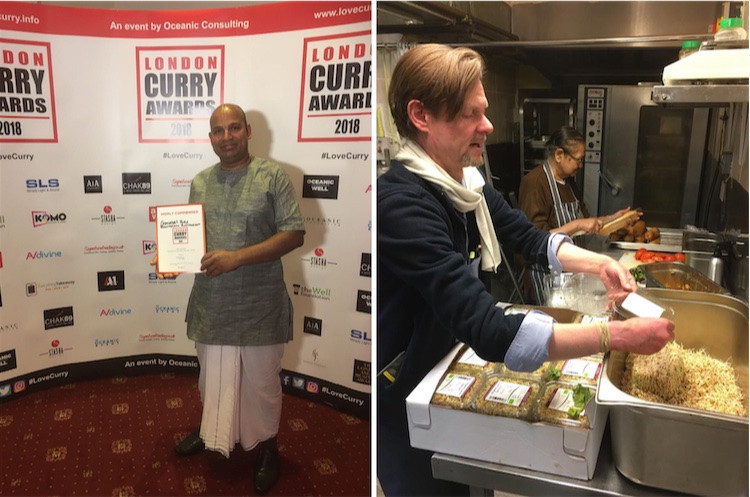 (left) Manager Thirupati Gauranga Das wins runner up Vegetarian Restaurant of the Year at the Curry Awards (right) a long time customer helps in the kitchen
"Karma Chameleon" hitmaker Boy George of eighties band Culture Club, meanwhile, tweeted in May last year, "Went to see the movie 'Hare Krishna' about how A.C. Bhaktivedanta Swami Prabhupada brought Krishna consciousness to the West. Then I had lunch at @govindaslondon and chatted with my devotee friends," along with a photo of himself enjoying the prasadam.
Bollywood director and star Shekhar Kapur has also eaten at Govinda's, among many others.
But perhaps most important is the impact of Govinda's prasadam on the lives of the general public.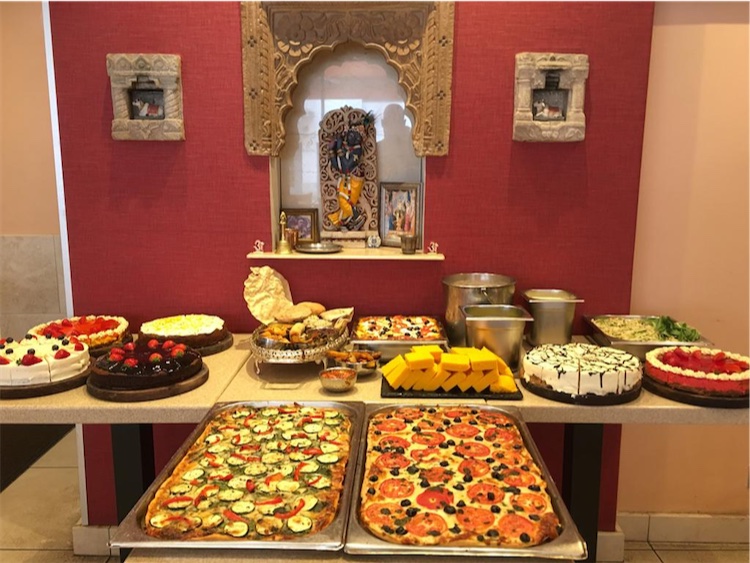 A colorful array of dishes is offered to the Lord
"One gentleman came here for years, and would just get brown rice, dahl, and salad," says Thirupati Gauranga. "He would eat it every day. Then one day he suddenly said, 'This has changed my life. Could I do some service in the kitchen for you guys?'"
Another regular customer, an English teacher in her sixties by the name of Margaret, also began doing service, and went even further.
"We play Radhadesh Mellows kirtan loudly in the kitchen, and she chants the Holy Name and dances as she helps chop up veggies," Thirupati says. "She calls me darling – she says, 'Darling, this kitchen is making my life – I'm becoming a happy person!' Lately, she's also begun asking for books, and reading the Science of Self-Realization and Bhagavad-gita. She'll come in and ask me questions: 'What does this mean?' And now she's bringing her friends too."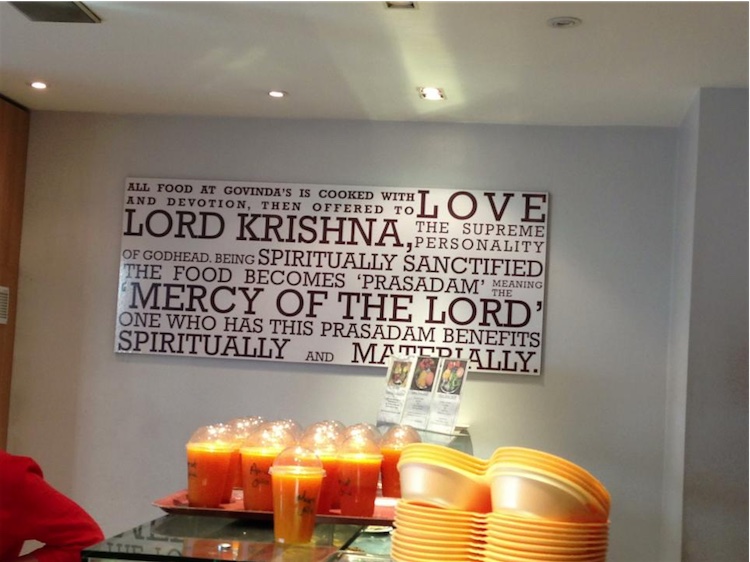 Devotion is an important part of the ingredients at Govinda's
As well as changing their customer's lives, Govinda's staff are also doing their part to bring prasadam to those who can't afford it -- they cook the 900 plates of prasadam that Food For Life serves to the homeless every week.
"Prasadam is one of the best things in life," says Thirupati Gauranga. "Recently I went to visit my mother in India, and asked her for some particular dishes of hers that I had liked when I was younger before I joined ISKCON. When she cooked them, I said, 'Mother, these don't taste the same!' And she replied, 'Well, you have developed a higher taste!'
"Last year we hit record sales," he goes on, "And this year, we are breaking last year's record again! So by the mercy of Sri Sri Radha Londonisvara, we are giving everyone in London a Higher Taste!"
[
40th-anniversary
] [
govinda's
] [
london
] [
restaurant
] [
uk
]