A new assisted living residence for devotees who cannot live independently is set to open within six months' time in Vrindavan, India, the holy place of Lord Krishna's pastimes.
The fourteen-room facility will prioritize the first generation of ISKCON devotees who are now beginning to retire; as well as the next generation and then the extended families of devotees. "Our idea is to give devotees who have given their life to the movement a comfortable living arrangement in the Holy Dhama of Vrindavan," says project vice-chair Trikalajna Das.
In the planning stages for several years, the residence, known as ISKCON Vrindavan Vaisnava Care (IVVC), is located a few minutes drive from Krishna Balarama Mandir. All construction work has been completed, and efforts are underway to acquire all the necessary permissions, draft terms and conditions for staff and residents, hire staff, and set up the medical equipment.
The council behind the project includes ISKCON Vrindavan temple president Pancagauda Das as chairperson; his wife Gaura Purnima Devi Dasi; vice-chairperson Srutakirti das, who was Srila Prabhupada's personal servant for over two years; his wife Vishakha Devi Dasi; vice-chairperson Trikalajna Das; Sita Ram Das; and Prema Prakash Das, who will serve as head of the department and will be the day-to-day operations manager.
The assisted living residence consists of four floors including the ground floor. It is equipped with a lift for easy access, and has fourteen large, 300 square-foot one-bedroom suites, each with twin single beds and an attached bathroom. All rooms have AC and heat, and there is a backup generator to ensure that electricity will always be available.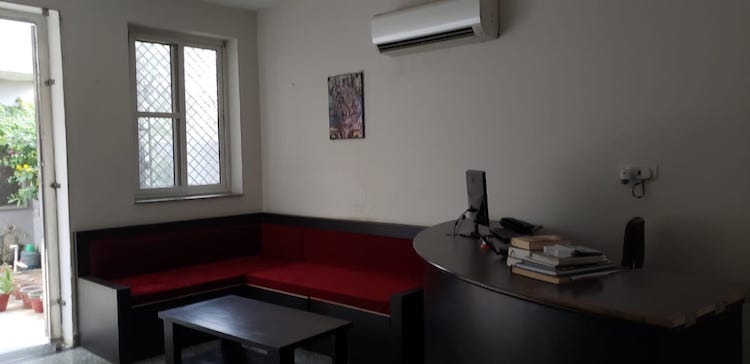 IVVC will be staffed by medical professionals including a full-time doctor and at least two nurses. Housekeeping staff will do all necessary cleaning, wash residents' clothes, take care of their rooms and bathrooms, and serve them prasadam. Allopathic, homeopathic, and Ayurvedic doctors from ISKCON Vrindavan Krishna Balarama Mandir's clinic will also be available for consultation.
A second building alongside the main building will house the kitchen, where prasadam will be prepared daily for all residents. Menus will have multiple options to pick from based on the doctor's advice. This building will also include accommodations for staff.
Meanwhile, IVVC will ensure a high quality of life for residents. "Our desire is to offer those in our care the ability to have a spiritually oriented and active lifestyle as much as they are able," Trikalajna says. "Srila Prabhupada wanted that his followers had the opportunity to come to Vrindavan to retire and live peacefully in the place where Krishna performed His pastimes."
There will be a temple room with deities; screens in every room so that residents can watch live programs in Krishna Balarama Mandir; regular kirtans with visits from local kirtaniyas; and seminars and talks by visiting senior devotees. Arrangements will be made so that residents can visit Krishna Balarama Mandir on a daily basis. There will be a garden that the residents can help maintain if they desire, and tours to the sacred sites of Lord Krishna's pastimes including Govardhan, Nandagaon, and Barsana.
Residents will also be able to continue preaching and sharing their lifetimes of wisdom with others by giving Zoom talks or seminars to devotee communities around the world.
For residents who require intensive care, IVVC will have two fully-equipped ICU rooms. "With this facility, when it is clear a devotee only has a few days left to live, we will be able to provide end of life care in a devotional environment rather than their being in a hospital," says Trikalajna.
Long-term plans also include an expansion to either one large facility with many rooms or multiple smaller units as the need arises.
Most importantly, the ISKCON Vrindavan Vaisnava Care assisted living residence aims to give devotees personal, loving care in a devotional environment that is familiar and comfortable for them.
"Our mission is to give devotees in our care a modern, comfortable home in the sacred land of Vrindavan," Trikalajna says. "Vrindavan is Krishna's home, and Srila Prabhupada's as well. Our desire is to take care of all of our family members who come here in the best possible way, as His Divine Grace has shown us by his example."
Enquiries can be directed to IVVC Senior Manager Prema Prakash Das. He can be reached at: vrindavandevoteecare@gmail.com
[
devotee-care
] [
hospice
]