for ISKCON News on Nov. 13, 2020
In their new book, "An Endangered Species: ISKCON Ashramites in the West," Kalakantha Das and Jitamitra Dasi posit that ashrams are still an important part of today's ISKCON. They explain how to create an ashram program that attracts devotees from all backgrounds in the West, especially in North America.
"Some say that the idea of joining an ashram or commune is passé, a hangover from the drop-out anticulture of the 1960s that is not the way of today's Millennials and Generation Z," writes Akhandadhi Das in the Foreward. "Based on my experience, I disagree."
Akhandadhi says that while running the UK's largest retreat center, he has seen many serious adults preparing to enter some kind of monastic or communal life. "From these encounters I have observed that although young people today are less driven to turn their back on society, they have a greater awareness that they must care for themselves as holistic beings, striking a sustainable balance between their outer and inner lives," he explains.
Speaking about ISKCON devotees' experiences, he adds: "Though most of us no longer reside in temple ashrams, we attribute the lion's share of our realizations, purification, advancement and devotion to those formative ashram years."
One center that has been incredibly successful in providing and maintaining ashram training in the West is the Krishna House in Gainesville, Florida, USA, now managed by temple president Sruti Sagara Das.
Previously, Kalakantha Das was the president for fourteen years, while his wife and co-author Jitamitra Dasi served as secretary treasurer. Today, Jitamitra continues her service, while Kalakantha serves as the Krishna House chaplain, counseling new students.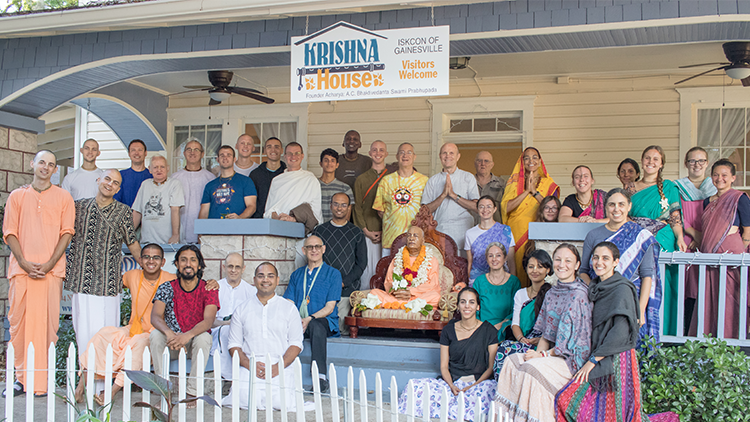 Srila Prabhupada's murti at Krishna House with the Bhakti Academy graduating class of 2019
"For the ten years prior to opening our Bhakti Academy in 2008, there had been one devotee who had joined in Gainesville as an ashram resident," Kalakantha says. "In the ensuing twelve years since 2008, there have been about 350."
Even during the pandemic, new ashram residents are joining – all first receive a COVID test and quarantine in a separate apartment before moving in, and observe social distancing and mask-wearing in public.
So what's the secret? In the first section of their 90-page book, Kalakantha and Jitamrita recount the history of Krishna House, describing the negative experience some students had after being influenced by a hardline approach to Krishna consciousness from various sources.
Learning from this, Krishna House advocates a more encouraging mood to "just add Krishna." People are attracted, Kalakanatha says, "if they're not told they have to make dramatic changes in their life, beyond chanting sixteen rounds and following the four regulative principles."
The Krishna House found success when it experimented by going back to simpler times and creating the family mood of early ISKCON. "The success is really Srila Prabhupada's success," Kalakantha says. "We're just trying to recreate Prabhupada's mood in the early days. That's very attractive, and once it gets rolling, it has a life of its own. Because young people attract other young people – when they see their peers being blissful in Krishna consciousness, they're naturally attracted."
In the second section of the book, the authors provide a guide on how to recreate a Krishna House. According to Kalakantha, steps include "an accessible presentation that is not too extreme for those not familiar with Vedic cultural practices; residential facilities so that interested people can take the next step and live with devotees in the ashram; and a full-time ashram leader whose service is to bring new people to Krishna consciousness and care for them when they come."
The third section, meanwhile, outlines the training students receive so that they can have a sustainable life in Krishna consciousness.
One important element is gender equity. "The way women have been treated in ISKCON, and to a certain extent the way they are still treated today, is the most marked departure from Srila Prabhupada's early days in starting ISKCON," Kalakantha says. "The early days were characterized by a true spiritual equality of men and women. As Srila Prabhupada said, for practical purposes, men and women are housed separately. But other opportunities are all the same."
He adds: "If there's one thing to communicate about the book, what we learned at Krishna House is that when we started treating women equitably, then people started joining like anything – women and men."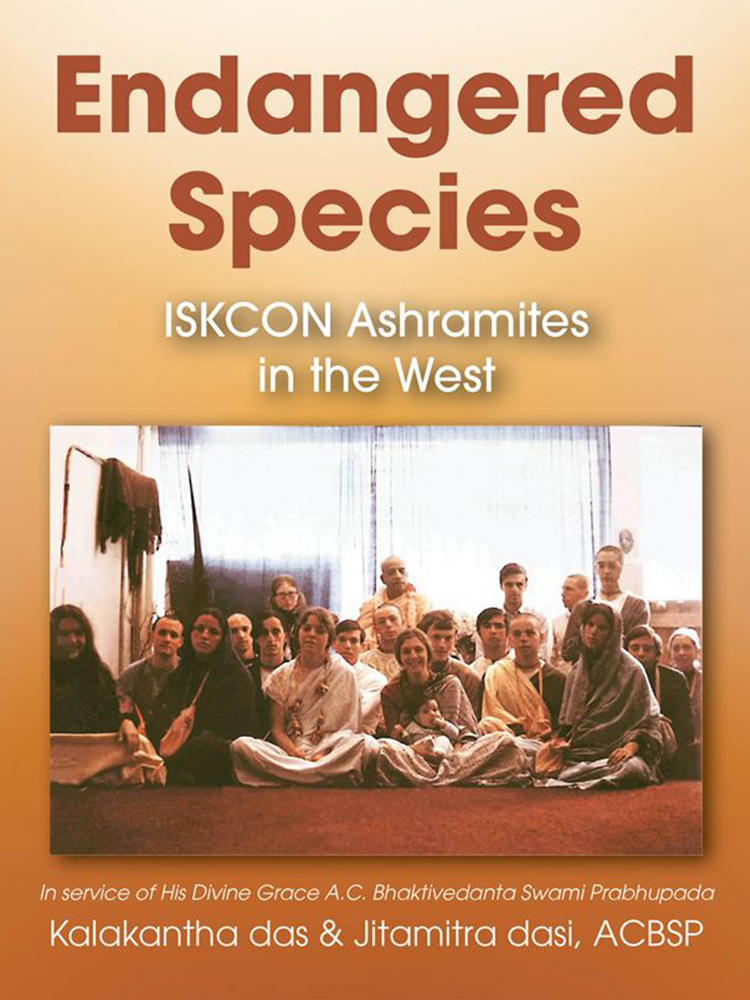 The cover of the book 'Endangered Species'
Kalakantha also points out that ashrams meet people's practical needs. "Everyone needs a place to live, everyone needs companionship, everyone needs meals," he says. "If we can provide what people – such as college students – need, in a Krishna conscious environment, they are willing to make the leap and try it out. They think, 'I need to live somewhere, I need some friends, I need some meals. Let me just try this life and see what it's like.' And because we run it like a school, people are committed to no more than a semester when they move in. If they decide they don't like it, there's no recrimination, they're given a warm send-off, and most of the people, even if they don't choose to stay in the ashram, retain very nice relationships with their devotee friends."
At Gainesville's Krishna House, the ashram is run on a trimester basis for about three-and-a-half months per session. Some people move in to help with missionary activities half-time – twenty hours a week – and pay no tuition. Others choose to pay a $500 monthly tuition, which covers room, meals, and incidentals, and go to school or work during the day. All residents attend the morning program Monday through Friday, including an hour of japa, an hour of class and half an hour of kirtan.
Amidst such a program, Kalakantha says, "People can very quickly deepen their joy in the practice of bhakti, and their faith in Srila Prabhupada. That's the most immediate and visible symptom and benefit of ashram life."
Of course, people can become Krishna conscious at home too, but according to Kalakantha the process is faster in an ashram setting. "Srila Prabhupada compared it to the stock exchange," he explains. "If you're trading stocks, and you're in the stock market where everybody else is trading, then you can buy and sell very quickly. Similarly, if you're learning about Krishna in the association of other people who are doing the same, then everybody advances that much more quickly."
A book specifically meant for ISKCON leaders and members rather than the general public, Endangered Species has garnered praise from some leaders such as ISKCON guru Indradyumna Swami, who writes:
" 'Endangered Species' nicely outlines the shortfalls of ISKCON's past while providing valuable advice and direction for ISKCON's future. The strong statements in this book will remind ISKCON leaders about the benefits of ashram training. In addition to being very much a part of the Vedic tradition, ashrams were integral to ISKCON's initial worldwide growth. Krishna House proves that such ashram training is still applicable even today. Having seen the success of Krishna House firsthand, I wonder why other leaders have not followed its example. Nothing speaks louder than success."
* * *
Download the book for free here: http://iskconashramites.com/
[
ashram
] [
ashramites
] [
book
] [
iskcon
] [
species:
]