for ISKCON News on Jan. 26, 2018
Sally Hedges Greenwood has visually captured the life and soul of Bhaktivedanta Manor in the UK and those that worshipped, celebrated, worked and lived there in 2004. Thirteen years later, in 2017, a collaboration with Radha Mohan das adds a further dynamic to the previously unpublished photographs, which succeeds in being both intimate and informative.
Sally was a mature student from Amersham College and was assigned to the Manor for her end of year project. Sally was previously the Managing Director of an exhibition company, so taking photographs was natural to her. 
"Photographing at Bhaktivedanta Manor was an extraordinary experience for me in many ways", explained Sally. "There was always a lot going on and I was accepted by the community right from the very beginning. I considered myself an ideal person to capture their moments".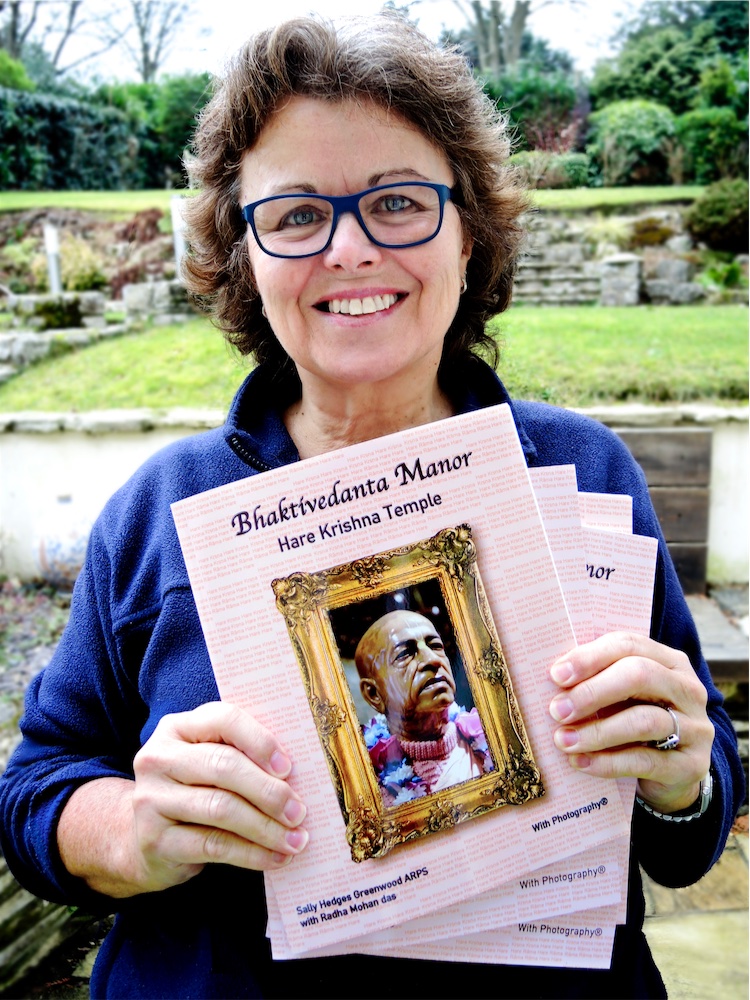 The photographer Sally Hedges Greenwood with the book
"The book may also be regarded as a souvenir for guests as well as devotees of Bhaktivedanta Manor. Put together in one volume, the photographs become a private, spiritual and personal photograph album".
Bhaktivedanta Manor is many things: a temple, a home and a farm; it is unusual and interesting but above all it is a community whose contribution to their own and the wider community is extensive and inclusive. 
* * *
For more information, to 'Look Inside' or to buy either the paperback or the eBook please visit Amazon.co.uk https://tinyurl.com/ycmplhlh (Also Amazon.com and Amazon.eu). 
[
bhaktivedanta
] [
manor
] [
photography
] [
uk
]