for ISKCON News on Feb. 24, 2016
ISKCON inaugurated a new temple at the birthplace of Lord Nityananda, Ekachakra Dham. The temple is built in traditional Bengali style, painted saffron – a lovely sight in the midst of a rural area. ISKCON GBC Jayapataka Swami remarked that this was a humble offering to Srila Prabhupada and Lord Nityananda for the occasion of the auspicious year of ISKCON 50.
The temple was inaugurated on 14-15th of Feburary, 2016. Over 10,000 devotees from all over the world attended the festivities. The ceremonies were culminated in the grand Abhishek for the Lordships Sri Sri Radha Vrindavan Mohan, Lalitha,Vishaka Sakhis and Sri Sri Goura Nitai. The attendees included many senior devotees and sanyasis such as Jayapataka Swami, Bhakti Vighna Vinasa Narashima Swami, Bhakti Chaitanya Swami, Bhakti Gaura Vani Swami, Lokanath Swami, Bhakti Purushottama Swami, Jananivas Dasa and others.
Apart from the local devotees, members of the Temple of Vedic Planetarium helped to a large extent in raising funds for the Ekachakra temple project. They remarked that they felt the need to build a temple for Lord Nityananda at his birthplace and that it would assist Lord Chaitanya's Temple of the Vedic Planetarium manifest faster.
The temple has a built up area of about 8000 square feet. The ceiling of the temple has carvings of some of the beautiful pastimes of Lord Nityananda. Stain glass depicting various pastimes of the Lord, add to the aesthetics of the temple.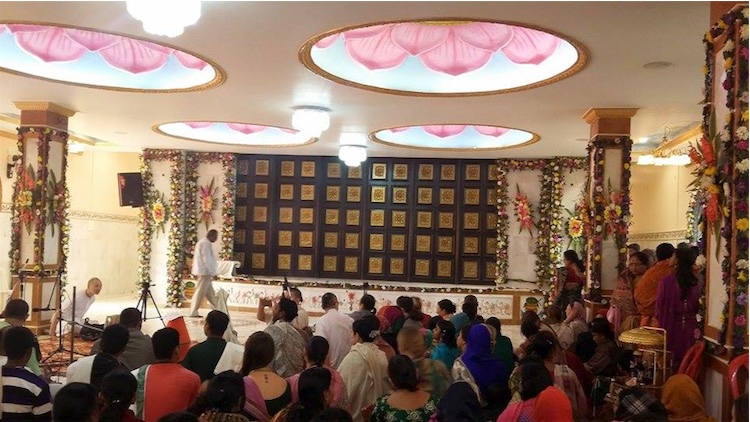 The temple room
The temple is in a short distance from the actual Janmasthan or the birthplace of Lord Nityanada. Other attractions in the village of Ekachakra include Nitai Kunda, Jhanukunda and Pandava Sthala.
Located about 165 kilometers from Sri Mayapur, Ekachakra is surely going to be increasingly visited. A new guesthouse facility is under construction that will soon accommodate devotees to stay. "It is Nitai's mercy that this temple has come up finally, but there is more to do and we seek the support of devotees in further developing the project", said temple president Sanatana Gaura.
[
ekachakra
] [
nityananda
]