for ISKCON News on Aug. 19, 2019
Utah, the American state best known for its mountains, skiing and majority Mormon population is now home of two beautiful Hare Krishna temples.
On Saturday August 17, several hundred Krishna devotees and friends, as well as a large number of first time visitors, flocked to their state's newest Krishna temple—in Salt Lake City—to witness its historic official opening.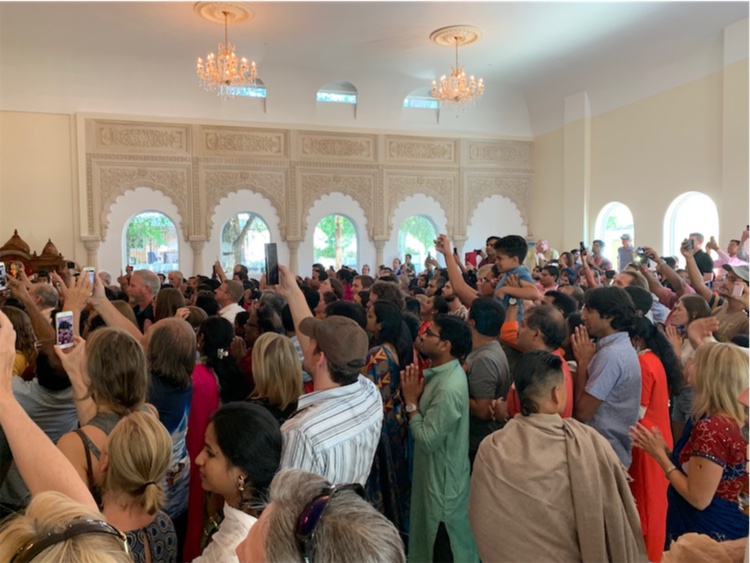 A large crowd enjoyed the first arati ceremony and kirtan in the new temple
The new expansive temple structure is home to Sri Sri Radha Govinda, beautiful white marble Deities of Lord Krishna and His consort, Srimati Radharani. The temple boasts traditional domes, high ceilings, ornate columns, and spacious walkways. The temple room is pleasantly bright by virtue of large windows on three sides and the light colors of its walls and marble floor. The building also features a large entryway with seating areas for dozens, and a gift shop.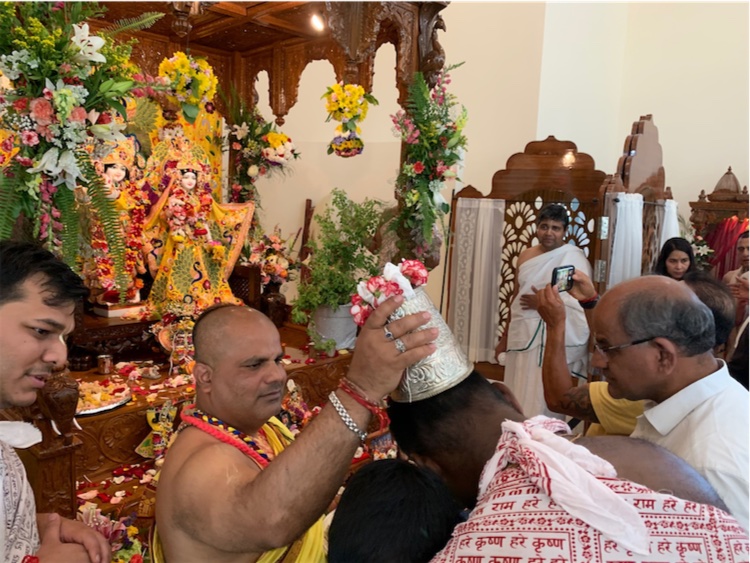 Priests offer blessings to the devotees attending the opening
"I wanted to create a space that evokes joy so that once entering people will carry that feeling with them," explained Vaibhavi dasi, the temple's designer. "Unlike our Spanish Fork temple, this one is not situated on top of a hill, it's in a city. So I created that same sense of space using high ceilings and rounded walls, providing a peaceful and spiritual experience," she said.
Vaibhavi and her husband, Caru das, are the driving and devotional force behind both the Salt Lake City and Spanish Fork temples. Spanish Fork, which opened in 2001, has become well known globally for hosting the "Holi Festival of Colors" each spring. That event draws 20,000 participants, many of whom are Mormon students from the nearby Brigham Young University (BYU).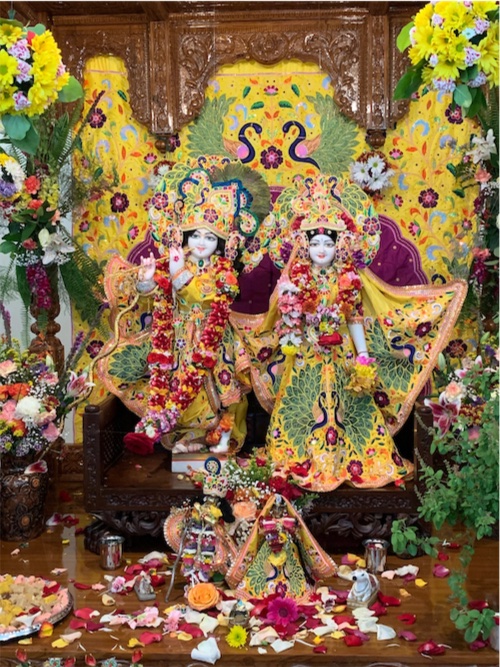 Their Lordships, Sri Sri Radha Govinda, are the center of the devotion at the new temple
The new temple project in Salt Lake, conveniently close to the downtown of Utah's largest city, sits on 4 acres of land and includes the new temple building as well as an existing former school building with existing classrooms, a commercial kitchen, offices, and a large multi-purpose room. The property's spacious grassy areas and new parking lot provide ample space for a variety of Vaishnava festivals and events.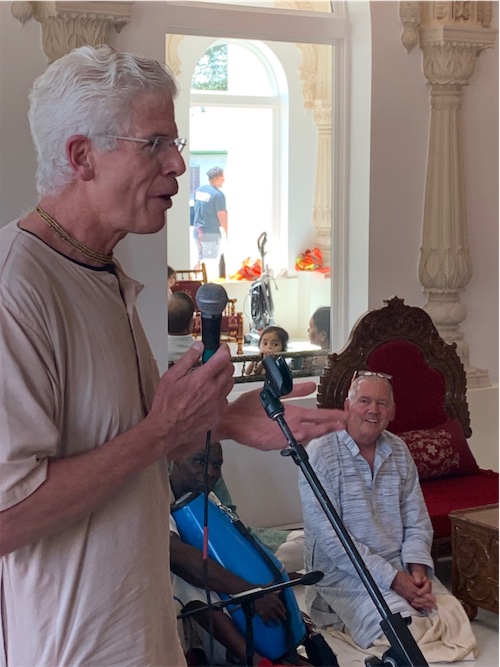 George Pratt, a practicing Vaishnava, observant Mormon, and local attorney, shares his remarks while Caru das, Temple President, looks on.
Guests to the temple opening were treated to a Bharatanatyam dance by Los Angeles based Malini Teneja, a variety of kirtan performed by children and adults, and a multi-course vegetarian prasada feast. The audience also heard brief remarks shared by Caru das, Sri Sharma and Dinesh Patel, both leading contributors to the temple, and Mr. Ron Clark, a spokesperson and leader of the Mormon Church.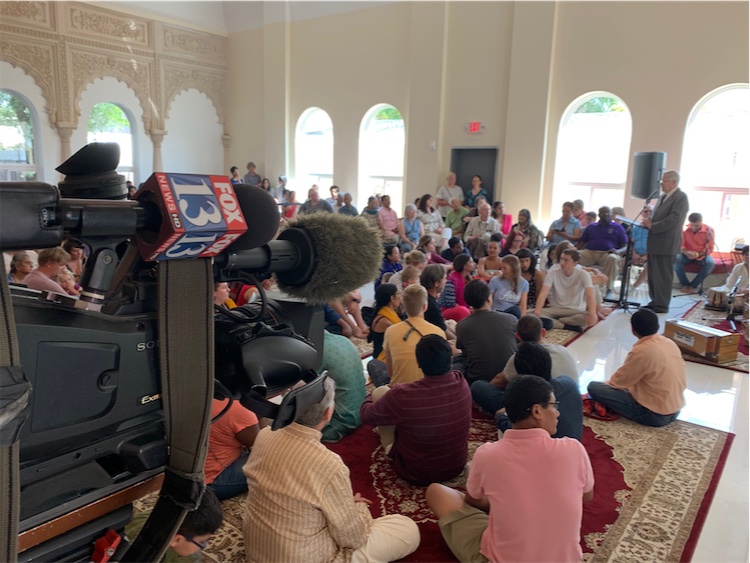 A camera from the local Fox News TV station captures the comments of Mr. Ron Clark during the opening events.
Mr. Clark, a long-standing friend of the Krishna community, offered this appreciation:
"To be sure, this temple will be a place of lively and colorful celebration, where youth of all ages may gather to enjoy festivities—a safe and meaningful place of life, music, peace, and tranquility... In love and with open arms, dear friends of the Krishna Temple of Salt Lake City, we welcome you and we thank you [for] broadening our understanding and allowing us insight into your beautiful faith."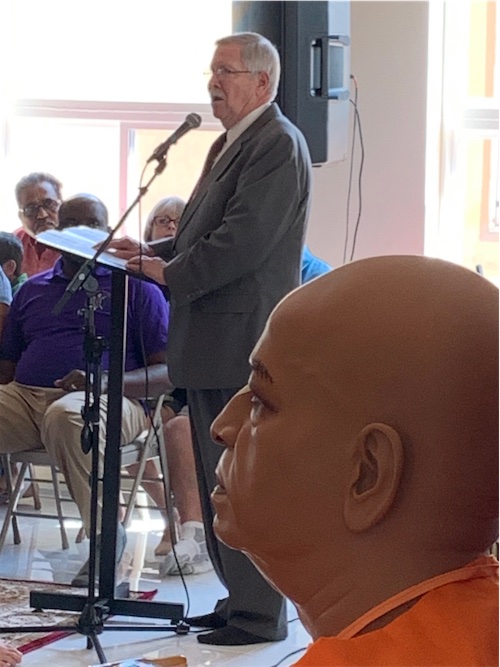 Srila Prabhupada, in his murti form, gazes on the crowd while listening to the remarks of Ron Clark, spokesperson for the Church of Jesus Christ of Latter-day Saints.
After the event, and many months of hard work and challenges in completing the project, Vaibhavi shared her reflections: "People want to be inspired and proud of their temples, their culture, and their places of worship. The thing I noticed most at the opening was the joy on the faces of everyone there. They all were having such a wonderful time."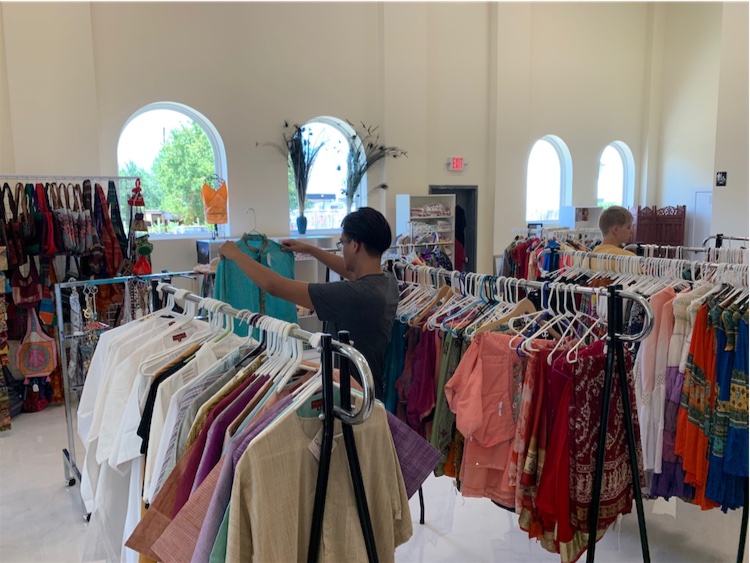 The temple gift shop also drew visitors during the temple opening.
[
mormonism
] [
salt-lake-city
] [
utah
]