for ISKCON News on Feb. 16, 2017
A new solo exhibition opened at the Museum of Sacred Art (MOSA) in Radhadesh, Belgium on January 28th, during the Radhadesh Mellows kirtan festival, entitled "The Many Colors of Satsvarupa Dasa Goswami."
Satsvarupa Maharaja's bright and colorful works filled MOSA's two exhibition spaces during Radhadesh Mellows -- which was attended by about a thousand devotees -- and continue to be on display now.
Satsvarupa Dasa Goswami is well-known in ISKCON for his prolific writings, which include Srila Prabhupada's official biography, Srila Prabhupada-Lilamrita, as well as scriptural works and more personal free-writing offerings like "Entering the Life of Prayer."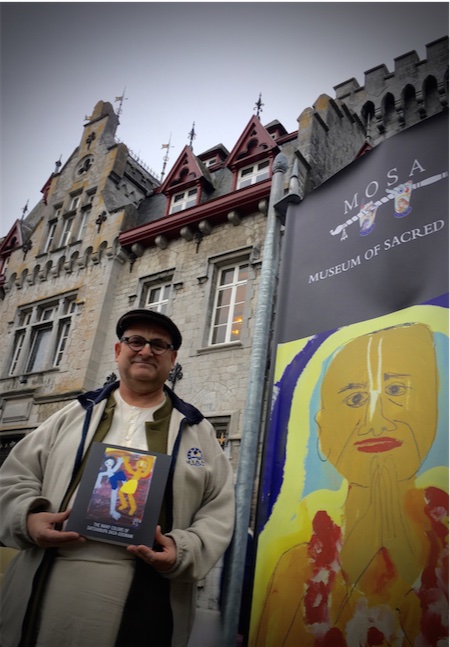 Mahaprabhu holds the catalog of SDG's work next to a painting of Srila Prabhupada
His equally prolific painting career began in the 1990s while in his fifties, as he says "for the fun of it" and "as a therapeutic release from my migraine headache syndrome."
An untrained artist, Satsvarupa Maharaja's paintings are, by his own admission, "primitive and childlike" compared to the "polished realism" of the BBT artists who illustrated Srila Prabhupada's books.
They are however sought after by connoisseurs of the art brut movement (a French phrase meaning "rought art"), whose raw authenticity is championed as honest and visionary.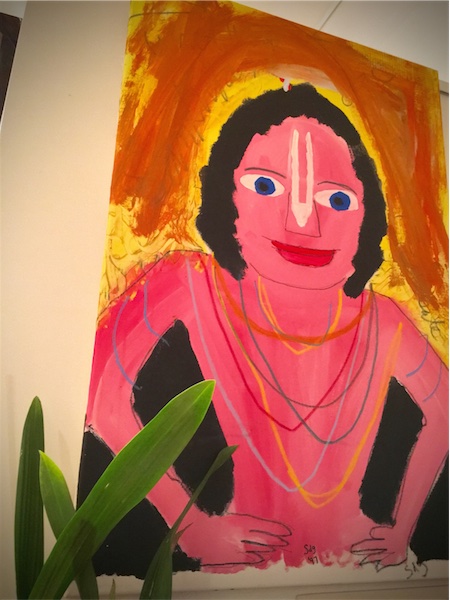 A painting of Sri Chaitanya Mahaprabhu

"His paintings bring his inner world to the canvas in strong colors," says MOSA Director Mahaprabhu Das. "His art isn't sophisticated from an artistic point of view, but it does transmit his emotions, struggles, and joy in practicing Krishna consciousness. His art has been a kind of therapy and a way to share what goes on in his mind and heart."
Satsvarupa Dasa Goswami's works include paintings of Radha-Krishna, Gaura-Nitai, Vaishnava sadhus, sankirtana singers and dancers, and the forests of Vrindavana. Among his signatures are self-portraits of himself with his beloved guru, Srila Prabhupada. Other paintings explore sadhana or the writing life.
In his peak productive period, while living for five years in a cottage in Ireland in the early 2000s, Satsvarupa Maharaja painted four to five canvases a day. Fifteen years later, he's still painting at his ashrama in upstate New York, although he's now averaging two canvases a day.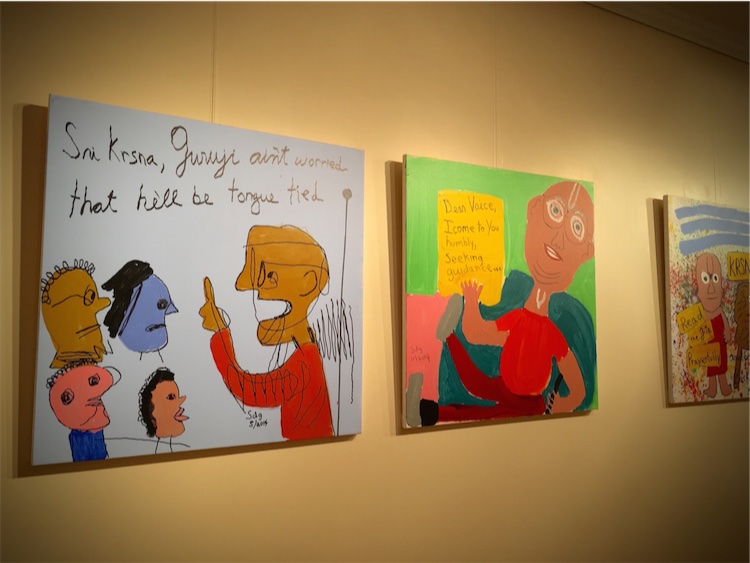 Satsvarupa Das Goswami's 'art brut' work
"I love to paint; it gives me satisfaction, and I am getting validation that it is pleasing to others and they enjoy seeing and owning my paintings," he says. "I think I have my spiritual master's permission, and in a small way it is pleasing to Krishna. Thus it is part of my devotional service to the Lord. I intend to keep it up."
Along with the "Many Colors of Satsvarupa Dasa Goswami" exhibition, MOSA produced a full color catalog of his paintings for the occasion, with a foreword by Mahaprabhu, an introduction by Satsvarupa Maharaja himself about his creative process, and a piece by scholar Satyaraja Das.
Among the many devotees attending the exhibition's opening was ISKCON guru and Satsvarupa Maharaja's godbrother, Sacinandana Swami.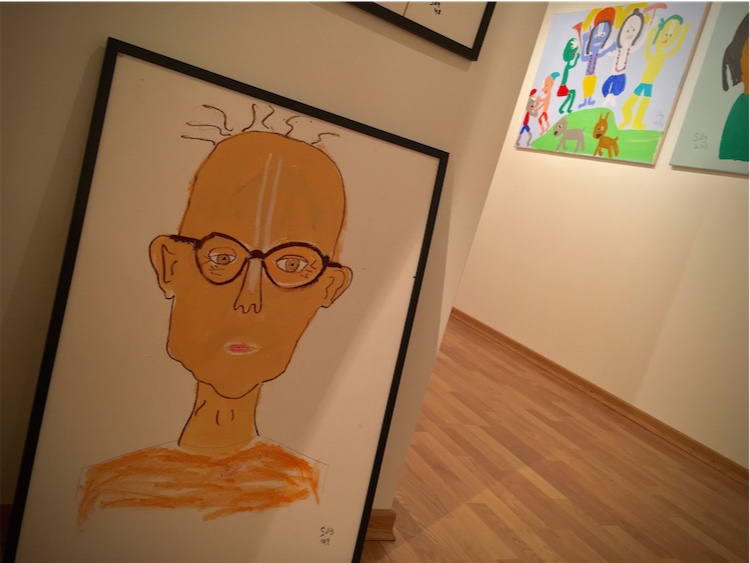 A self-portrait of the artist, Satsvarupa Dasa Goswami
The opening featured a kirtan concert by Nadia Bihari Das, and prasadam snacks by Brussels' Govinda Catering Company were served.
"At MOSA, we want to showcase the artwork of ISKCON artists to both devotee and non-devotee audiences, especially since the number of venues to do so is rather limited," says Mahaprabhu.
"During future Radhadesh Mellows festivals, we intend to continue presenting other devotee artists so that they can add their transcendental art to the transcendental sounds and thus enhance the purifying experience."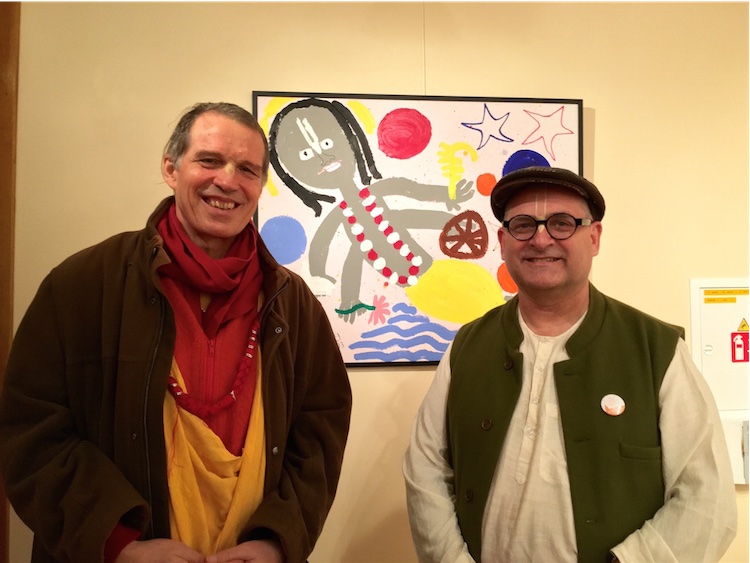 Sacinandana Swami and MOSA Director Mahaprabhu Das at the exhibition
[
belgium
] [
mosa
] [
radhadesh
] [
satsvarupa-das-goswami
]