on Jan. 14, 2021
While its doors remain closed to the public due to COVID-19, the brand new Portland Bhakti Center, located in the hip and trendy Hawthorne neighborhood of Portland, Oregon, has launched and is serving COVID-safe Krishna Friday Feasts to-go for all.
The new center will work cooperatively with the already existing ISKCON Portland temple, located in the Hillsboro suburbs. For its part, the Portland Bhakti Center aims to reach people in the city, including both young newcomers and older devotees who have become disconnected from the Hare Krishna Movement over time and are looking for fresh inspiration.
Keeping longtime devotees inspired and involved is something especially close to the heart of Portland Bhakti Center director Govardhana Das, 46, who found his way back to active devotional service recently after many years.
Joining ISKCON in 1992 in Gainesville, Florida at the age of 18, Govardhana was a full-time temple devotee for many years, doing traveling sankirtan in the U.S. and serving as Lord Nrsimhadeva's pujari in Germany.
After his first guru left his position in the mid 2000s, he found his faith challenged, but took reinitiation and continued on. Upon becoming a father and moving out of the temple with his family to make an independent living, however, he began to focus on growing his success in business and, he says, "I lost my focus on Krishna consciousness."
First opening a chain of barbershops, Govardhana soon developed many successful businesses, including several restaurants, a tattoo shop, a motorcycle shop and a bioplastics company.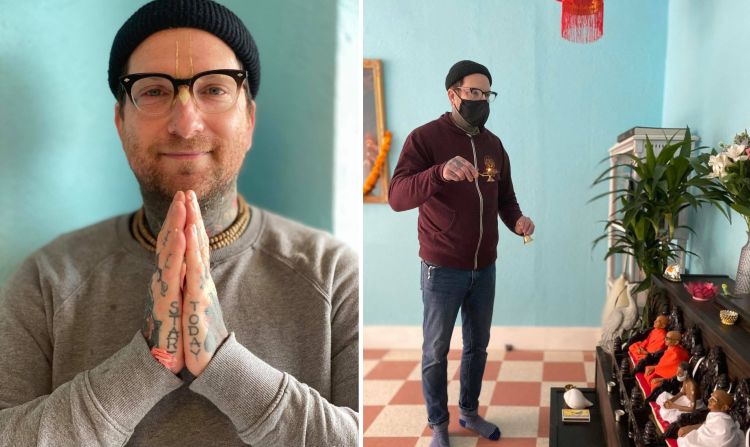 "I really enjoyed that, because I guess it made me feel like I was the controller; like I was determining my own destiny," he says. "But just like material success, spiritual independence also spreads very quickly – you can quickly forget about Krishna. I became antithetical to Krishna consciousness. For close to ten years, I was away from the movement, and had nothing to do with it."
A shift came, however, when Govardhana began to feel that his priorities were wrong. "I started realizing that I just wasn't a great person anymore – I wasn't being nice to people," he says.
One night he sat down and carefully considered, "What do I believe? And if I do believe in something, what am I going to do about it?" He began to pray for direction and then spontaneously started chanting the Hare Krishna maha-mantra.
"I realized, 'Krishna's not done with you,'" he says.
Returning to a Hare Krishna Movement that he feels has changed for the positive – "It's more inclusive, more tolerant, and kirtan is just insane now," he says – Govardhana looked for devotional service that fit his current talents and interests.
"I've been a brand builder and entrepreneur here in Portland," he explains. "That's what I know how to do – start things, and grow them. So I felt that the best way to utilize my skills in service would be to start a center."
Encouraged to follow this path by his guru Bir Krishna Goswami, Govardhana sold all his businesses except a bagel shop which he turned into a vegetarian deli. The sale enabled him to personally fund and focus on the Portland Bhakti Center, a storefront just four blocks from where the original ISKCON Portland temple stood during Srila Prabhupada's time.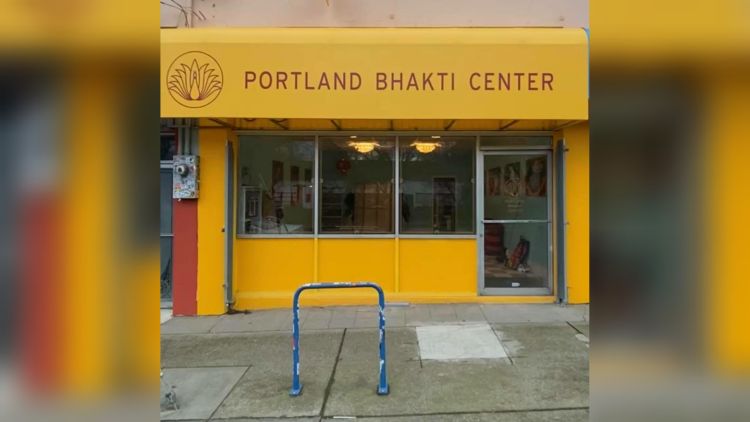 Somewhat reminiscent of ISKCON's first center at 26 2nd Avenue in New York City, the Portland Bhakti Center stands out with its bright yellow exterior, simple lettering and peacock logo. Inside, there's an altar for Sri Sri Nitai Chaitanya, marigold-garlanded paintings of Krishna's pastimes on the walls, and a classic checkered floor. Deities of Lord Jagannath are set to arrive later.
Converted from a massage therapy center starting October 1st, the building received new floors, ceilings with lotus chandeliers, and a certified commercial kitchen, and launched on New Year's Day 2021.
In sync with its appearance, the center will follow the simple program Srila Prabhupada started ISKCON with – kirtan, prasadam, and philosophy. During the pandemic, prasadam means a to-go only Krishna Feast served at the entrance through a plexiglass divider. One cook and one server, wearing masks and gloves, serve the vegan Feast every week. The rotating mix of traditional ISKCON prasadam and Western favorites have so far included Gauranga potatoes, rice, dahl, halava, rosewater lemonade, barbecue tofu, mac and cheese, collard greens, and cornbread. The Krishna Feast is free and open to all, with donations welcome.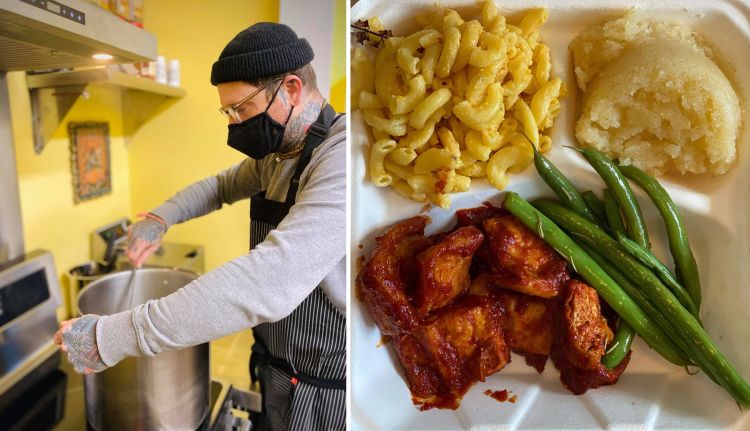 As far as kirtan is concerned, there will be a small closed group Wednesday night program (not open to the public) with just four to five devotees chanting quietly, masked, and maintaining ten feet distance.
Govardhana also plans for this closed group to start a once-a-week prayer circle, offering prayers to the Lord for those who make submissions through an online form.
In the Spring, a weekly public outdoor kirtan and prasadam program will begin at one of Portland's beautiful parks such as Laurelhurst Park, where Srila Prabhupada used to chant his japa. Masks, social distancing and other locally required safety protocols will be carefully maintained.
Further in the future, once it becomes safe, Govardhana hopes to have a monthly Prabhupada disciples' night, during which second and third generation devotees will cook prasadam for disciples of Srila Prabhupada as they share memories and pastimes. He also aims to have a milk, cookies and Krishna book night on Tuesdays, and Saturday morning pancakes, both of which would be a forum for building relationships and community development.
Govardhana's other plans include writing a book about bringing devotees back into the Hare Krishna Movement. In his long-term vision, he would like to purchase a church building in the city or a farm community on the outskirts.
When asked how it feels to be back, Govardhana says that he's more appreciative of devotee association, and that his spiritual practice feels more genuine and heartfelt, now that he's choosing it rather than simply doing what he's told.
"Above all, my main emotion is gratitude," he says. "To have found my way back is a miracle in itself. I felt like it was my own personal debt of gratitude to Krishna to start something here in Portland. And I definitely see Krishna working through me. I'm not doing any of this on my own."
For more information, please visit: https://www.facebook.com/portlandbhakti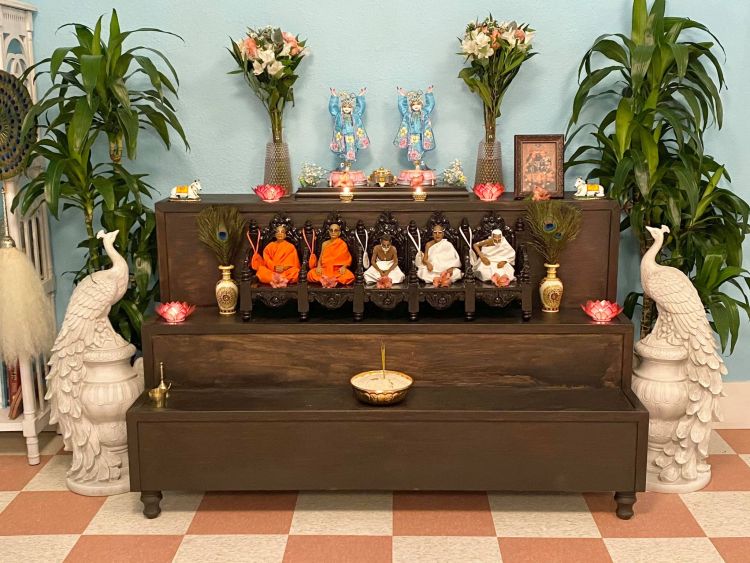 [
bhakti-center
] [
portland
] [
prasadam-distribution
] [
preaching
]