for ISKCON News on July 20, 2018
The catchily-named new restaurant "OmNom," set to open in Islington, London in January 2019, aims to promote conscious eating, kirtan as meditation, and authentic bhakti-yoga.
The team behind the idea – comprised of alumni from Bhaktivedanta Manor's Pandava Sena youth group – are ambitious, pitching it to be the top vegan/vegetarian restaurant in London at a time when such food is very much on trend.
But OmNom will be more than just an eatery.
"There's a big rise in yoga and mindfulness for wellbeing," says director Yashoda Suta Das. "And we have the most authentic form of yoga – bhakti; and mindfulness – mantra meditation. So we want to mix that with a conscious eatery, which hasn't really been done before."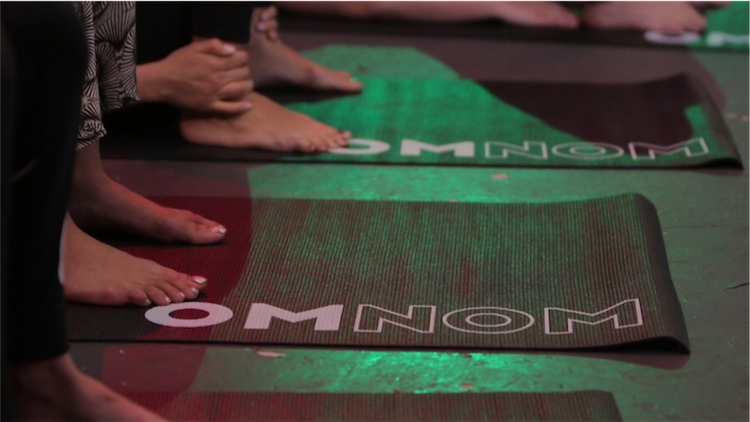 Yoga classes will be held upstairs
The team, which also includes project manager Dhruvanath Krishna Das and professional nutritionist Radhika Priti Dasi, were inspired to increase the number of bhakti-centered restaurants in the UK after they came across a telegram sent by Srila Prabhupada to Bhaktivedanta Manor.
"We have enough temples," it read. "Now just open restaurants."
"Srila Prabhupada's idea with restaurants was that if we have some gentle form of Krishna consciousness there, people who wouldn't normally come to the temple because they feel it's too sectarian might come to eat, and become attracted," says Yashoda Suta.
The amazing story of how the Pandava Sena team got a site for OmNom in Islington, one of the most sought-after parts of London, seems to imply that a higher power thought they were on the right track.
"In central London it's virtually impossible to get such a prime site unless you're an established brand," Yashoda Suta explains. "But we had seen a new £400 million development with 240 apartments and 30 shops in Islington and thought, 'We have nothing to lose – why not send in our application?'"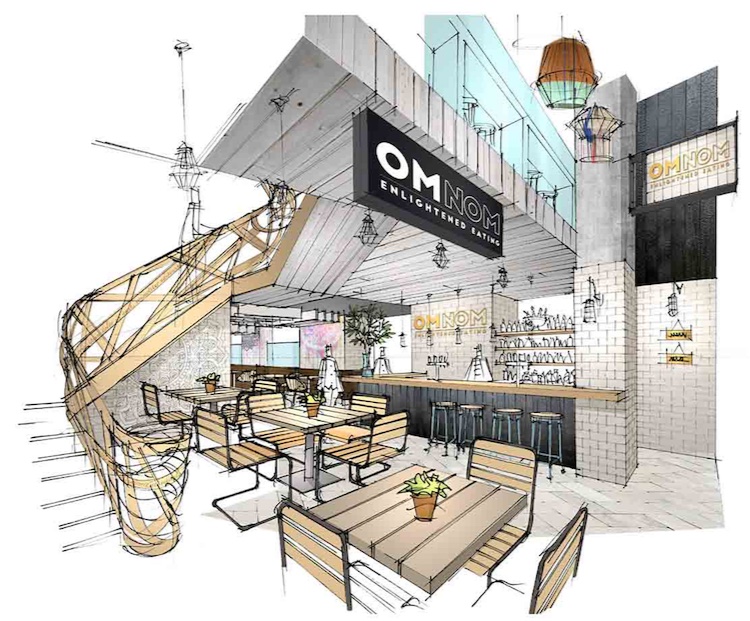 Surprisingly the devotees immediately received a call from the landlord's agent, saying he would like to see them. An elderly Jewish gentleman in his seventies, he read through their pack without saying much. Anxiously, Yashoda Suta tried to present his pitch of authentic yoga, mindfulness and conscious eating.
"Don't worry, you don't have to sell the concept to me," the landlord broke in. "I spent sixteen years in an ashram in India. I'd like you to have the site."
Not wanting him to seem too keen, the agent quickly interjected, "Well, we do have other interested parties." When the landlord asked her who they were, she named several famous food chains.
But the landlord shook his head. "There's enough cow-killing going on already," he said. "We don't need any more. Whatever happens, I want these people to have the site."
The team behind OmNom are proving such trust a wise choice – as well as not causing animals suffering, the restaurant has been set up not as a business but as a charity with two main aims.
The first is hunger relief – for every meal served, devotees will feed a child in a poorer part of the world through ISKCON-run charities like Annamrita, which feeds 1.2 million children a day.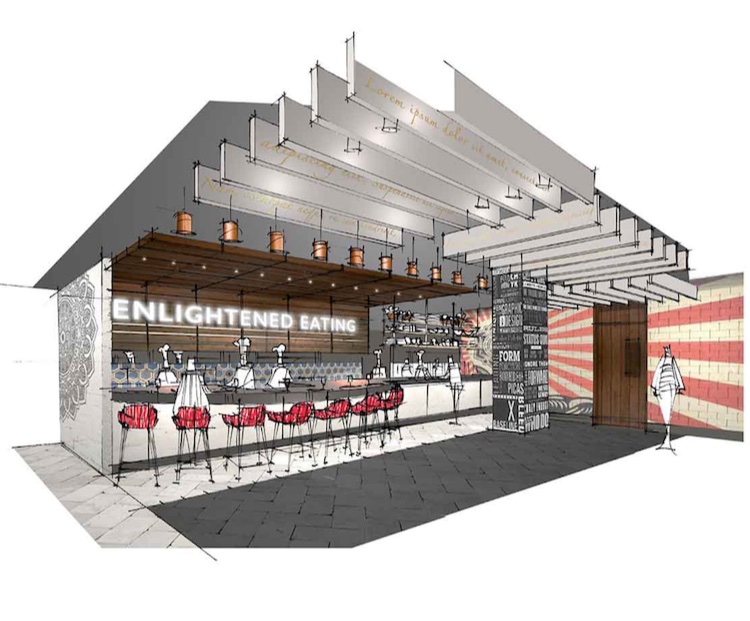 In the theater kitchen, people will be able to see presentations about conscious eating before tucking into their meals
The second charitable aim is advocating wellbeing through eating healthy food and promoting vegetarianism, veganism, yoga, mindfulness, and meditation.
Stylish and inviting, the property when it opens in January will have the restaurant on the ground floor, which will include a main dining area in a double-storey glass atrium.
There will also be a special "theater kitchen" with bar-style seats at a counter. Before eating their meal, people will be treated to a presentation on mindful eating, being aware of where their food comes from, and how the consciousness with which we cook food affects it.
On other evenings, there will be presentations on the basics of Ayurveda, with presenters helping diners to identify their Ayurvedic body types and then cooking a meal for them accordingly.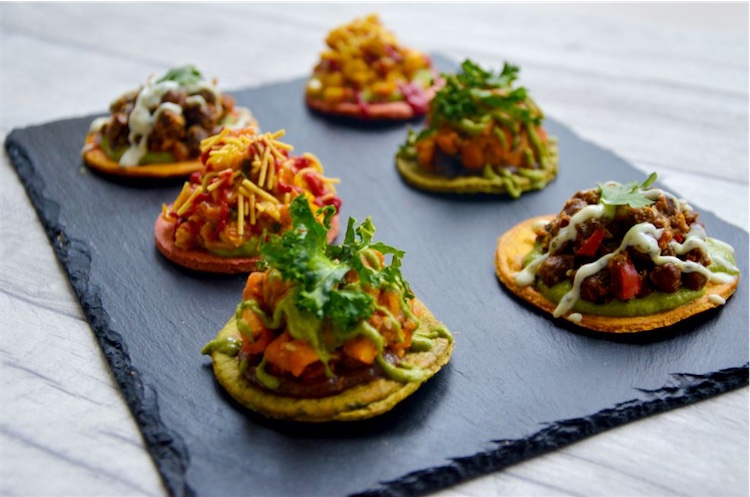 Some dishes will be inspired by Ayurveda
The regular menu will offer predominantly vegan international cuisine, with vegetarian options that use only slaughter-free milk from an Ahimsa dairy in Leicester. Some of the dishes will also draw inspiration from Ayurveda.
Meanwhile upstairs will be home to a beautiful yoga and event space with floor to ceiling windows, and a blend of Eastern spirituality-influenced décor with restored Victorian glazed brick tiles.
The restaurant will be open all day from 6am to 10pm, so events in the yoga hall will range from morning meditation sessions, to lunchtime yoga, to evening kirtans. There will also be courses from Bhaktivedanta Manor's College of Vedic Studies such as Gita Life, which gives an overview of the Bhagavad-gita; and Veda, an introduction to the Vedic concept of spirituality.
"All the yoga classes will be bhakti themed," Yashoda Suta adds. "They'll all start with mantra meditation in the form of kirtan and end with some bhakti philosophy."
If the model is successful, the Pandava Sena team hope to share their blueprint with any interested devotees and create a far-ranging franchise.
"We would like to have an OmNom in every major town in the world," Yashoda Suta says.
[
london
] [
pandava
] [
restaurant
] [
sena
] [
uk
] [
vegetarianism
]