for ISKCON News on Oct. 27, 2017
Autumn is upon us, and for many that means Halloween, pumpkin spice lattes, and fall fashions. But ISKCON devotees have their own ways to celebrate the season, as the New Vrajadhama community in Hungary is proving in heartwarming style.
Dovetailing the fall pumpkin obsession in a Krishna conscious way, devotees drew 300 tourists to New Vrajadhama for their autumn Pumpkin Festival on October 14th.
On this day the temple and altar were decorated with beautifully painted pumpkins inscribed with lotus designs and the Hare Krishna maha-mantra.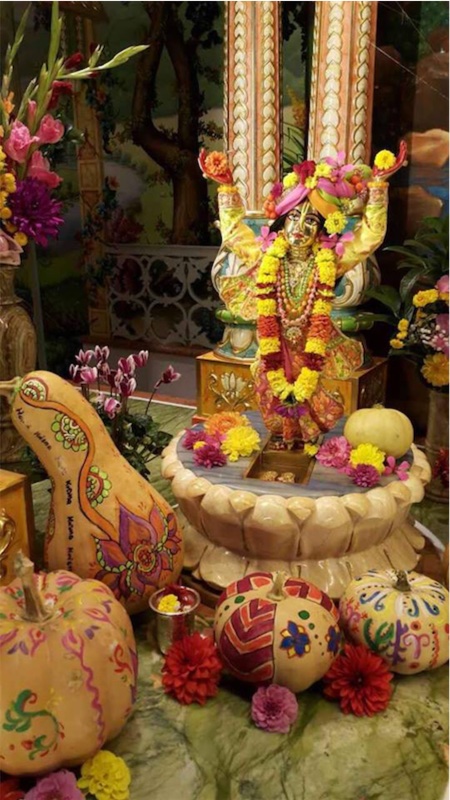 Gaura Nataraj decorated with homegrown, beautifully painted pumpkins during the Pumpkin Festival
Visitors could ride an ox cart from the reception area to the temple; paint their own pumpkins; join the devotees in chanting and dancing; and sample sweet and salty pumpkin treats at Govinda's restaurant.
They also got the chance to tour the New Vrajadhama gardens, see the homegrown pumpkins in their natural habitat, and ask the head gardener questions about growing their own vegetables.
A week later on October 22nd, Govardhana Puja was celebrated with 450 tourists and nearly 500 devotees from different countries.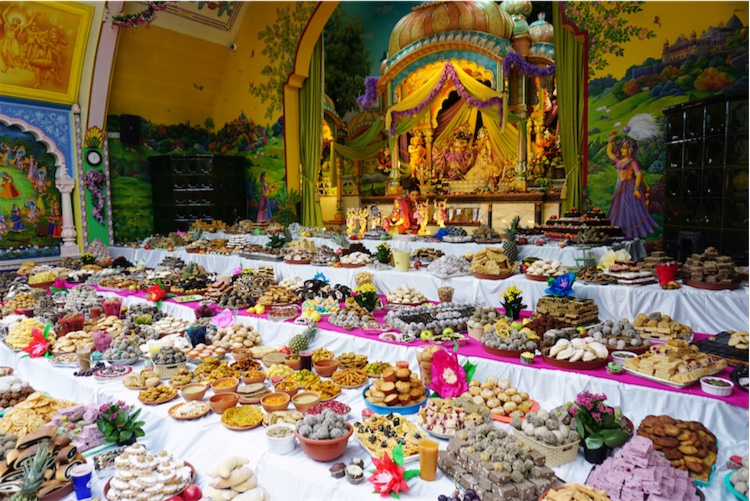 Amazing Govardhana Puja offering
As usual, New Vrajadhama celebrated it in spectacular style, offering two tons of sweets to Sri-Sri Radha Shyamasundara, which covered the altar in an eye-poppingly varied and colorful display. As the Deities are only offered milk products made with ahimsa dairy, all dishes were either made with cruelty-free milk or prepared with vegan ingredients.
Other celebrations included an elaborate abhisekha bathing ceremony to the Deity of Govardhana-lal, a lecture on the meaning and importance of cow protection, and a program in the Goshala, where cows are cared for. Everyone also performed Govardhana parikrama around New Vrajadhama's pavilions recreating the original Vrindavana Dhama in India.
Finally all the offered sweets were distributed to the crowd along with a sumptuous feast.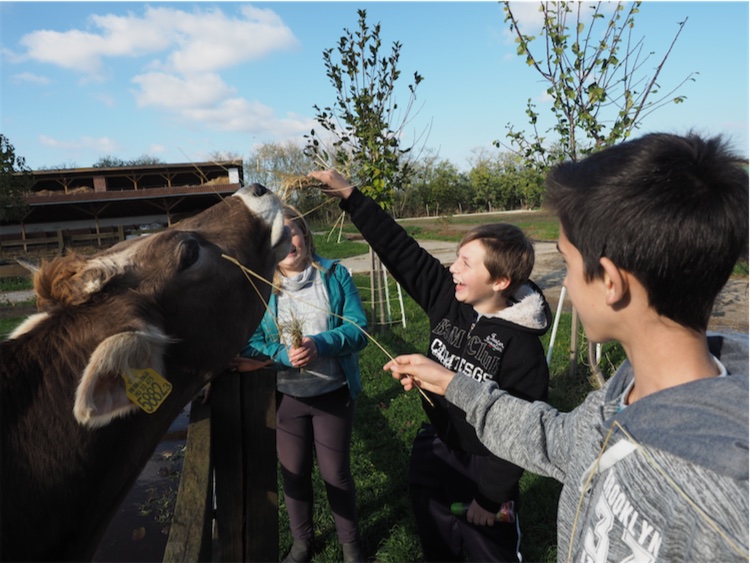 Schoolchildren take joy in feeding Krishna's cows
Two days later, on the morning of Tuesday October 24th, devotees exhibited their neighborly love by going door to door in the local village of Somogyvámos and distributing variety boxes of sweets to 800 villagers.
"They wait for this event for the whole year," beams Communications Coordinator Nilamani Cakravarti Dasi. "Everybody likes to get presents!"
Later on the same day, a "Children's Sweet Festival" was held in which nearly 200 children from elementary schools in nearby villages and cities were invited to New Vrajadhama.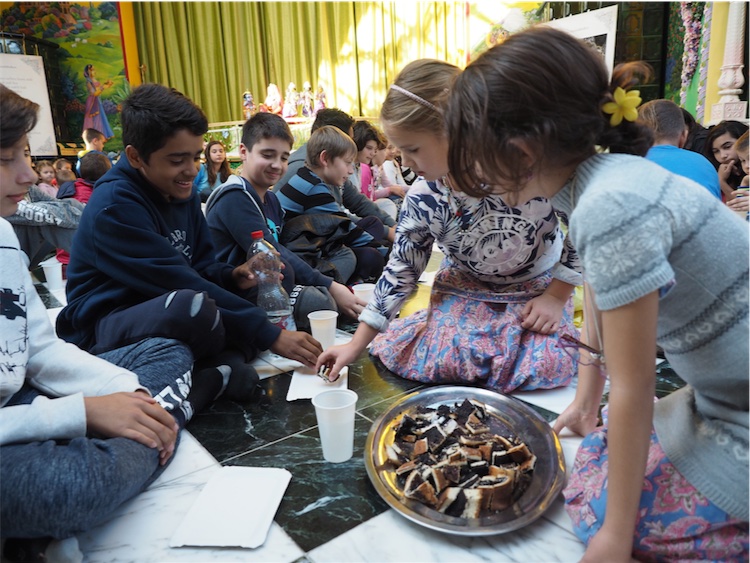 Devotee children distribute sweets to visit schoolchildren
First the children visited the Goshala, and, to their delight, got to meet and feed the cows and calves.
Next, they got to participate in an interactive Govardhana Puja drama put on by teachers and students from New Vrajadhama's gurukula.
Finally, gurukula students distributed delicious sweets to all the visiting children, putting more huge smiles on everyone's faces.
"They loved it," says Nilamani Cakravarti. "And our children got a chance to experience our tradition come to life by serving others."
[
govardhana-puja
] [
hungary
] [
krishna-valley
] [
new
] [
new-vraja-dhama
]