for ISKCON News on May 13, 2016
For thirty years, a very special Lord Nrsimhadeva Deity has protected the devotees of New Vrindaban and all of North America, and received their love and service.
Now, residents of the West Virginia village want to invite people from all over North America to come celebrate the thirtieth anniversary of His installation, and to behold the only full-size Nrsimha Deity on the continent, on His sacred appearance day.
Sculpted by artist Soma Das in New Vrindaban and installed in 1986, the ferocious half-man, half-lion Lord with his deep black skin and golden mane stands at a towering seven feet tall next to his boy devotee Prahlad – so the celebration is sure to be an awe-inspiring spectacle.
Although the original installation was on January 6th, this year's epic three-day anniversary festival will run from Friday May 20th – Nrsimha Chaturdasi – to Sunday May 22nd.
On the first day, all the devotees will bathe the full-size Deities with a variety of liquids including milk, yoghurt and ghee from New Vindaban's own protected cows. During this maha-abhisekha, one thousand Nrsimha Kavachas will also be knotted together into one huge garland, and offered to the Lord.
On Saturday, the Nrsimha Kavacha mantra will be chanted 108 times during a fire sacrifice to invoke the feral Lord's protection, and the thousand Kavachas will be distributed to the guests.
And on both days, there will be dramatic retellings of the story of Nrsimhadeva and Prahlad by award-winning storyteller Sankirtan Das; roaring kirtans, special Nrsimha aratis; and delectable feasts – with many of the community devotees bringing offerings from their homes. Sunday, meanwhile, will wrap things up with a Govardhana parikrama and Sunday Feast.
But perhaps one of the biggest treats of the festival will be the Nrsimha Katha on both Friday and Saturday. Senior Prabhupada disciples Urmila Dasi and Srutakirti Das will speak about Lord Nrsimhadeva's loving pastimes; Soma Das and other early New Vrindaban devotees will share their memories of sculpting and installing the Lord thirty years ago.
Back then, Soma recalls, New Vrindaban devotees had longed to install Nrsimhadeva for protection for many years.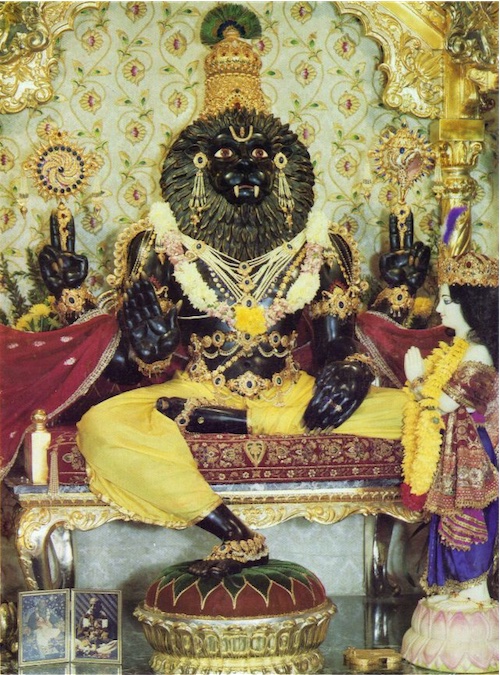 Lord Nrsimhadeva on His installation day, January 6th 1986
"Then one day, I was walking from Prabhupada's Palace down to the old temple at Bahulaban," he says. "I had already finished my japa, and I remembered reading in the Nectar of Devotion that performing service in your mind is as good as performing it in real life. I started to meditate on making a beautiful Nrsimhadeva Deity, and installing Him in a wonderful temple. So when I was asked later if I wanted to sculpt Him, I was over the moon!"
Like most of the pioneering devotees building up New Vrindaban at the time, Soma, then 32, had no professional experience or education in sculpting. Instead, he had learned on the job; his many sculptures, including a giant Gaura-Nitai and bas-relief forms of Jaya and Vijaya, already adorned the community.
Beginning work on Lord Nrsimhadeva and Prahlad Maharaj in October 1985, he first formed the Lord from clay. While doing so, he consulted the Shilpa Shastra and other Vedic texts, particularly the descriptions of Nrsimha in Prabhupada's Srimad-Bhagavatam.
He also consulted Sri Vaishnava priest Sampat Kumar Bhattacharya, head of the Tirupati temple authority TTD, who had been personally praised for his expertise by Srila Prabhupada.
It "just so happened" that as Soma was sculpting Lord Nrsimhadeva, the Bhattacharya was visiting nearby Pittsburgh to open a South Indian temple there – the first time a Sri Vaishnava priest had ever done so outside of India.
"He came by, approved my work, and answered all my questions," Soma says. "Like the whole process, it seemed like divine arrangement. It really felt like Lord Nrsimhadeva wanted to appear in New Vrindaban, and I was just working for Him. It didn't even feel like I made Him."
The Deity was completed quickly, in only three months. Kumar, Sudhanu and their mold shop crew made plaster molds from Soma's clay original and poured in epoxy resin mixed with granite dust and ground-up West Virginia coal for the jet black color. Prahlad, meanwhile, was cast out of cultured white marble.
Although the devotees were pensive because there was only one chance for the cast to work, they breathed a sigh of relief and awe when on the fateful day, Kumar opened the molds to reveal the beautiful Deities of the Lord and His devotee.
"I remember we all ran over to see Him come out of the mold," recalls Madhurya-lila Dasi. "It was amazing."
Meanwhile, all the different Deity worship departments at New Vrindaban were in marathon mode as the installation date loomed.
Ishani headed up the jewelry workshop with a small core group, including Madhurya-lila, Gopi, and Janaki, and got help from anyone else she could. Her team created pieces by soldering brass or copper jewelry findings together, electroplating, cutting crystals to create jewels, and hammering relief designs by hand – all of it learned through books and on the job.
"We were working from 7 in the morning until probably 10 or 11 at night," says Madhurya-lila. "And I'm pretty sure all of us pulled at least one all-nighter."
Despite this, Madhurya-lila – who will also create the Lord's jewelry for the 30th anniversary -- says she loved it. "There was a team spirit that I've rarely experienced anywhere else in my life. I would go back to that jewelry shop in a heartbeat. There's no place I'd rather be."
The result of all this dedicated teamwork was a gorgeous full set of golden jewelry set with red and green jewels for Prahlad and Nrsimhadeva: a large tubular crown, sudarshan chakra, conchshell, earrings, necklaces, arm and ankle bracelets, and tilak and belt. Ishani created the Lord's eyes as well, along with Kuladri Das.
The Deity Sewing Department, headed by Adhara Dasi and her dedicated crew of women, also worked around the clock in the months leading up to the installation day, creating new outfits for the Lord and His boy devotee. These included a beautiful yellow dhoti and crimson chaddar lined with gold for the Lord, a purple dhoti with violet chaddar for Prahlad, and a velvet backdrop adorned with winding flowered vines.
For the installation on January 6th, 1986 and surrounding three-day festival, hundreds of devotees from all over North America gathered for ecstatic chanting, dancing, feasting, dramas and more – just as they will on the 30th anniversary celebration.
Gaura Keshava Das, a brahamana priest who had been trained in South India by Sampat Kumar amongst others, performed the elaborate installation rituals, including fire sacrifices in the yajnashala outside the temple, and Prana Pratistha.
"This involved touching the heart of the Deity, and inviting the Lord to please expand His heart and reside within the Deity, and accept the worship of the devotees," Gaura Keshava recalls.
During this process, four strong devotees carried the 400-pound Lord into the temple room. A blindfold was removed and His eyes were ceremonially opened. He was then installed with much pomp upon a beautiful golden altar and throne cast by Kumar in New Vrindaban.
From then on, Lord Nrsimhadeva was very merciful to all the New Vrindaban devotees, and especially the Prahlad-like children – in the 1980s, the older gurukula boys would perform all His morning aratis, while once a week the women and younger boys and girls would worship Him.
Today, His early servants such as Srimati, Jayasri and Lokadristi continue to worship Him alongside new pujaris like Abhinandana Das.
And now, at this May's unmissable 30th anniversary celebration, we'll all get to feel His love and protection, as we hear from those who were there how He appeared all those years ago in New Vrindaban.
[
new-vrindavana
] [
nrsimhadeva
] [
west-virginia
]