Lord Jagannatha is coming.
Due to the Covid-19 pandemic, 2020 was the first year without a New York Ratha Yatra parade in 45 years – instead, Lord Jagannatha was driven down Fifth Avenue in a minivan, along with a virtual online celebration.
This summer, things are beginning to look different. The number of new coronavirus cases in the US has plummeted from a seven-day average of more than 250,000 a day in early January, to a daily average of less than 14,380 during the past week.
Against this background, the New York Police and Parks Departments have approved Ratha Yatra to go ahead with Covid-19 safety protocols such as social distancing, sanitization and masks where appropriate.
The festival will run over the weekend from June 11th to 13th, launching on Friday with a kirtan meditation at Tompkins Square Park, home to the famous "Hare Krishna Tree" beneath which Srila Prabhupada and his early followers chanted in 1966. Organized by the Bhakti Center, the meditation will run from 12pm to 3pm and will feature Jahnavi Harrison, Jaya Jagannath Das and Friends. Later in the day, from 4 to 8pm, Rama Raya Das and members of the Yuga Dharma Harinama Ashrama will lead chanting in Times Square, at the heart of New York City.
On Saturday June 12th, the 46th New York Ratha Yatra parade will start at 11:00am from 45th Street and Fifth Avenue, and will make its way down Fifth Avenue to Washington Square, where a festival will be taking place from noon till seven o'clock that evening. Beautiful, balmy weather, with a high of 74 degrees, is expected on the day.
As usual, Their Lordships Sri Sri Jagannatha, Baladeva and Subhadra from ISKCON Baltimore will grace New York City with Their presence. Adding a unique flavor to this year's parade will be the fact that Their regular three Ratha Yatra chariots, which are normally supplied by Abhay Charan Das in Montreal, are not available this year as the US/Canadian border is closed due to Covid. Instead, a smaller chariot from North Carolina will carry Their Lordships, and a homemade cart, usually used for the Bronx Ratha Yatra, will carry Srila Prabhupada in his murti form.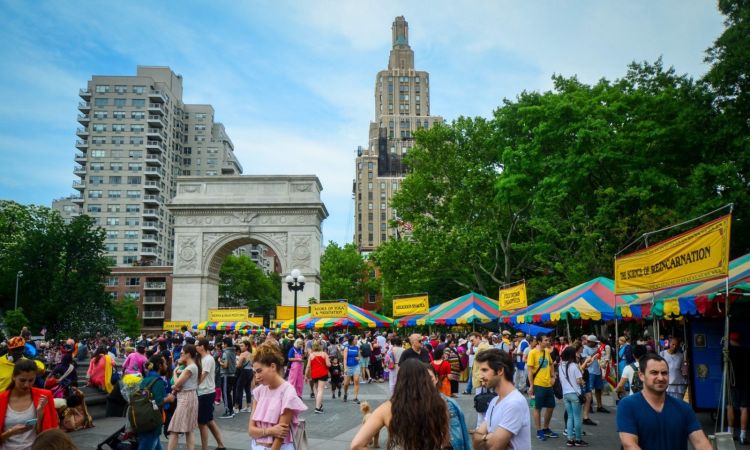 After the parade all are welcome at Washington Square Park, where Srila Prabhupada held his first Harinama Sankirtana while staying at 26 2nd Avenue.
Festival of India's signature red, yellow, green and blue tents, featuring presentations on the Bhagavad-gita, reincarnation, and mantra meditation, will be on site. Srila Prabhupada's books will be sold, and Brooklyn temple's Govinda's Gift Shop will be relaunched with a selection of devotional paraphernalia, clothes, organic food items, essential oils, and Govinda's pre-packed prasadam. The hosts of the popular Wisdom of the Sages podcast will take questions and answers.
Meanwhile the stage program will be organized by Premananda Kirtan Das, stage manager of Indradyumna Swami's Viva Kultura show, which has toured Poland for three decades. The show will be a new take on The Pilgrim's Progress, with the protagonist finding the joy of chanting, told through drama, dance, and martial arts. The stage show will also feature kirtan and speeches.
Several dignitaries are expected to attend, including the Consul General of India Randhir Jaiswal; the current Borough President of Brooklyn Eric Adams, who is also a 2021 mayoral candidate for New York City; and the Permanent Representatives to the UN of India, Nepal, Thailand, Fiji and Mauriitus.
A mostly vegan free feast, including chana masala, tofu curry, rice, and halava will be served, while several prasadam vendors will sell soul food style prasadam, West Indian prasadam, and treats from Govinda's restaurant such as samosas, cookies, cakes and ice cream.
Finally on Sunday June 13th there will be an open house at ISKCON Brooklyn with a swing festival for the 50th anniversary of the small Jagannath deities, Who were installed at New York's Henry Street temple in 1971, now reside in Baltimore and are worshipped at New York Ratha Yatra along with Their larger counterparts.
During all events, attendees will be encouraged and facilitated to follow the Covid safety protocols recommended by New York State, New York City and the Parks Department.
According to Ratha Yatra organizing team volunteer Caitanyananda Das, during the parade there will be longer ropes to pull the chariot, and devotees will be encouraged to take turns pulling to facilitate social distancing and give everyone an opportunity to serve the Lord. At the Washington Square Park festival, seating areas will have chairs spaced six feet apart, all festival staff and volunteers will wear masks, signs will encourage social distancing, barricades will direct foot traffic, surfaces will be regularly sanitized, and prasadam will be distributed in pre-packed containers.
"We're grateful to the city for giving us the permission to observe the festival again," Caitanyananda says. "We request everyone to come with an open mind and open hearts, but also to be fully aware of the Covid challenges, and to comply with and participate according to safety guidelines."
Despite the challenges, the return of New York Ratha Yatra brings a brightness and hope with it that reflects where the country appears to be headed as the pandemic recedes.
"It feels great," says Chaitanyananda. "The devotees are excited and hopeful, and there's some sense of energy and life in the temple, with Ratha Yatra coming up."
"This is an amazing opportunity to march in the sunshine down Fifth Avenue, the most famous street in the most famous city of the world," adds ISKCON Brooklyn temple president Hansarupa Das. "People will get the experience of their lifetime, seeing the Festival of India and all the variety of transcendental entertainment available."
[
iskcon-new-york
] [
rathayatra
] [
ratha-yatra
]