for ISKCON News on Feb. 1, 2019
At the ISKCON North American Temple Presidents' Meeting this January, one of the major points of focus was Integrating the Next Generation Youth, with practical steps taken to involve the next generation in ISKCON temples at all levels.
ISKCON Youth Minister Manorama Das called the move "encouraging" and said he felt happy that prioritization was finally being given to this topic.
Around thirty-five temple presidents, GBCs and support office leaders gathered for the Meeting, which took place at Rockwood Manor near ISKCON of Washington D.C. from January 17thto 20th.
Leaders were interviewed beforehand and gave a list of topics they'd like to see addressed. At the Meeting, they broke off into small regional groups of six or less and met separately with representatives from the North American support offices to discuss the priority topics.
At the Youth Ministry table Manorama and Deva Madhava Das, director of the Harmony Collective in Ypsilanti, Michigan pitched their four-step plan of how to create a space to involve the next generation at North American temples within the coming year.
Their first step is to create regular youth sanga events that attract youth to attend their local temples more regularly and feel more involved. Manorama suggests that temple presidents should be part of these sangas and should interact and engage with the youth. He and Deva Madhava will travel from temple to temple this year to help set up such sangas.
The second step is to offer internships that youth can do during their summer vacation at temples and farm communities. Suggestions at the Meeting included shadowing a temple president for a month as an executive assistant to get a taste for the service, running social media, or participating in a two week camp at a farm community like New Talavana or Gita Nagari to learn about organic farming, cow protection, and ahimsa dairy production.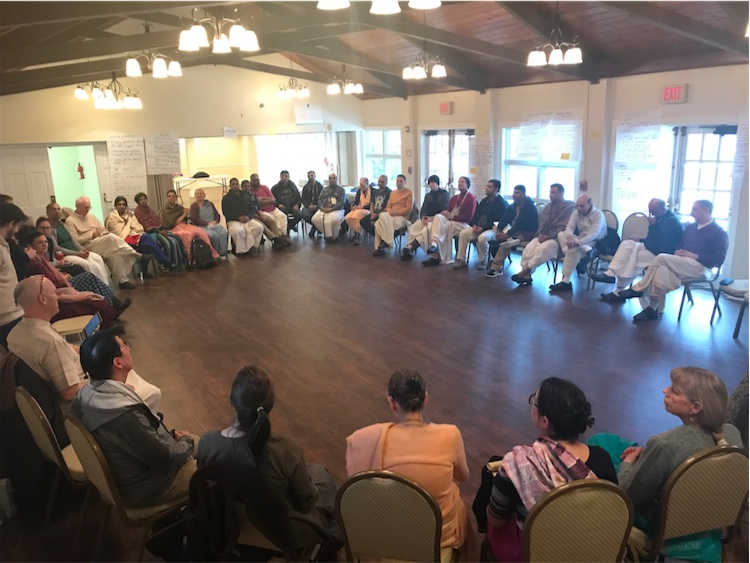 The temple presidents and other leaders meet at Rockwood Manor
"From talking to temple presidents, it became apparent that each one has at least five or six different openings where young interns can learn and get excited about working with their temple," says Manorama.
The third step is the launch of a devotional gap year between high school and university. Institutions like Harvard have long recommended that students take a gap year to get experience, go overseas, volunteer and broaden their horizons. Meanwhile Mormons send 70,000 youth around the world on mission trips every year.
The ISKCON gap year would encourage youth to experience what it's like to live as a Hare Krishna devotee for up to a year, including living with other young people in an ashram for three months; doing the Bhakti Sastri study program to more deeply understand Prabhupada's books and Gaudiya Vaishnava philosophy; and engaging in a outreach program such as Festival of India or New York City's Harinama Ashrama to get a taste for spreading Krishna consciousness amongst the public.
The last three-month segement of the gap year would consist of a specialized internship based on something the particular youth feels inspired to contribute to the Movement.
"We can network with people who work in different services all over the world and help them get started," Manorama says.
The final step is creating a "Next Generation Council" to truly empower the next generation. Youth who have participated in the other steps and qualified themselves as serious about getting involved in ISKCON will become part of this Council.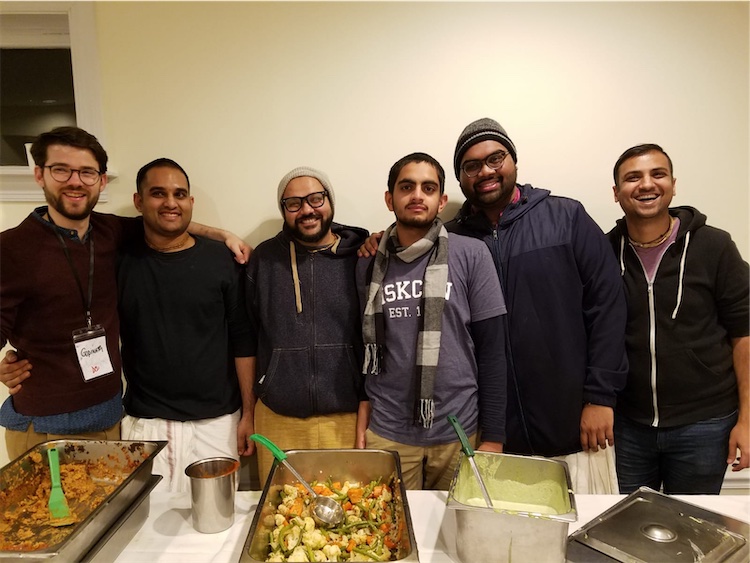 Meeting facilitator Gopinath Bloch (far left) and The Sanga Initiative team of next generation young adults who helped organize the Meetings and did all background support including prasadam
"Representatives from the Council will be elected to sit in on the North American Temple Presidents' Meetings, and even the International GBC meetings so that they are involved in the decision-making process in ISKCON to effect change," Manorama says.
He explains that the idea behind the whole initiative is not to have youth become full-time celibate monks living in the ashram, but to have a village model where the temple is in the center of the village, and the youth are part of an active community of devotees who help support it in different ways.
He does feel it is important, however, to "impart ISKCON's missionary spirit to the next generation."
The initiative is immediately moving from discussion to action, with Manorama and Deva Madhava already set to spend a weekend at three different temples to meet with the local youth, find out what their needs are and find out how to excite them to become more involved.
They'll first be headed to ISKCON Chicago over the weekend of February 15thto 17th; to a regional youth sanga event for D.C., Baltimore, Richmond and Delaware from March 29thto 30th; and to ISKCON Towaco in New Jersey on May 4thand 5th.
Manorama is feeling positive. While in the past, youth felt disenchanted or hurt due to mistreatment and didn't want anything to do with their temples, he says the current generation of youth now going on bus tours is "chomping at the bit" to get involved and asking "where can you plug me in?"
Meanwhile temple presidents are also eager to open up space for the youth. "You could see the enthusiasm in their eyes when we talked about it," Manorama says. "They're noticing that they're getting older every year, and realizing that we can talk about so many things at the Meetings, but if we don't talk about how to bring in the next generation, at some point there's no future."
Manorama reminds us that there is only so much he can do on his own, and invites any devotees who feel inspired to work with their local youth to contact him and Deva Madhava through the ISKCON Youth Ministry. Once there are three or four enthusiastic devotees in a particular community, he will work with them to connect with the youth and organize sangas, internships, and gap year programs.
"We go through waves of enthusiasm about youth involvement in ISKCON," Manorama says. "Right now happens to be a big wave. Let's take the opportunity to catch the wave and go with it."
* * *
Write to Deva Madhava and Manorama at youth@krishna.com. A website,www.iskconyouth.com, will be active soon.
[
leadership
] [
north-america
] [
presidents
] [
temple
]