for ISKCON News on Jan. 15, 2021
January 6th, 2021, marked the start of the All-India Padayatra's (pilgrimage) seventh grand march around India, including the char dham yatra.
Beginning in Dwarka on Radhastami, September 2, 1984, the padayatra has continued nonstop for thirty-six years, covering all of India and completing its sixth round in Dwarka on this New Year's Day.
The Padayatra Dwarka Gate at the entrance of the city, a project overseen by Chaitanya Chandra dasa, was built to commemorate the padayatra's first return on March 18, 1988, and is renowned as "ISKCON's Gate".
ISKCON Dwarka organized a grand welcome for the padayatra honoring with garlands and showering flowers. Rupa Raghunath Swami addressed the gathering, "Srila Prabhupada instructed Lokanath Maharaja to start the padayatra and now this padayatra is moving all over India preaching the holy message of the Lord. This is not the only padayatra, there are now three more padayatras on the road in Maharashtra, Uttar Pradesh and Andhra Pradesh. The vision is that there should be millions of padayatra carts moving and preaching. You can also start padayatra at your place."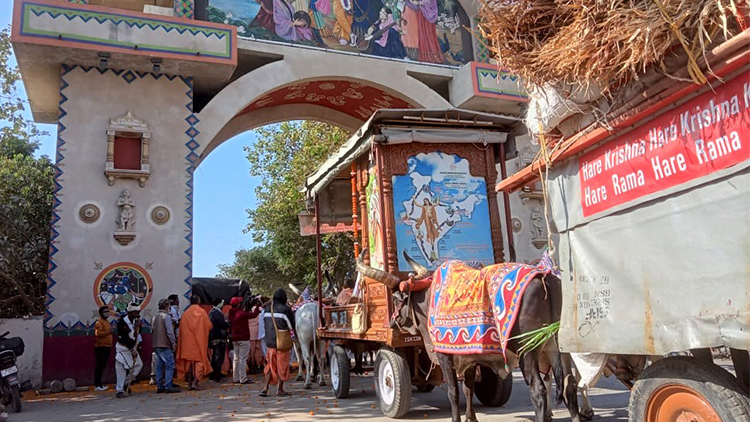 Padayatra not only brings holy name to every town and village but in between the villages, but the participants also very successful in giving out Srila Prabhupada's books. In 2020, they have distributed 12,796 small books, 530 medium books, 437 big books, 9137 maha-big books — a total of 22,900 books.
Having enlightened Dwarkawasis (inhabitants of Dwaraka) with sankirtana for five days the padayatris then departed on their current tour. After encouraging words, the inaugural ribbon was cut by Rupa Raghunath Swami in the presence of senior devotees and guests.
The oxen Jaya and Kaliya, yoked to the cart, were nicely decorated and their feet were washed as these great souls, who are also padayatris, will be carrying Their Lordships on their shoulders.
They gave darshan of Sri Sri Nitai-Gaurasundara online so that all could get mercy of Their Lordships. With a rousing chanting they then walked towards the historical Padayatra Gate where the Dwarkawasis had arranged a wonderful program, with the city president and officials as chief guests. They inspired the padayatris and thanked them for doing a great service to humanity.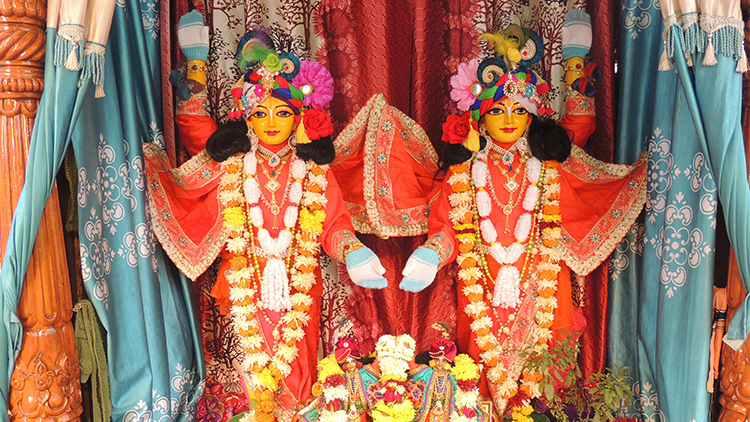 Finally, after taking blessings from Lord Dwarkadhish, performing sankirtana they began the seventh round of Padayatra India. As they left Dwarka, the padayatra headed in the direction of Khambalia, Jamanagar and Rajkot, taking up the services of book and prasadam distribution once again.
* * *
To read more about padayatra please visit the official padayatra website www.padayatra.com and
official Facebook page https://www.facebook.com/ISKCONPadayatraWorldwide.
[
dwarka
] [
padayatra
] [
pan-india
] [
pilgrimage
] [
tour
]