for ISKCON News on Feb. 12, 2021
In a recent ISKCON Leadership Sangha (ILS-2020) Lokanath Swami requested ISKCON Nepal regional secretary Patri dasa to organize a padayatra (pilgrimage) in Nepal. Patri took Maharaja's words to heart and discussed the idea with the Nepali devotees.
A friend of Patri, Brahmacari Sahastranam dasa from Ukraine, who has been serving in Nepal for twelve years engaged in community and farm services, was inspired by the proposition and used his own money, to buy oxen and construct a cart from his unique design. He also collected books from the temple for distribution himself.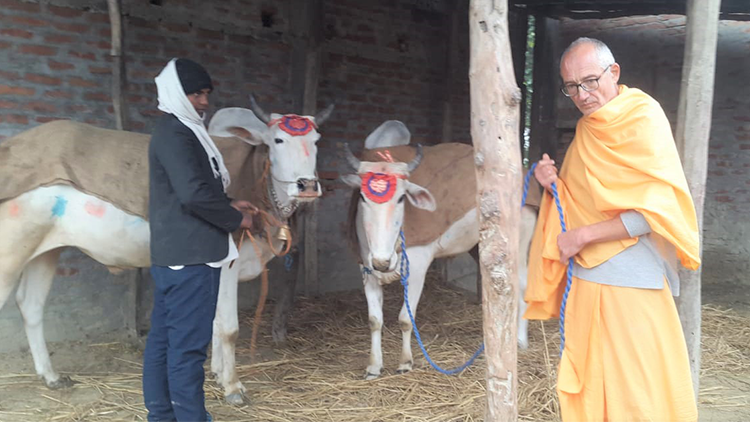 Brahmacari Sahastranam dasa and a friend with the Padayatra oxen Gaura and Nitai.
Another devotee, Premharinam dasa from Pune, Maharashtra, who has served in Padayatra India, has also joined Brahmacari Sahastranam. With the participation of the two dedicated padayatri, Padayatra Nepal was inaugurated at Mirchaiya, formerly known as Ramnagar Mirchaiya, in South-eastern Nepal on January 19, 2021.
A two-devotee padayatra such as this is not possible in the mountainous regions of Nepal and the padayatris are currently heading West through the lowlands towards Janakpur dhama, the birthplace of Sita, the consort of Lord Rama. They have Sri Sri Nitai-Gaurasundar deities with them and start walking every day at 10 AM to cover 8-10 km, presenting programs and doing sankirtan and book distribution in the villages every evening.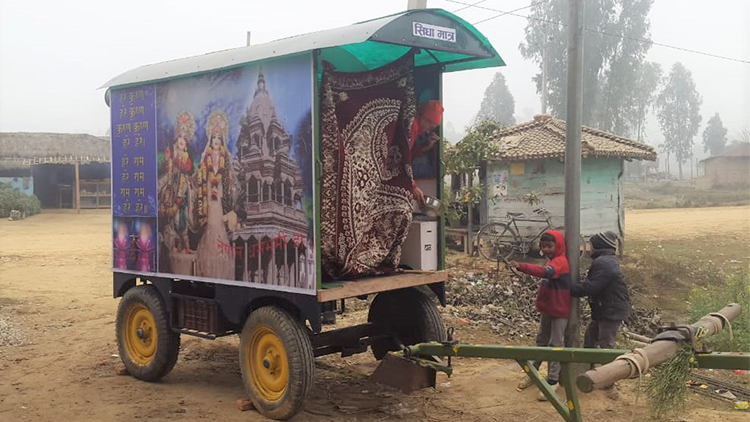 The nicely decorated cart with the Mahamantra on its side.
Brahmacari Sahastranam and Premharinam are demonstrating that not a lot of devotees or very much preparation are needed for starting a padayatra. There are just two of them and oxen Gaur and Nitai, but they are spreading the holy name in remote areas of Nepal.
The padayatris play Srila Prabhupada kirtan through speakers and as local residents hear it, they come out of their houses to have darshan and walk with the padayatris and sing the holy name.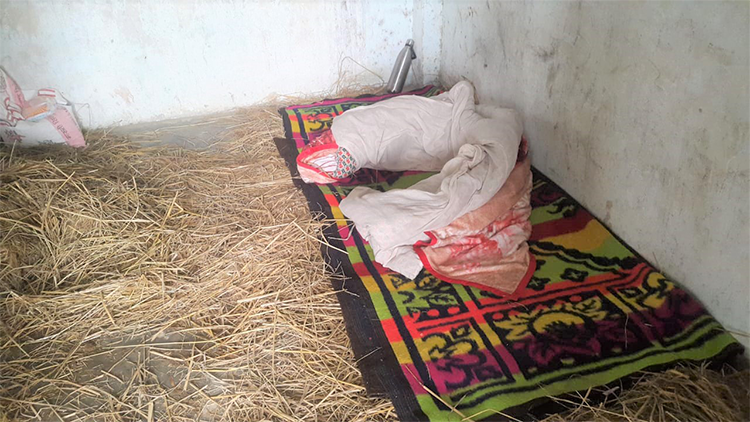 Makeshift pilgrim bed on rice paddi "mattrasse".
On the rear of the cart it is written "Purna jivan ko lagi", meaning the walking for a "fulfilled life". One side of the cart also conveys the message of the importance of protecting Nepal's cows, and the Hare Krishna Mahamantra is displayed on the other side of the cart so people can read and repeat it.
As they move from place to place, Brahmacari Sahastranam and Premharinam cook for themselves on a wood stove and sleep wherever they can find shelter or on paddy grass, — enjoying their simple but fulfilling adventures.
[
lokanath
] [
nepal
] [
padayatra
] [
pilgrimage
] [
swami
]