for ISKCON News on May 26, 2017
Talks on intriguing subjects at five-star hotels in Panama are drawing professionals, and attracting them to become regulars at ISKCON's Bhakti Yoga Center in the Central American country.
On May 7th, well-known "spiritual scientist" Chaitanya Charan Das, a former engineer who has an online following of some 400,000 spoke on the topic "Reincarnation – Myth Versus Reality" at the five-star Hotel El Panama in Panama City.
The talk drew 350 doctors, architects, real estate agents and government workers from Panamanian, Colombian and Venezuelan backgrounds.
With his typically scientific and well-researched approach, Chaitanya Charan dissected reincarnation from various angles. He first told a story of a child who remembered his past life in Turkey. When his parents brought him there, the child could prove it by identifying his past life name, sons, and wife, and even correctly described a scar on his wife's thigh.
Through evidence Chaitanya Charan then refuted various arguments against past life memories, such as the argument that people fake them for money or fame. He gave scientific evidence of reincarnation such as birthmarks on children recalling past lives matching marks on the dead person they claim to have been. And he quoted passages from the Bible that seem to refer to reincarnation.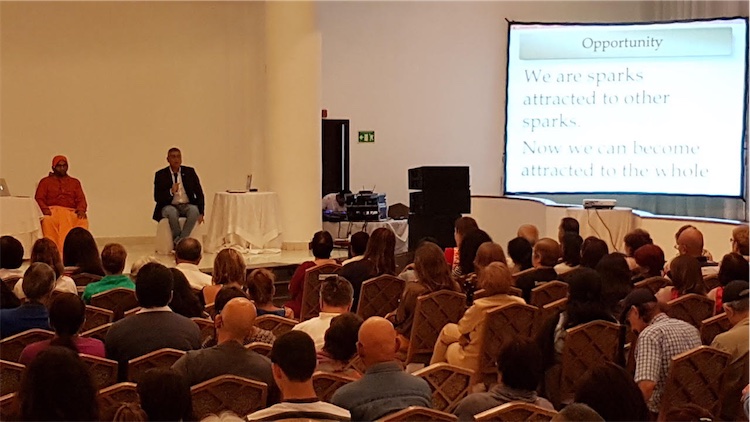 Caitanya Charan Das speaks on Reincarnation to 350 professionals
The audience was riveted, asking questions for an hour afterwards and buying more than 200 of Srila Prabhupada's books to learn more.
Afterwards, many who were contacted through Whatsapp were interested in continuing to attend programs at the Bhakti Yoga Center in the heart of Panama City.
There, they will take a two-day experiential seminar on Bhakti Yoga, set to run on July 1st and 2nd and given by Advaita Chandra Das from Houston, who has won an ISKCON Outreach award. The seminar will include cooking classes, kirtan instrument classes, and talks on the Bhagavad-gita based on references in famous movies like Karate Kid, Avatar and Doctor Strange.
Participants may then also continue attending regular Saturday programs at the Center, featuring yoga classes, mantra meditation led by president Syama Chandra Das and his wife Radha Govinda Dasi, Bharatanatyam dance classes taught by his 15-year-old daughter Gayatri, and a sumptuous vegetarian feast.
As well as hotels, Panama devotees have also arranged talks at universities and schools that grab people's interest and bring them to the Bhakti Yoga Center.
Last year Chaitanya Charan spoke at eight universities in four days, addressing student nurses, business majors and more on topics like "Discover Your Inner Power," "The Keys to Success," "Proactive Leadership," "Six Principles of Self-Management," and "Your Friend and Enemy is Inside You – How We Defeat Ourselves." He also spoke at a middle school in an underprivileged and crime-affected area about developing good habits. All, of course, based on the teachings of the Bhagavad-gita. And all with follow-up plans that keep people connected.
Meanwhile Panama devotees also reach people by taking part in the city's one-week book fair, where they sell five thousand of Prabhupada's books in one go and acquire hundreds of contacts interested in coming to their center.
"Long-term, we're hoping to get a multi-storey Bhakti Yoga Center that appeals to all levels of interest with a yoga studio, restaurant, cooking classes, and full temple," says Syama Candra Das.
[
panama
]