for ISKCON News on March 18, 2018
Due to the arrival of the Australian royalty in an entourage of four cars and a Mercedes limo, the main thoroughfare (Rajadhirsen Marga) adjacent to ISKCON's Radha Partha-sarathi Mandir, was blocked off. Sir Peter Cosgrove, along with his wife, Lady Cosgrove, was the first ever Governor General of Australia to visit an ISKCON center, accompanied by such dignitaries as Her excellency Ms. Harinder Kaur Sidhu, the Honorable High Commissioner of Australia to India and a team of nearly 15 Australian High Commission officials, guarded by security agents, wearing dark suits, sunglasses and communication earpieces. Also, 100 Indian security personnel and police officers were on hand.
Representing ISKCON was a team of senior devotees: Gopal Krishna Goswami governing body commissioner of ISKCON, HH. Bhaktisiddhanta Swami, resident sannyasi, Vrajendranandan dasa, the National Communication Director of ISKCON India, Ramanroop dasa, Minister of Foreign affairs, Mohan Rupa, the President of ISKCON New Delhi, and Sri Raghava Pandit dasa,
Vice-president.
In this grand reception, colorful garlands were offered, with umbrellas to ward off the hot sun, surrounded by new recruit brahmacaris (locally known as bumble bees), who led a joyful kirtan (His excellency quipped, 'Who are those happy personalities in the hot sun?') for the pleasure the newly arrived royalty, and supportive temple managerial brass. As we walked up to the temple, Gopal Krsna Goswami stood and met the Governor with another garland; now a complete welcome indeed.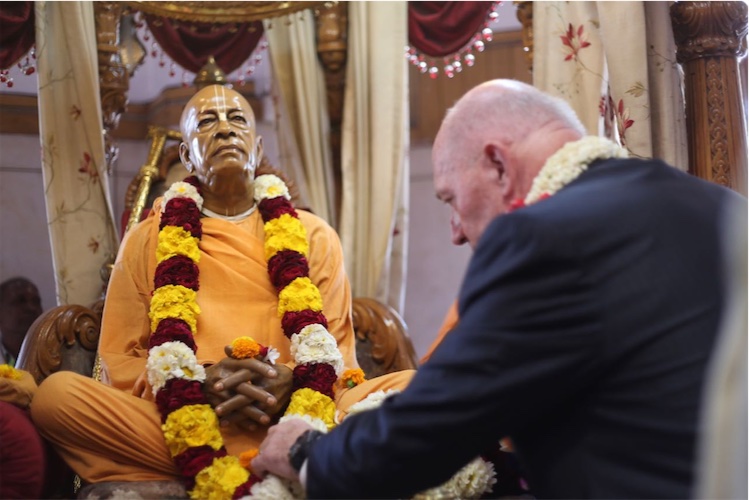 He was a very softhearted gentleman that carried a very authoritarian demeanor as a Governor, General, and Military commander. His wife, being very soft spoken, introduced herself and shook hands with all around. They both were seated, removed their shoes, washed hands, entered the temple, garlanded the murti of Srila Prabhupada, and posed for photos. Then the couple went to the Gaura Nitai altar, received another garland, and satari (lotus feet) of the deities. Next was the large deity of Nrsimhadeva with Hiranyakasipu, sporting a ripped stomach of scattered intestinal entrails. Gopal Krsna Goswami explained simply, 'That this was a form of the Supreme Personality of Godhead who has just killed a demon!' Then His Excellency replied (being a military man), 'Well he certainly must havedeserved it!"
They then went Radha-Parthasarathi's altar, where both husband and wife performed a ghee plate arotik to their Lordships with the complimentary satari, then we went to Sita-Rama's altar and took darsana. In the circumambulation corridor behind the Lordships, were many paintings and photos of ISKCON deities around the world. He asked many questions about the paintings like, 'Are these originals and are these paintings duplicated in other parts of the world?'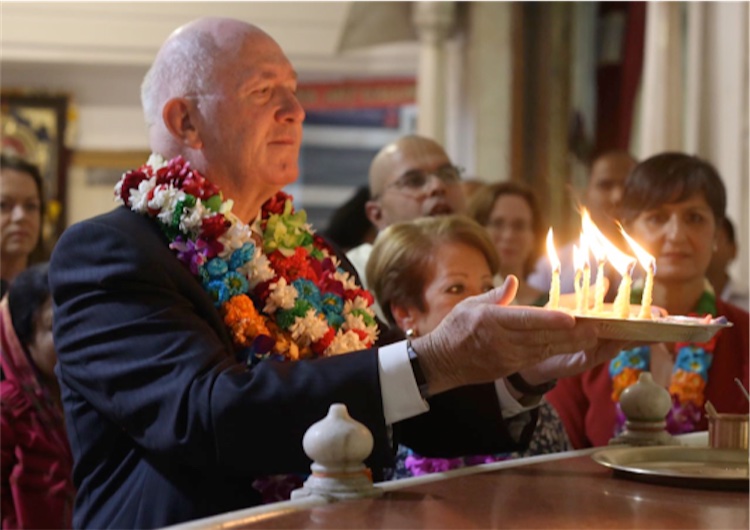 After again washing hands and putting on shoes, the group then went to the VIP room for discussion and exchanges. Holiness Gopal Krsna Goswami first presented an informative folder with regard ISKCON centers and projects in Australia, which was graciously received, then a Bhagavad-gita, describing it as 'An ancient book of wisdom,' a framed photo of the deities, followed by the large 'Darsan Book' with all the pictures from our ISKCON centers around the world. Gopal Krsna Goswami said, 'Keep it in your home, it will bring good luck.' Then Peter said, 'Oh I can read this on the plane, no really I will actually place it in my
office where many can look at it.'
The Governor General then gave a gift. In his humility he said, 'Though it is not much, this is the Governor medallion, and looking at the medal, added, 'Well I think if they ask the story of that medallion, you could say, it came from a very grateful man who represents people who we hope are very tolerant and embrace society. I look forward when I can see your co-religionists in Australia, and can tell them that I have met you here.' This medallion has been placed in glass exhibit in the temple's VIP lounge.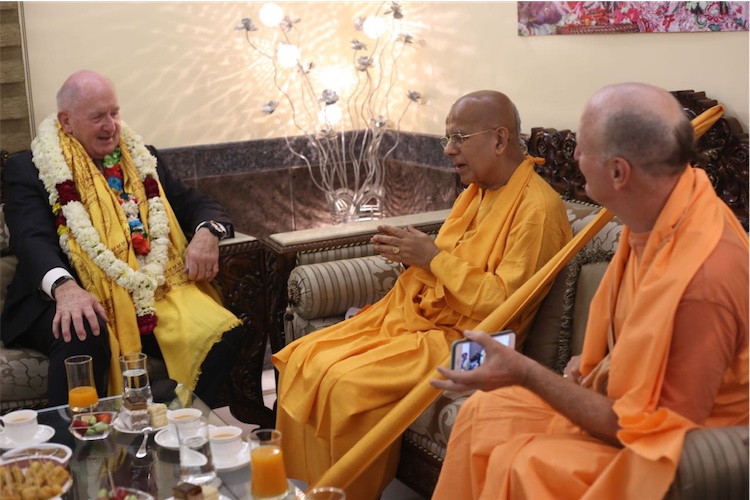 In the closing moments, because of a tight schedule of the Governor, Gopal Krishna Goswami concluded, 'we are glad you came and we hope that the Lord blesses you and gives you good health and strength to lead your country and the rest of the world. The Lord has placed you in a very important position; you have an army background, and it does not happen by chance. There is something known as the law of karma, you have piety in your background, the Lord gave you that responsible position.' The Governor replied, 'I am probably in some ways one of the best sort of Governors General to have, the last thing that I would ever want is to see my country at war, I would never want to see an Australian go through that experience.'
Then the entire party went back to the cars, and the Governor general wholeheartedly thanked devotees for his visit.  And looking at Gopal Krsna Goswami, thanked him for the kind hospitality.
[
australia
] [
delhi
]