on Jan. 29, 2021
The Mantra Lounge in Philadelphia, known for its book distribution, has been reaching out to people during the COVID-19 pandemic by feeding the homeless and others in need.
"When the pandemic began in Spring last year, we saw people start to lose their jobs pretty quickly, and remembered Srila Prabhupada's instruction that no one within a ten-mile radius of any ISKCON center should go hungry," says Mangal-Arti Dasi, president of the Mantra Lounge in Fishtown and affiliated Titiksava Karunika Ashram in West Philadelphia.
Devotees had already been feeding university students on campus at Temple, Drexel, West Chester and Rowan universities every week. Now they wanted to help families who were struggling.
"I would see some of the people we had been sharing Krishna consciousness with, and they hadn't eaten anything all day," Mangal-Arti says. "Sometimes they would go on fasts for ten or fifteen days, and tell me, 'Oh, I'm doing a cleanse.' But when you really got to know them, you learned they just didn't have the money to eat three square meals."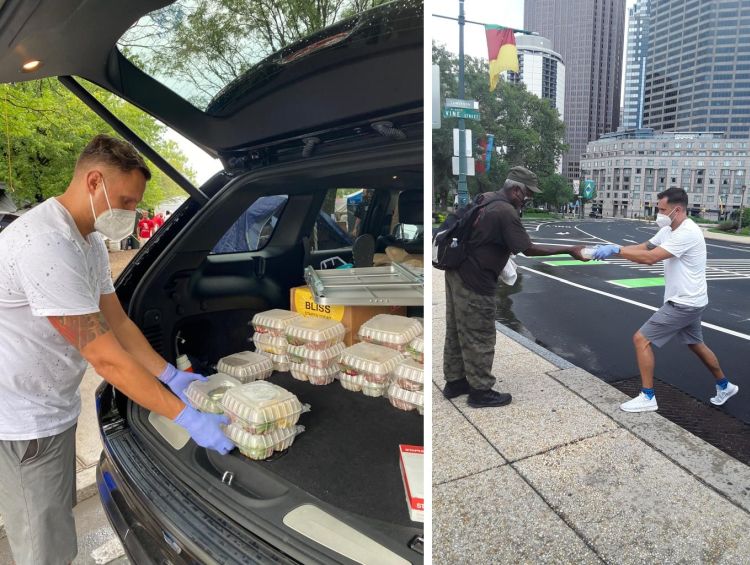 Mantra Lounge put together a volunteer bubble consisting of ashram residents and a few congregational devotees. Throughout the summer, the team distributed prasadam for four or five hours every Sunday from a table at Malcolm X Park, a central spot near many families in need. Mantra Lounge also posted an announcement on its website that anyone who needed free meals on weekdays could contact devotees and receive them by delivery.
During the winter, the team has shifted its base and has been distributing about 100 meals from just outside Mantra Lounge from 10am to 3pm every Sunday. The pre-packaged hot meals are vegan and include a rice dish such as rice pulao, a curry like creamy chickpea, a green salad with dressing such as blueberry vinaigrette, and a dessert such as cake or strawberry halava.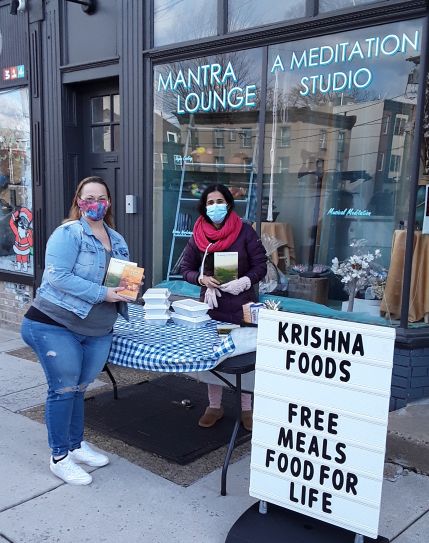 Devotees also deliver directly to families in need from their database during the week, as well as to homeless people in various parts of the city. These have included the now defunct Benjamin Franklin Parkway Homeless Encampment, the area around the Philadelphia Convention Center, and the Kensington neighborhood known for being home to one of the largest open-air drug markets in the United States.
"People are very appreciative," says Mangal-Arti. "One man was lying in the street, in the rain. And despite his state, he got up and tried to express his gratitude. It makes you cry. We have a photo of a little girl saying thank you so much for the prasadam. To know that someone that little is in need of food is just heart wrenching. And many people in Philly are very God conscious – they keep saying 'God bless you, God bless you.' And they appreciate God's work. When we tell our customers from Krishna Foods what we're doing, they give extra to sponsor ten or twenty meals."
Looking to the future, Mangal-Arti says she could expand to distribute 150 meals a day if supporters in the ISKCON community donated $500 a week, or $2,000 per month. Meanwhile, the project is also in need of a final piece of equipment to make its kitchen commercial grade, which will cost $15,000.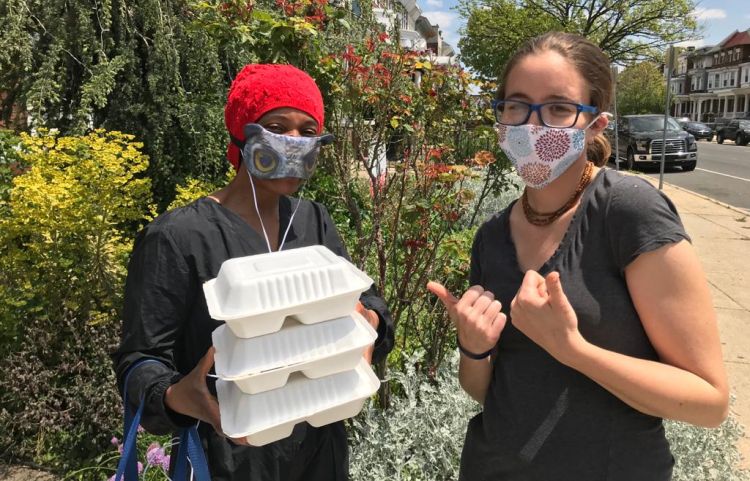 As well as expanding food relief, post-pandemic Mangal-Arti hopes to establish a joint program of free meal delivery along with classes to teach families how to cook and eat healthily; and eventually to teach those who are interested about Krishna prasadam and bhakti-yoga.
"I would love to see people benefit beyond just getting a free meal," she says.
She adds: "We'll also offer them the option to become a volunteer with our program. People love to be a part of the program that helped them."
As well as their food relief programs, Mantra Lounge devotees are offering virtual Bhagavad-gita, yoga, japa and kirtan workshops via livestream and Zoom during the pandemic, and are distributing Srila Prabhupada's books over the phone.
Please support Mantra Lounge's Food Relief in Philadelphia by sending donations to:
1. Venmo at @mantralounge
2. Cashapp $Mantralounge
3. Paypal bhaktiphilly@gmail.com
All donations are tax deductible.
If you have any further questions, please contact Mangal-Arti at amattoo@gmail.com
[
food-for-life
] [
mantra lounge
] [
philadelphia
]