for ISKCON News on June 30, 2019
Pusta Krishna Das Prabhu, a senior Prabhupada disciple who served as Srila Prabhupada's personal secretary, a GBC, sannyasi and pioneer preacher in the early days of ISKCON, has passed away due to fourth stage liver cancer.
Pusta Krishna left this world at 6:19pm on June 24th, surrounded by his loving family – his wife Daru Brahma Dasi, daughter Krsnapriya Dasi, and son Chaitanya Das.
Born Paul Dossick, he joined ISKCON in October 1970 in Gainesville, Florida. Leaving college as a premed student in his last quarter, he immediately set off with Gargamuni Swami to assist the preaching in Dhaka, East Pakistan, in March 1971. In April, when the Bangladesh Liberation War broke out, they escaped to Bombay just in time.
In Bombay, Paul met Srila Prabhupada face to face for the first time. "At that meeting, I offered my dandavats to Srila Prabhupada, and he was very pleased," he later recalled. "He knew that Gargamuni Maharaja and I had genuinely risked our lives to preach Krishna consciousness."
Prabhupada asked Paul what he liked best about Krishna consciousness, and Paul replied, "The Bhagavad-gita." Prabhupada responded "That is very good." Several weeks later, Srila Prabhupada initiated Paul, giving him the name Pusta Krishna, meaning "One who gets strength from Krishna."
After spending some time in India, Pusta Krishna returned to Florida in the autumn of 1971. Because he had been in college before joining, he wanted to preach Krishna consciousness at universities, and Srila Prabhupada gave him his blessings to do so.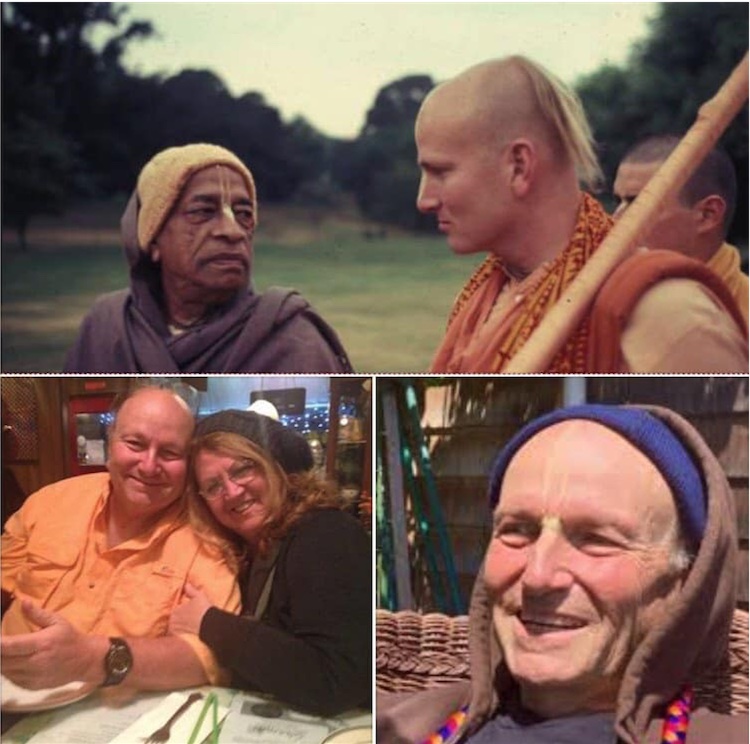 Above - Pusta Krishna Swami with Srila Prabhupada. Below - in later days
Pusta Krishna went to the University of South Florida in Tampa, and began preaching there alone until he was joined by the "Road Show," a traveling group of thirty-five devotees.
In May 1972, Srila Prabhupada awarded Pusta Krishna second initiation, and a short time later, sannyasa. He was only 22 years old.
In 1973, Pusta Krishna Swami was leading the preaching activities in France, Belgium and Switzerland, when Srila Prabhupada requested him to take charge of the fledgeling South African yatra. Again, he immediately set off into the unknown to carry out his spiritual master's order.
Pusta Krishna was the first GBC for South Africa. Partha Sarathi Das Goswami, who was also there in the early days, recalls:
"Without any fear or concern for his own health or safety during the oppressive apartheid era, Pusta Krishna Swami together with his assistant, Janakaraja Prabhu, came to South Africa and took on the responsibility of spreading Krishna consciousness. At that time, there were only a few devotees like Gokulendra Prabhu and Saras Pillay, who is still practicing Krishna Consciousness in Cape Town.
"Pusta Krishna Swami petitioned Srila Prabhupada to send more devotees to South Africa and he was joined by myself in April 1974, Dhiranga Prabhu, Rocani Prabhu, who joined via Rhodes University, and Riddha Prabhu with his good wife, Syamasundari Prabhu, as well as Ramanujacharya Prabhu.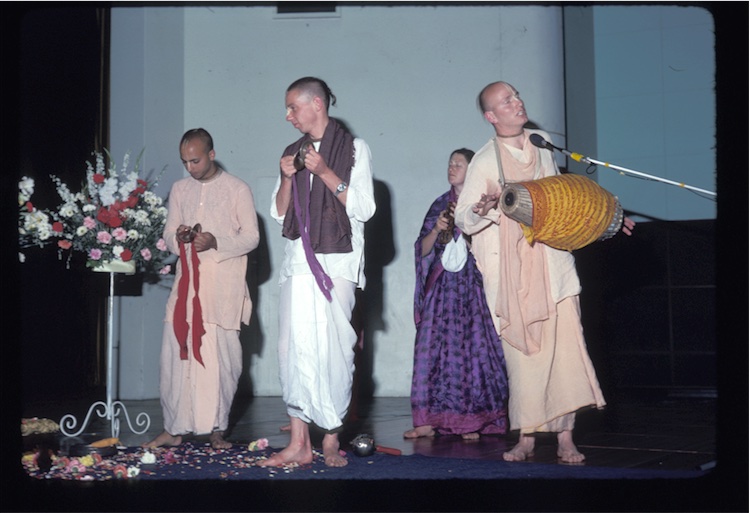 Pusta Krishna Swami (at right with mridanga) leads kirtan at a program in South Africa in the 1970s
"Pusta Krishna Swami was an extremely powerful and charismatic preacher and had both the material and spiritual intelligence to spearhead the preaching. We first began in Cape Town in Waterkant Street, then he moved to Durban La Mercy Tongaat Beach, and then we all went to Johannesburg, and rented a house at 59 Muller Street in Yeoville.
"Due to, and only due to Pusta Krishna Swami's enthusiasm and organizational abilities did Srila Prabhupada agree to come to South Africa in October 1975. He stayed at the house in Yeoville and also at a rented house in Westville, Durban for a total of nineteen days. If Pusta Krishna Swami had not been here to organize this, it is very unlikely that Srila Prabhupada would have come to South Africa. I can honestly say that Srila Prabhupada's coming to South Africa was due to Pusta Krishna Swami's efforts, sincerity, and enthusiasm."
When Srila Prabhupada left South Africa in October 1975, Pusta Krishna Swami accompanied him as his secretary, and remained in that service for some time.
Later, Pusta Krishna returned to university to complete his medical education. He entered grihasta life, and became a well-regarded orthopaedic surgeon on the West Coast of the U.S.
Continuing to practice Krishna consciousness, he wrote a book of his memoirs, "God Is Not Dead: The Testimony of a Fortunate Seeker." He also remained an inspiration to many, sharing his Krishna conscious realizations by giving classes and participating in an online sanga of Srila Prabhupada disciples.
"He gave a lot," says Gaura Das, a member of the sanga. "He answered many questions for me, and was always there for me. There will be a great void in not having his presence any longer. He is one of the most encouraging devotees I ever met. He spoke with great faith of Srila Prabhupada and Lord Chaitanya and was always positive and hopeful about the future for all of us."
Partha Sarathi Das Goswami adds: "I would like to offer my respectful obeisances millions and millions of times to this surrendered and enthusiastic preacher and disciple of His Divine Grace A. C. Bhaktivedanta Swami Prabhupada. Perhaps one day I will be able to please Srila Prabhupada and preach Krishna consciousness to the extent that His Grace Pusta Krishna Prabhu has done."
[
dossick
] [
krishna
] [
paul
] [
pusta
]