for ISKCON News on Sept. 1, 2016
Devotees at ISKCON New Vrindaban, West Virginia are in the midst of major renovations on Srila Prabhupada's Palace. And they're launching a campaign to help them continue restoring the renowned Smriti Samadhi, or memorial shrine to ISKCON's Founder-Acharya, to its full glory.
The effort is a labor of love, just as it was when devotees first started building the Palace in 1973, intending it as a residence for their guru, who expressed a strong desire to retire there and translate his books.
"Regarding New Vrindaban I was very happy when I was there," he wrote to them in 1974. "I am expecting very soon to go there and live in my proposed palace at least for some time."
When Prabhupada passed away in 1977, the Palace – which opened to the public in 1979 – became a monument to his astounding achievements and gifts he gave to the world; a place where he resides in spirit through his instructions; and a major attraction for pilgrims and tourists.
But over the last thirty years, the Palace, which was built by enthusiastic yet inexperienced & young devotees, began to decay. Large parts of the decorative domes, outer wall, railings, and steps crumbled away, and sections of wrought iron rusted irreparably.
More recently, a Palace Restoration Committee was established to take action, and had specialized engineers give their assessment. Fortunately, the core of the building was safe and sturdy, but work had to be done on the exterior quickly.
This time, the work is being carried out with the assistance of professionals – both devotees and reputable local companies.
"The new concrete we are pouring has all the attributes that experience and modern technology provide," says restoration manager Gopisa Das. "So it will significantly outlast what was used previously."
The first move was installing a new, far more efficient drainage system on the steps leading up to the Palace.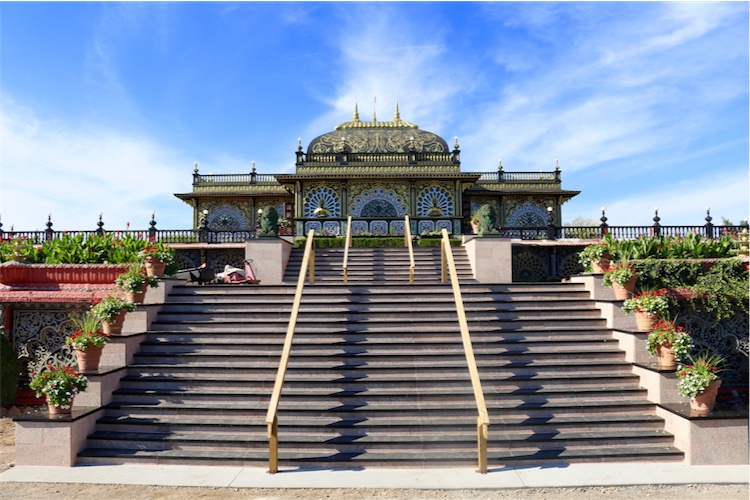 "Water is the biggest contributing factor to deterioration," Gopisa explains.
Next, the steps themselves were beautifully renovated by recycling the original rose-colored granite and adding new black granite treads with polished front edges. The work is currently about to be completed.
"Those distinctive pink and black colors now look the same as they did thirty-five years ago," says Gopisa. "And the steps are sturdier and more durable than ever, with two-inch-thick treads rather than just the one inch that was there previously."
Work on the outer wall – the first impression visitors get of the Palace – came next, and the hope is to complete its restoration this year as an offering to Srila Prabhupada for the 50th anniversary of his ISKCON.
The block wall was stripped, grouted and stabilized with rebar and concrete. As water had been leaking through the top, an attractive new waterproof, saffron-colored topping with lotus designs was installed. And the crumbling window frames were pulled out and replaced with new ornate black frames with Jaipur-style arches.
Next, beautifully ornate iron window grills will be installed, and the wall's surface will receive a durable concrete stucco finish.
This will complete the first phase of restoration and exhaust ISKCON New Vrindaban's current funding for the project. The second phase is repair of the Palace roof, which has been leaking and causing internal damage for years. Gopisa considers this a vital undertaking, and assuming financial support is available, he hopes it will be completed by the end of 2017.
"The entire roof has to be stripped down and rebuilt, along with a new heating, ventilation and air-conditioning system, and the domes need to be properly sealed," says Gopisa. "That phase will also include rebuilding the crumbled balustrade railing around the Palace roof as well."
With all this work, Gopisa says, "We are using the very best materials we can afford, to make it as long-lasting as possible, so the next generations won't be faced with the same challenges we're facing now."
To the devotees in New Vrindaban there's no doubt Prabhupada's Palace is a sacred gem that must be revitalized. After all, it's the only monument in the Western hemisphere built specifically to glorify Srila Prabhupada. It was constructed by volunteers who lovingly devoted years of their lives to its development. And it was beloved by Srila Prabhupada, who called its builders his "jewels" and promised, "I am already living here and always will be."
Indeed, many devotees have commented they still strongly feel his presence there. Even tourists, who have never heard of Srila Prabhupada, are moved and affected. And in recent years, as media coverage of the Palace has once again increased, so have its visitors, with tens of thousands of pilgrims annually appreciating this sacred memorial to our beloved Founder-Acharya.
# # #
To offer your skills in renovation, contact Gopisa Das at gopisa108@gmail.com.
And to support the project financially, please contact Gaurnatraj Das at gaurnatraj@newvrindaban.com or phone 304 312 2069.
For more information, please visit: http://palaceofgold.com/, http://www.newvrindaban.com/
[
new-vrindavana
]