for ISKCON News on Feb. 10, 2019
This year's North American Temple Presidents' Meeting, held from January 17thto 20that Rockwood Manor near the ISKCON of Washington D.C. temple, was a refreshing change according to many attendees.
Under the guidance of a professional facilitator from the D.C. area, along with next generation devotee Gopinath Bloch, it diverted from the usual agenda driven meeting to become a more process driven experience.
"It was more about building strong friendships and connections amongst the temple presidents, and getting them to share what was on their minds," says ISKCON Youth Minister Manorama Das, who also attended. "It took them away from the stress of day-to-day management, and asked what topics and issues they would like to address, setting the stage for really productive brainstorming sessions."
Thirty-nine temple presidents, GBCs and Support Office leaders met for the meeting.
"Our weekend goals were to build partnerships among temple presidents, GBCs and Support Offices; discuss core questions and visions for the future; and develop collective identity among TPs," says organizer and ISKCON Alachua president Mukhya Dasi.
The attendees concentrated on how they wanted to work together, what resources they needed to better serve their temples and where to find them, and how they wanted the relationship between temple presidents and GBCs to look and feel.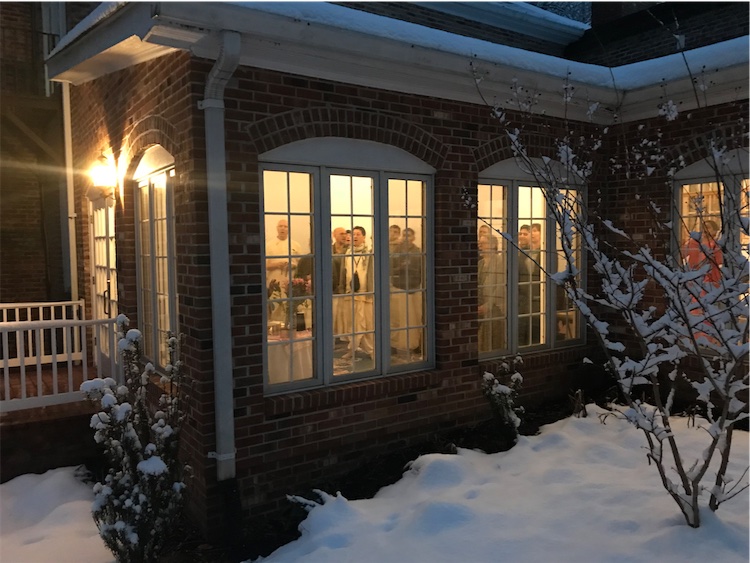 Temple presidents keep cosy in the cold while participating in the morning program together at Rockwood Manor
They also spent one day envisioning temple presidents' collective role in shaping ISKCON North America's future, reflecting on the past year's goals, and planning for the coming year.
"We discussed many helpful tools and concepts," says Mukhya. "For example, what helps us live in the balance between critique and praise; more open communication; respect; partnerships outside our own communities; shared services/goals/vision; and a common purpose."
Temple presidents were encouraged to get to know one another. In small groups, they each shared stories of a time when they deeply felt Lord Krishna's presence in their lives. They then talked about what they learned about themselves from that experience, and what the group learned about the storyteller.
In small regional groups of not more than six, temple presidents also met separately with representatives from the North American Support offices: Youth Ministry, Child Protection Office, Deity ministry, Compliance Office, Book distribution, and the Sexual Harassment/Pastoral Abuse office. This interchange of information and Q and A was powerful in helping the temple presidents talk about what they needed in support, and what they could give to help support these important offices.
Later everyone took time to look at proposals all the temple presidents had brought to the table, and ways to make them happen this year using collaboration and communication tools.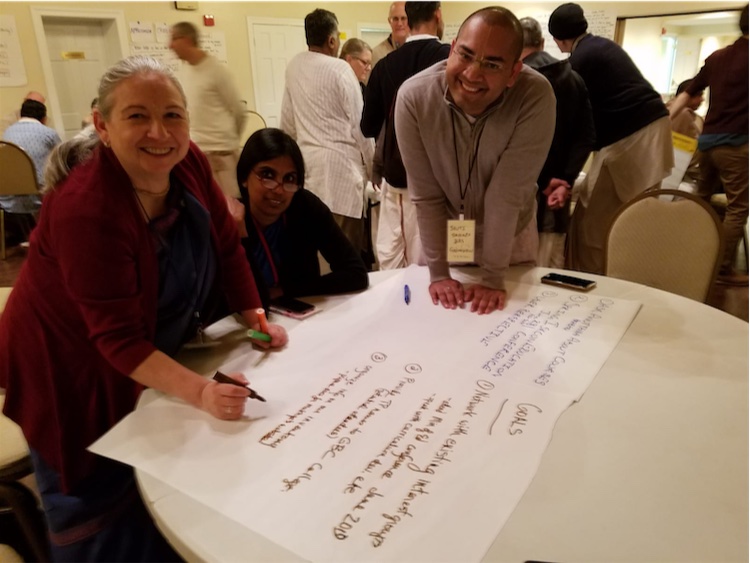 The temple presidents were happy to set goals together
These included the formation of a North American Temple Presidents' Council made up of one TP rep from each of six regions from the US and Canada. Council members will interface with the North American GBCs quarterly, and meet with each other to take advantage of peer association, talk about successes and problems, and help each other support North American initiatives.
A North American temple presidents' web portal will be established that will include updates from the support offices listed above and an easy way for temple presidents to pay their annual dues to these offices. It will also include new GBC resolutions, contact details for North American temple presidents, and links to all NA temple websites, and will be a venue for TPs to share ideas and information.
At the meeting, presidents also voted to identify an ombuds for ISKCON North America to handle conflicts in the region and deal with leadership and other general training.
There was some discussion on creating a Fund it Now department to help devotees earn money, and a Read to Lead program that encourages temple presidents to read Prabhupada's books every day.
There was enthusiasm around a Systematic Education program that would include many trainings already being offered, as well as new suggested programs such as Krishna House ashram training, Sunday schools, KC 101, online courses, and many more. Solutions and next steps were talked about and those interested will create a group themselves to follow up this year.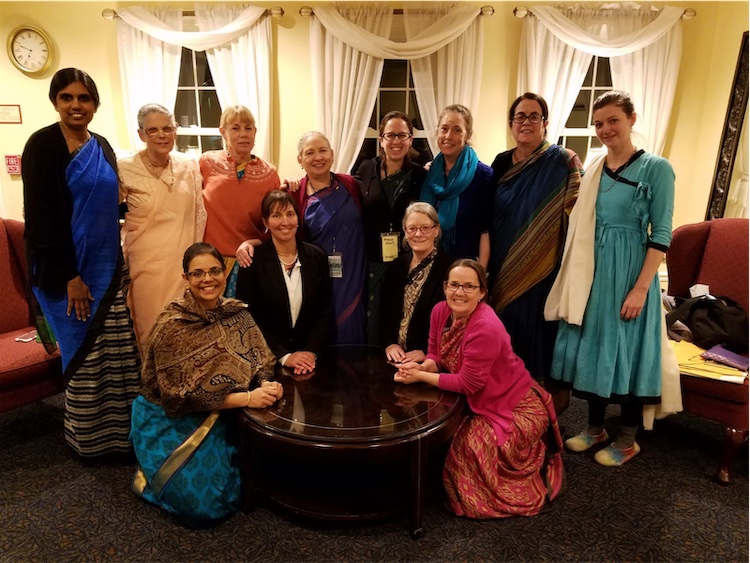 Many of the women serving as temple presidents in North America got to spend time together at the Meeting
There was strong interest around the issue of better understanding and communication between temple presidents and GBC members. A group has been selected to follow up with each other throughout the year and go through the Temple Presidents' Council to bring the matter to the GBC directly.
Finally an initiative called "Integrating the Next Generation Youth" garnered a lot of enthusiasm and support. Manorama Das from Alachua and Deva Madhava Das from Ypsilanti, Michigan will visit temples across North America this year to work with them on creating youth sangas, internships, a gap year program, and a Next Gen Council to empower, train, engage and inspire ISKCON's next generations.
The next generation also proved their enthusiasm to be involved at the meeting, where a "Relax Team" made up of graduates from youth group The Sanga Initiative provided all the back-up and support.
"They cooked three healthy satisfying meals a day, catered to special diets, and served with a smile and an enthusiastic attitude," says Mukhya. "We were all very grateful to them and encouraged by their service attitude and interest in ISKCON management."
After the meeting, many felt very positive and said it was the best one they had attended so far.
"It was basically priti lakshanam at its best – sharing your mind in confidence, honoring prasadam together," says Manorama.
Mukhya concludes: "The devotees felt full and satisfied at the end of the three days, enthusiastic to join together to work on these initiatives and create a better 'job description' of Temple President for generations to come."
[
leadership
] [
persident
] [
temple
] [
washington-dc
]