for ISKCON News on Jan. 17, 2020
The first meeting of the Advisory Committee for development of Mayapur Heritage City, was held on January 9th, 2020, at prominent Indian businessman Sajjan Jindal's office.
The meeting was initiated by Devakinandan Das, Zonal Secretary and Vice Chairman of Member of Mayapur Executive Board (MEB), and saw the participation of some of the most distinguished members of the corporate world namely Sajjan Jindal (Chairman - JSW Group & Advisory Committee), BK Goenka (Chairman - Welspun Group), Ajay Piramal (Chairman - Piramal Group), Ashok Goel (Chairman - Essel Group), Harshvardhan Neotia (Chairman - Ambuja Neotia Group) and Sanjiv Goenka (Chairman - RP Industries Ltd). Other businessmen who are members of the Committee but were unable to attend the meeting are Shri Gautam Adani (Chairman, Adani Group), Shri Anil Agarwal (Chairman, Vedanta Resources) and Puneet Dalmia (Dalmia Bharat Group).
Some of the key topics discussed during the meeting were phase-wise development plan of Mayapur City, real estate development and infrastructure development. The Committee envisions the development of Mayapur as a world tourism circuit center, which includes ISKCON's flagship center, the Temple of Vedic Planetarium (TOVP) and several themed public gardens, educational institutes, Ganga ghat development, ashrams for visitors, cultural centers and exhibitions, cottage industry enclave, and goshala.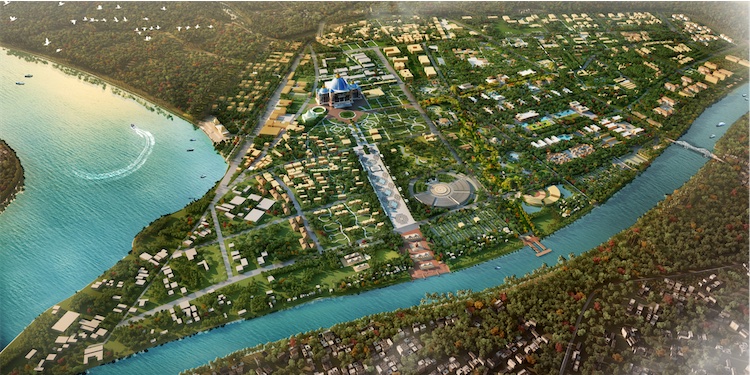 Aerial view of the planned Mayapur landscape.
The Advisory Committee for development of Mayapur Heritage City will seek the help of accomplished consultants, retired bureaucrats, government officials to initiate the phase-one of the development.
Hrdaya Caitanya Das, Member, Advisory Committee, states "It's very encouraging to see that prominent Indian businessmen are coming together to help fulfill Srila Prabhupada's vision of developing a spiritual city in Mayapur Dham".
[
mayapur
] [
tourism
]