for ISKCON News on Jan. 26, 2017
A weekend Bhakti Yoga Retreat will give local Puerto Rican students, yoga practioners and permaculture enthusiasts a taste of the simple living, high thinking lifestyle from March 17th to 19th.
The retreat will take place at the 15-acre Plenitud Eco Farm in the picturesque mountains of Las Marias, Puerto Rico. Established in 2010, Plenitud offers university students and other visitors courses, internships and demonstrations on sustainabiblity and permaculture.
The eco farm also happens to be run by Bhakti yogis. Director Vaishnava Das studied natural building at the California Institute of Earth architecture, while his wife, coordinator Draupadi Dasi, worked as an ecological anthropologist.
"I'm very interested in Srila Prabhupada's vision of long-term sustainability – working with the land, and growing food," says retreat co-organizer Hita Karina, a second-generation devotee and yoga teacher from Alachua, Florida. "And Vaishnava and Draupadi are not only living that life, but teaching it too."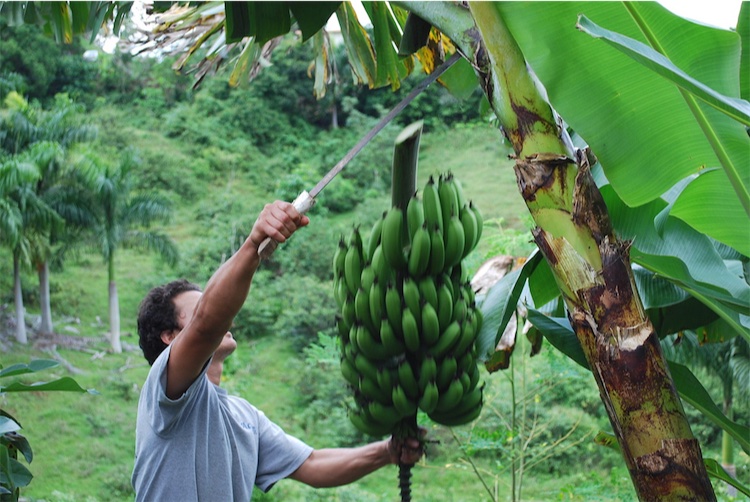 Harvesting bananas at Plenitud Eco Farm
Helping organize and teach at the retreat along with Hita are Jaya Sita Dasi, who runs a yoga studio in Puerto Rican capital San Juan; Amrita Keli and her husband Lovelesh of the Krishna House in Jacksonville, Florida; and senior devotees and kirtan leaders Badahari Das and his wife Kosa Rupa Dasi.
With attendees camping onsite in the beautiful natural setting, the Bhakti Yoga Retreat will begin on Friday evening with a welcome dinner and kirtan led by Badahari Das.
Saturday and Sunday will start with a morning program of arati, Tulasi Puja, Nrsimha prayers, and japa, with a simultaneous yoga class for those interested.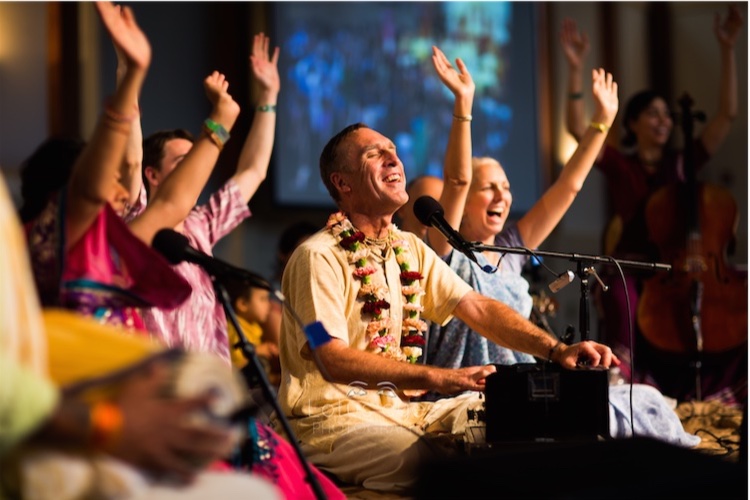 Badahari Das and Kosa Rupa Dasi will lead kirtans at the retreat
After breakfast on both days, there will be introductory workshops on permaculture, sustainable agriculture, urban organic gardening and composting led by the Plenitud hosts.
Before and after lunch, Badahari, Kosa Rupa, and others will give interactive experiential Bhakti Yoga workshops about japa, Bhagavad-gita and kirtan.
"The workshop 'Sharing the Kirtan Experience' will discuss the sankirtan movement and the importance of kirtan, along with a chance to actually experience some kirtan," says Hita Karina.
There will also be several-hour-long evening kirtans, as well as yoga classes and vegetarian cooking classes.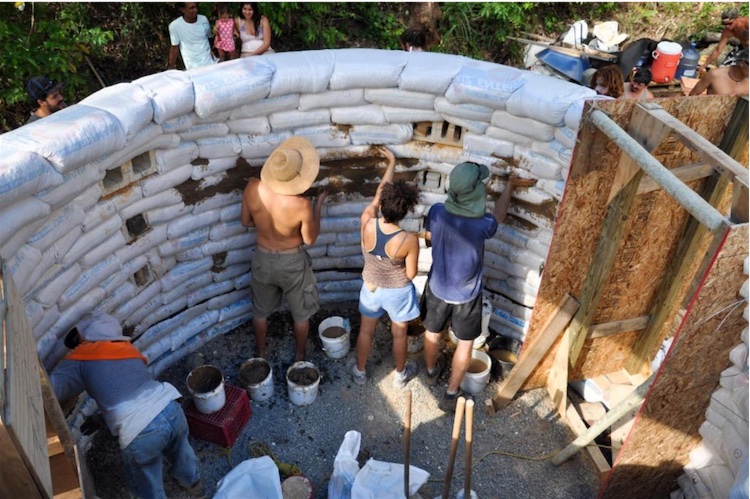 Participating in a natural building workshop
"Of course, as devotees a huge part of our culture is prasadam," says Hita. "We want to connect that with the permaculture aspect of the retreat, and share with the public the whole cycle of growing your food, preparing it, offering it, and sharing it. But we want to do it in an open-minded way, where we're just sharing our culture and asking them to also share their way of offering their food."
After the retreat, the organizing team will stay on for several days to plan a long term Bhakti Yoga retreat program in Puerto Rico.
Future retreats will be held at least once a year and will be more extensive than March's inaugural event, lasting a week each.
As well as sustainability and Bhakti yoga workshops, they will include field trips to the stunning Cabo Rojo beach and national park; and ziplining and kayaking in Utuado with Batey Zipline Adventures, which is run by two yoga practioners favorable to Krishna consciousness.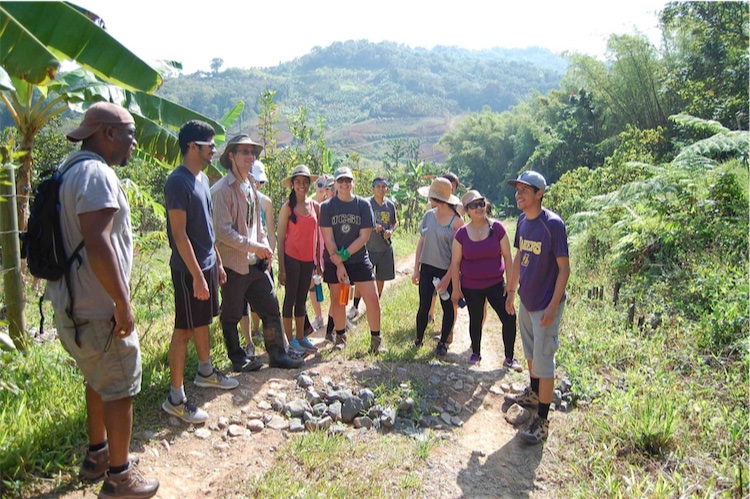 Visitors at Plenitud Eco Farm, in the picturesque hils of Las Marias, Puerto Rico
"We really want to open mainland North America up to Puerto Rico as an amazing venue for Bhakti Yoga workshops and retreats," says Hita. "Especially for the East Coast of America., it's very close, affordable to get to, and because it's the U.S., you don't need a passport or a visa to get there. And it's paradise!"
As well as bringing devotees and students from the mainland to Puerto Rico, Hita is enthusiastic about connecting with young people in Puerto Rico itself.
"We hope they will see how Bhakti naturally blends with many of the going concerns of youth today – yoga, conscious living, growing your own food, the vegetarian/vegan diet, sustainability, etc," she says. "We're bringing Krishna consciousness as a great platform to synergize all of these concepts."
* * *
The Bhakti Yoga Retreat costs $150 per person plus airport to farm transportation. To book your place or get more info, contact:
USA:
Hita: Phone: 352-213-4531 Email: (hitakarina@gmail.com Facebook: Hita Karina Neitenbach
Lisa: Email: lisa@greengirl.us
Puerto Rico:
Plenitud: Email: servicelearning@plenitudpr.org Website: http://plenitudpreng.weebly.com/
Jaya Sita: Phone: 787-639-1127
Or visit the event Facebook Page: https://www.facebook.com/yogaculturapr/
[
agriculture
] [
environment
] [
farm
] [
permaculture
] [
puerto-rico
]