on Sept. 26, 2017
Devotees in the main ISKCON communities in Puerto Rico are reportedly safe after Hurricane Maria struck on September 20th. However, according to pujari Madhava Priyah Dasi, the U.S. territory's only temple, in mountainous Gurabo, has been "almost completely destroyed."
"The roof over the pujari room, dining area and kitchen is gone," she says. "The altar and temple room is flooded, and everything inside it – instruments, vyasasana, and other furniture – is waterlogged. All the lights broke. The water tank broke, and there is no water. And all our coconut, papaya, avocado and mango trees have fallen."
GBC Guruprasad Swami adds: "By Krishna's grace, the devotees are all fine. The Deities were moved before the hurricane hit."
Puerto Rico's two preaching centers – one in Hato Rey and one in Río Piedras – were also flooded, and their sound equipment, furniture and picture frames of Deities sustained damage.
Meanwhile the whole of Puerto Rico is in a humanitarian crisis: most are without power and phone service, and it will likely be months before they have it restored. There is no running water, and it is difficult to access drinking water. Supermarket shelves are empty. Food and medicine are dwindling, especially for those isolated by impassable roads.
Devotees are in the same boat as everyone else. "Some devotees living in various parts of the island have not been heard from yet, as most cell phone towers are out," says ISKCON Youth Ministry's Manorama Das, who is concerned about his friends in Puerto Rico.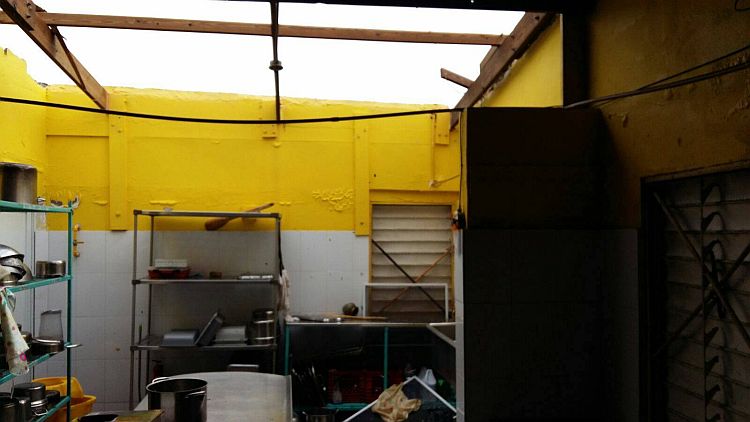 Still, hope seems to be the prevailing mood there. In a lengthy message in Spanish on social media, one friend of a devotee detailed the government's promises that things will be okay, that there will not be a food crisis, and that aid is arriving in the harbor from U.S. military ships.
"Tomorrow there will be more good news !!!!" she wrote. "PR is destroyed, I KNOW I KNOW but I will try to share the good news and not so much the photos of the destruction. We need to raise a little hope to stay here. THANK YOU."
Nevertheless, it will be a long time until life is back to normal for residents of Puerto Rico. Devotees there need not only our prayers, but also need us to back them up with monetary donations so that they can get back on their feet.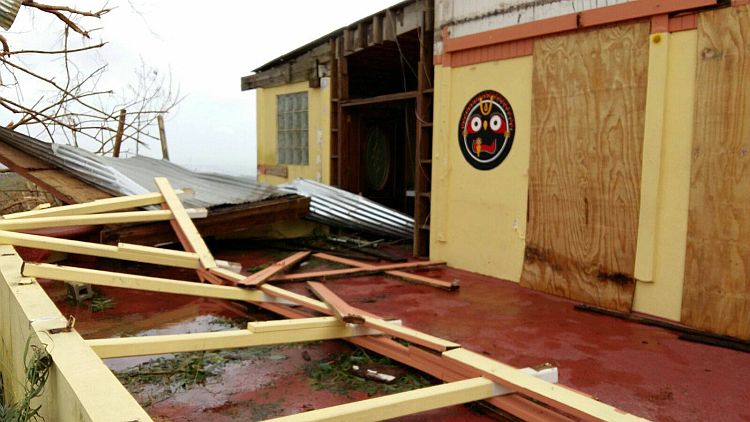 "I hope that our [ISKCON] leadership can rally some support for the local temple, restaurant and preaching center, as there are few devotees, and not much financial support from the congregation for major expenses like this one," says Guruprasad Swami. "FEMA is promising to help, but when and who are the priorities is a big question."
"We are still discussing with the GBC in what way the temple will be reconstructed," adds Madhava Priyah Dasi. "We need monetary aid as well as help from devotees who know about building, construction, architecture, and manual labour to help remove debris, fallen trees and clean."
ISKCON Puerto Rico's Gurabo temple has sustained $100,000 in damages. To help, please visit:

https://www.gofundme.com/help-to-iskcon-puerto-rico-temple
Every little bit counts.
[
hurricane
] [
hurricane maria
] [
iskcon-puerto-rico
] [
puerto-rico
]