on Nov. 6, 2021
The London Radha Krishna Temple's own non-profit label, Radha Krishna Records – founded in 2009 and dedicated to spiritual mantra music – has released Volume 4 in its popular Mantra Lounge series.
The nine-track album features an incredible lineup of international mantra artists, singing heartfelt and meditative chants for the Lord against a layered soundscape of gorgeous instrumentation.
The songs include Above and Beyond – Hare Krishna by Radhika Das; Harer Nama – Touchstone by Dhanya; Purify Me – Sri Nama-Kirtana by Kal Key; and Radhika Stava – Seed of Love by Madhvi Mulji.
Commenting on her track, Dhanya says, "We knew we wanted to create a piece that celebrated the service of kirtan and the beauty of Krsna's names. Working on Touchstone was a welcome exploration of songwriting, production and the magic that takes place when we make ourselves available to God's gifts of inspiration. To sing out the glories of the Holy Names is to remember our own great fortune. Like offering water back into a sacred river, it feels too small and redundant to be significant, and yet, it is our sincere gift back to the Divine."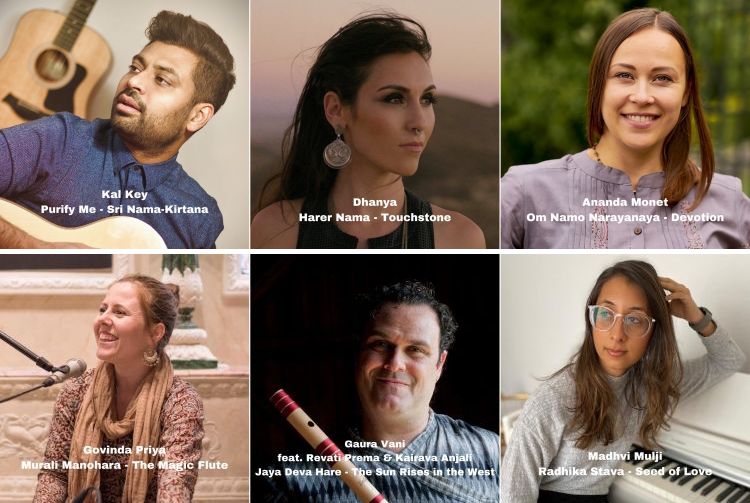 Also featured on the album are Jaya Deva Hare - The Sun Rises in the West by Gaura Vani featuring Revati Prema & Kairava Anjali; Murali Manohara - The Magic Flute by Govinda Priya; Nitai Gauranga by Asta Bria featuring Aloka Collister; Radhe Shyam - The Divine Couple by Radha London Isvara Das featuring Asta Bria; and Om Namo Narayanaya - Devotion by Ananda Monet.
Speaking about his offering, Gaura Vani says, "'The Sun Rises in the West (Jaya Deva Hare)' features my children Revati, Kairava and Kirtan. As I received this song from an elder I now gift it to my children. This is also a true collaboration with producer Jag. We kept one vision between us at all times. How can we work in a way that allows us to continue to serve together for the rest of our lives? Please invite this river of mantra into your heart and watch where it carries you."
Like the rest of the series, the album was recorded mainly at Iguana Studios in Brixton, London, with some elements, such as Gaura Vani's vocals, recorded remotely from the artists' home country.
Jagannath Suta Das (Jag), who has worked for Universal Music and Sony, produced the record, sharing co-producer credits with Gaura Vani on "The Sun Rises in the West" and with Shammi Pithia on "Purify Me – Sri Nama-Kirtana" by Kal Key.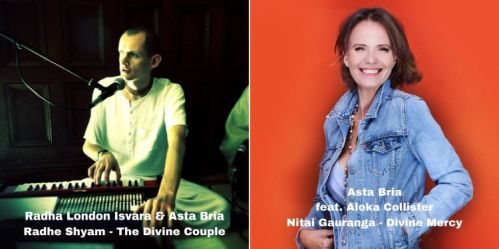 "This album is special, as the devotees involved have invested more of their time and devotion with this fourth series," Jagannath Suta says. "New musicians such as Sameer Rao on Bansuri flute, Dhanya and Bali Rico with their song Touchstone, Bernhard Schimpelsberger playing percussion, and Lucidia Omamori playing harp have broadened the sonic soundscape to keep the listener interested. Gaura Vani and I spent a considerable amount of time crafting his song, having long phone conversations, humming melodies back and forth and staying awake until the candle light had long faded while creating."
According to Jagannath, the album is contemplative, meditative and thought provoking. "Hopefully, it will have a deeper effect upon the listener – it's not superficial ear candy," he explains.
Mantra Lounge Volume 4 is available to download as a regular high quality MP3, as well as in a Hi Res audio version that truly transports listeners to another realm. "The sonic quality is an exceptional listening experience," Jagannath Suta promises.
Mantra Lounge is available through all digital outlets including the official Radha Krishna Records website:
https://www.radhakrishnarecords.com/shop/p/mantra-lounge-vol-4-mp3-download
Download the Hi Res audio here: https://www.radhakrishnarecords.com/shop/p/mantra-lounge-vol-4-hi-res-audio-download-part-one
Watch the official music video for Above and Beyond by Radhika Das here: https://www.youtube.com/watch?v=_-9GM8mz3do
[
kirtan
] [
mantra lounge
] [
music
] [
radha-krishna-records
]