for ISKCON News on Oct. 14, 2016
Political pundits last weekend were calling the second presidential debate "the darkest and nastiest in modern history," full of scandals, personal attacks and insults. And the ongoing drama may be what's taking over the news lately.
But not everyone, even in Washington, is being dragged down by it. On Saturday October 8th, thousands of people from different faiths and backgrounds gathered on the steps of the Lincoln Memorial for a "Chant 4 Change," trying to bring some light into the darkness.
Throughout the ten-and-a-half-hour event, they chanted God's names together in each other's traditions. They sang songs of peace, unity and love. They sang to change the consciousness that has caused so much violence, racism, corrupt leadership, environmental destruction and economic collapse recently.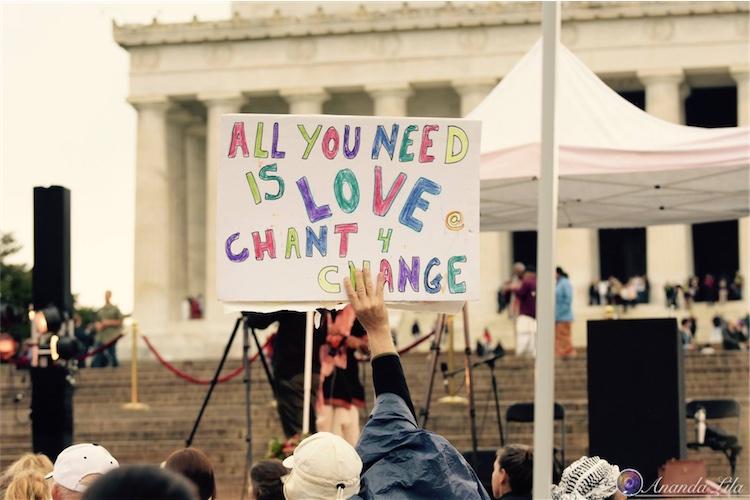 "You can point to so many outward problems," says organizer Gaura Vani, a second-generation ISKCON devotee and kirtan artist. "But when you trace it all back, it goes back to one's own heart. If we change who becomes president this year, but we don't change the consciousness of the nation, the city, our community, and ultimately our families and our own selves, we will not have lasting change for good."
Although a rainy day made for a smaller crowd than expected, the 2,000 people who attended, according to Gaura Vani, "were 100% clear why they were there." Meanwhile, thousands more regular visitors to the Lincoln Memorial witnessed and heard the chanting, and many others watched on a Facebook livestream.
"People could feel that something incredibly special was happening," says Gaura. "And the fact that it was held not only at the same spot where Martin Luther King gave his famous 'I have a dream' speech, but also exactly fifty years after ISKCON founder Srila Prabhupada's first public kirtan in Tompkins Square Park, added to that historic atmosphere."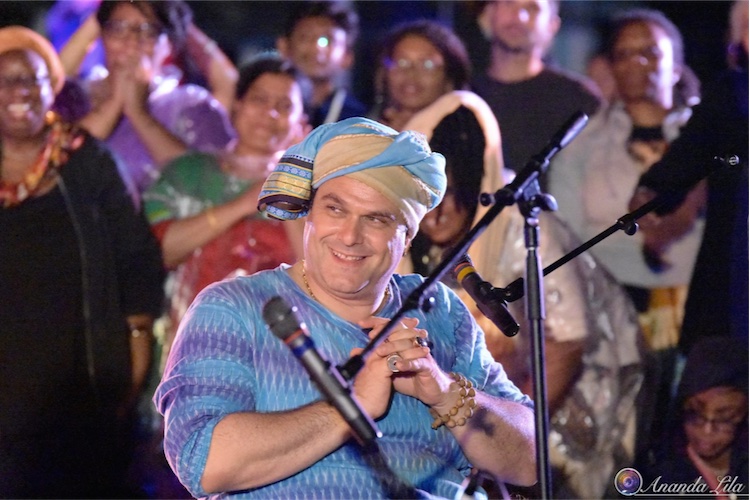 Chanting together were people from the Sufi, Buddhist, Vaishnava, Sikh, Hindu, Native American, Jewish, Christian and yoga communities. And they hailed from Spain, Colombia, Argentina, India, Russia, Ukraine, and all over the U.S. The scene perfectly brought to life Vaishnava saint Bhaktivinode Thakur's words from his Chaitanya Siksamrita:
"The Church of Kirtan invites all classes of people, without distinction to engage in the highest cultivation of the spirit. This church, it appears, will extend all over the world, and take the place of all sectarian institutions which exclude "outsiders" from the precincts of the mosque, church or temple."
The event started at noon with representatives from different faith traditions speaking invocational prayers. They included Father Don Rooney, pastor of the Saint Bernadette Catholic Church in Springfield, Virginia; Episcopalian Minister Alan Gates from the California Bay Area; Washington D.C. rabbi Tamara Miller; Matt Regan, Secretary to the International Buddhist Committee of Washington D.C.; and Mary Aubry, a teacher from the Buddhist Vipassana tradition.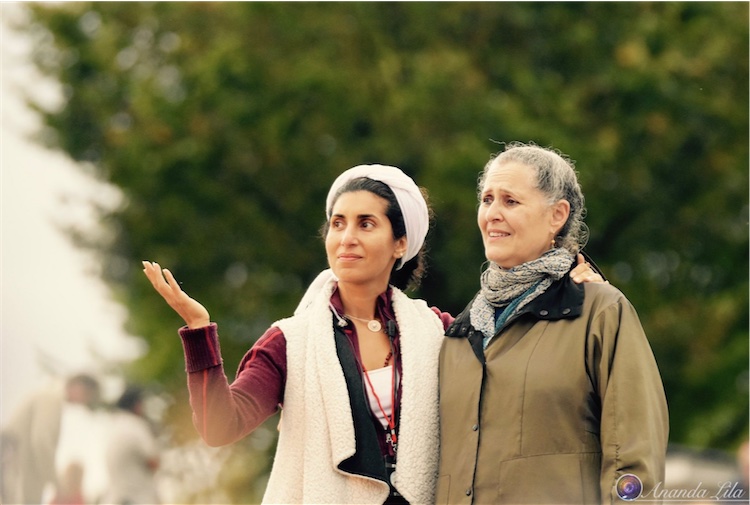 ISKCON Communications Director Anuttama Das also spoke. The Bhakti tradition, he said is centered on the concept of people coming together and glorifying God according to their different traditions and understandings. And so Vaishnavas were very pleased to be part of this event.
The chanting itself began with celebrated Indian classical musicians Amjad Ali Khan and Sons, Sikh artist Ajeet Kaur, and Sufi group Fanna-Fi-Allah, with the hand clapping, multiple harmoniums, and driving rhythms of devotional Qawali music.
Next came The Juggernauts, a lively kirtan/rock hybrid group led by Gaura Vani and Visvambhar who sang the Hare Krishna maha-mantra as well as songs like Bhaja Govindam that incorporated English lyrics about the higher values in life that unify us all. As they sang, Bharatanatyam dancers Anapayini Jakupko and Ganga Sheth performed, adding a spectacular element.
Grammy-winning gospel group Sweet Honey in the Rock followed, singing beautiful acapella songs of existing through difficulty with grace and love. And the rain began to matter less and less.
"As the day went on, more and more people came, until it was like a massive shanty town of tents and tarps and umbrellas," Gaura Vani says. "People were sitting in rows, dancing shoulder to shoulder under a giant blue tarp. I've never seen anything like it."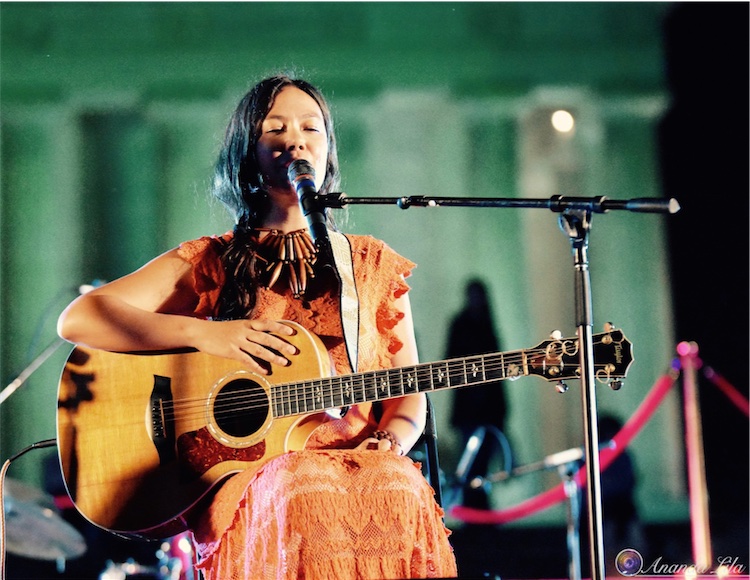 Interspersed with the music were various speeches. Cherokee spiritual teacher Yona French-Hawk spoke about the rain as not a negative, but as an amplifer for the chanting. Leading everyone in a meditation that they let their prayer reflect off the pool at the Washington Monument and spread across the world, he was deeply inspiring.
Meanwhile South Florida businesswoman Vivienne DeMille spoke about the role of ethical and conscious business practices in the world's wellbeing; Kerry Kelly encouraged the spiritual people present to get involved in politics; and Howard Ross, a professional diversity consultant who regularly appears on NPR programs, also spoke.
The Dalai Lama also sent a letter echoing Chant 4 Change's goals, which was read out by Prabhupada disciple Rukmini Dasi at the event. "Brothers and Sisters," The Dalai Lama wrote, "The challenges we face today call for an approach based on ethical awareness and inner values. Safeguarding the future is not just a matter of laws and government regulations; it also requires individual initiative. We need to change our way of thinking and recognise that we all belong to the same human family. Differences of faith, race or nationality are secondary in the context of our sameness as human beings. As social animals the best way to take care of ourselves is to take care of each other. This is the kind of recognition that gives rise to the trust and inner peace that is the basis for peace in the wider world."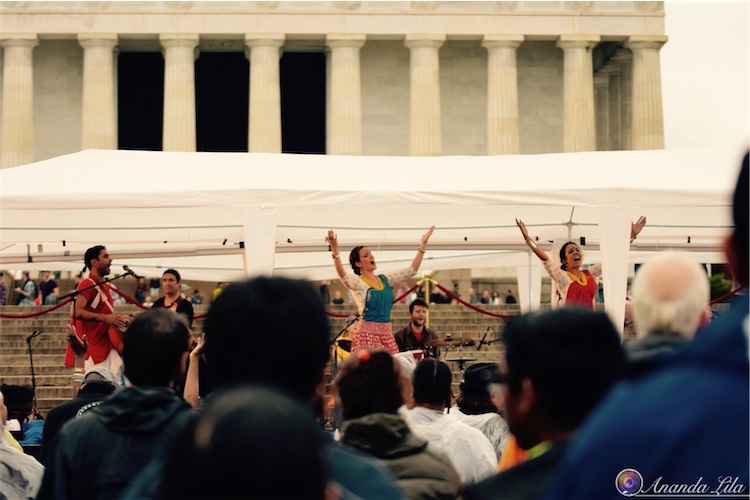 A letter from ISKCON GBC Jayapataka Swami was also read, in which he said that coming together and chanting on the steps of the Lincoln Memorial was an important spiritual activity to purify not only Washington, but the world.
As evening descended, spiritual teacher Radhanath Swami chanted and then gave the main talk of the day. We have a tendency to misidentify with many things in this world such as gender, nationality, or political affiliation, he said. But in truth we are spirit souls, looking for love. And the prayers chanted tonight can reawaken that dormant pure consciousness within us.
As Radhanath Swami spoke, the rain dispersed, the sky lit up in beautiful saffron and violet colors, and the tents and tarps were discarded, revealing the full majestic backdrop of the Lincoln Memorial.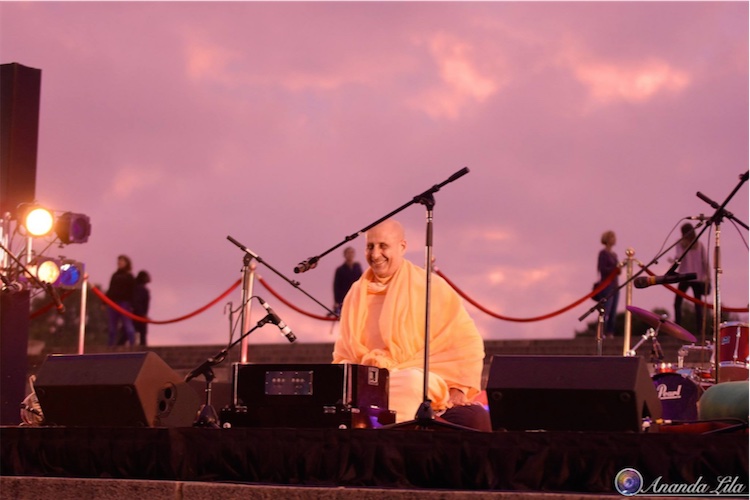 A by now large and thoroughly inspired crowd sang along with even greater enthusiasm to African-Caribbean artist Fantuzzi, Mikey Pauker's Hasidic Jewish prayers about coming from the eternal source of all energy and love, and others.
By the time conscious rapper MC Yogi took the stage, delivering uplifting songs about gratitude and positivity, the atmosphere was truly electric. And it all came to a crescendo with David Newman's sing-along rock finale, mixing classic tunes like "Give Peace a Chance" with kirtan chants like Sita Rama as drums pounded, guitars wailed and the audience danced for all they were worth.
"All these kids out for Homecoming in their dresses and suits stopped by, jumped up on stage and started dancing and singing Sita Rama," Gaura Vani recalls. "One girl, dancing like a crazy person, asked me, 'What is this?' I said, 'We're gathering from different religions, and singing each other's songs to show harmony and unity and peace.' And she screamed back at the top of her lungs, 'That's what I belive!!'" He laughs.
Chant 4 Change concluded with a wonderful sense of camaraderie between the musicians, dancers, audience and volunteers.
"The amazing thing for me was that while every group was so diverse from each other, they responded equally to every performance, singing together and rocking to each other's music when they didn't know the lyrics," says Gaura.
During the event, a reporter from PBS show "Religion and Ethics News Weekly" filmed the program and interviewed almost a dozen people, asking them how this kirtan event could have a positive impact on what's going on in the world today.
For speaker and participant Anuttama Das, there's no doubt that it already has.
"Despite the rain, there was no dampening of the spirit," he says. "There was a real sense of coming together, not just as a performance, but as a yajna to try to bring about auspiciousness in the nation's capital in these troubled times."
[
chant4change
] [
dc
] [
washington-dc
]