on Oct. 30, 2021
Rajendranandana Das (ACBSP) prepares to leave this world
As some of you may know, HG Rajendranandana Prabhu (ACBSP) has stage four cancer.
He is bedridden at home in the US with his wife Catura Devi Dasi and his son Aja.
He had some lower back problem about two and a half months ago that led to the doctors finding cancer.
Rajendranandana Das is preparing to leave his body.
The doctors have not given him much time, and he is gracefully embracing the situation.
He is grateful for getting the warning so that he can prepare for this final test.
His consciousness is crystal clear, and he continues to warmly smile as usual, although he does not got the energy to laugh out loud as we would often hear him while attending Srimad Bhagavatam class or any other time.
I have this picture in my mind of Pankajanghri Prabhu mildly smiling and asking him sarcastically, "What are you laughing about?"
Sad that we won't see or hear this again.
Rajendranandana Das joined ISKCON in Dallas under Radha Kalacandji's lotus feet in 1973. He is one of the early gurukula teachers in ISKCON and served in Vrindavana and Dallas as such. He was present during Srila Prabhupada's final pastimes on this earth.
He is a wonderful Vaishnava who touched the hearts of thousands of devotees with his humility and heartfelt classes, particularly on Navadwip Mandala Parikrama.
Although not currently physically present in Mayapur, he is one of the senior-most members of the ISKCON Mayapur community, where he spent a few months a year for over two decades.
He has a long-standing deep friendship with Jananivas Das and Pankanjangri Das, who sometimes referred to him as their third brother.
Devotees from around the world are expressing their love for his always genuine kind and warm disposition.
BB Govinda Swami wrote: "He has always been one of the sweetest, kind, sincere and "heart on the sleeve" persons I have ever met. We became friends in Vrindavan in "77 and he's just always been wonderful.
Rajendranandana Das is offering his prostrated humble obeisances at the feet of his friends, well-wishers, and all the Vaisnavas.
He also asks to not pray for his health, but for his ability to embrace the will of Srila Prabhupada and Krishna's plan, and to blissfully remember Srila Prabhupada and Krishna while facing whatever circumstances that unfold.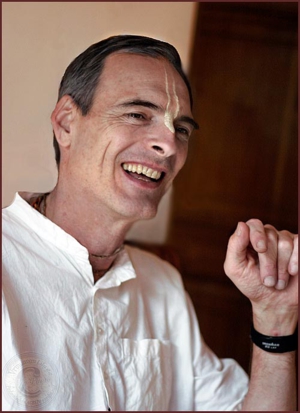 Kindly keep him and his family in your prayers.
Thank you.
Your servant,
Rādhikā Nāgara Das
[
rajendranandana-das
]