for ISKCON News on Sept. 23, 2016
A two-and-a-half hour musical production of India's ancient epic the Ramayana entitled "Ramayana: Past in Present" premiered from August 25th to 28th in the Kelley Theater at West Liberty University, West Virginia, USA.
Opening on Janmastami night with an auspicious 108 people in the audience, the musical carried students and faculty into a whole new world of culture, adventure and philosophy.
The show's subtitle, "Past in Present," was apt not only because of its ancient origins and current relevance, but also because it is the realization of a seed planted in its creator's heart very early on.
The Journey
At just twelve years old, John Sherwood came up with a ten-measure melody on the piano. Something told him it would hold special significance for him one day. So he held on to it.
Five years later in 1971, at the age of seventeen, he joined ISKCON and was given the name Kripamaya Das by Srila Prabhupada. And soon after that, another piece of the puzzle was laid.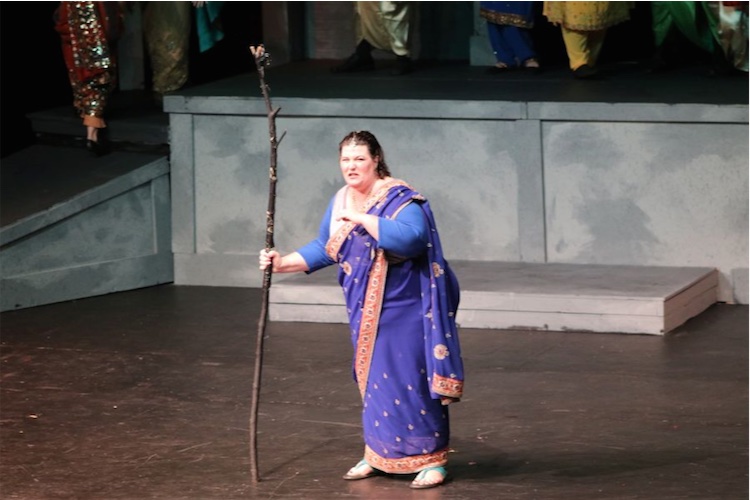 The hunchback maid Manthara, who influenced Queen Kaikeyi to banish Rama
"Srila Prabhupada was visiting the Brooklyn temple in 1973, and the Vaikuntha Players were performing 'The Kidnapping of Rukmini,'" Kripamaya recalls. "I remember watching Srila Prabhupada, and he had this big smile on his face. That smile made me want to put on a play myself."
During the following years as a book distributor, Kripamaya held on to that meditation. More puzzle pieces fell into place as he began reading the Ramayana and fell in love with it.
"Reading about how Rama's sons Lava and Kusha discovered who their real father was in their teens really touched me, as I had had a similar experience," he says.
Remembering his old piece of music, Kripamaya decided that the Ramayana would make a great musical, and began sneaking into practice rooms at universities while out distributing books to compose more pieces on the piano.
Although he collected and recorded these compositions, the project went on the backburner for twenty years as he moved to the New Vrindaban community and married his wife Krsna Bhava Dasi. But after a visit to Ayodhya, Rama's Kingdom, the inspiration came back with a bang.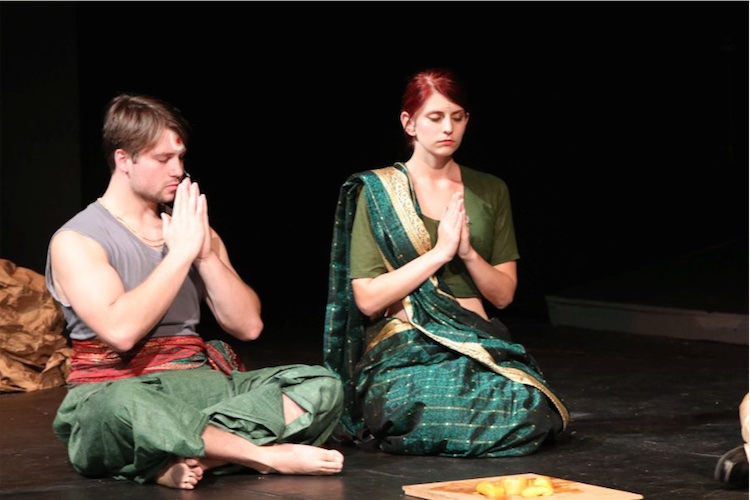 Rama and Sita in prayer while on exile
West Liberty Students and Faculty Embrace the Ramayana
Wanting to approach things from a professional angle, Kripamaya went back to college in his fifties, attending West Liberty University in Wheeling, near New Vrindaban to do a music and theater degree.
Under the mentorship of Professor Michael Aulick, the chairman of the theater department, he developed the script for his musical, performing stage readings for the devotees at New Vrindaban over the years and getting feedback from them.
Soon Dr. Melinda Kreisberg, a professor of microbiology who had been involved in theater for years, came on board as director; and Dr. Linda Cowan, chair of the music and theater department, became the score editor.
As the production grew, a whole team from the university joined, filling out a cast of twenty-four students and professors, and a crew of fourteen.
"We met twice a week, and then, during the last month of rehearsals, every day for three to five hours," Kripamaya says. "What really amazed me was how these students, many of them with no previous connection to Vedic culture or Krishna consciousness, became enchanted by the story of the Ramayana and threw themselves into it with great enthusiasm."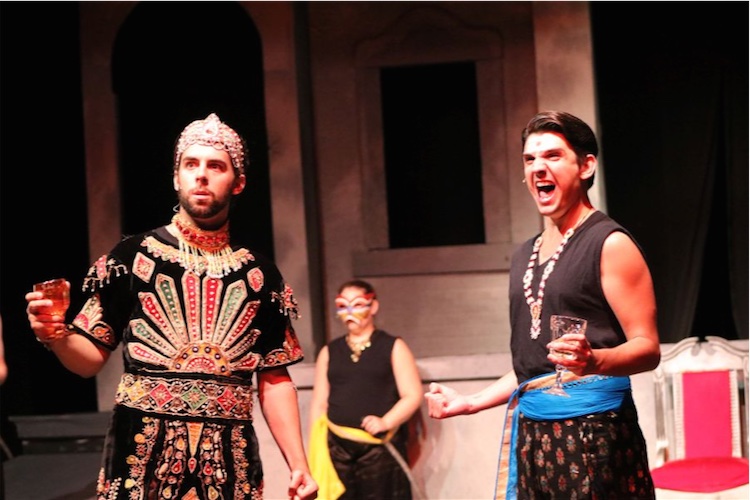 Ravana and his son Indrajit delight in their dastardly plans
Bringing the Ramayana to Life
The cast and crew's enthusiasm was evident in the resulting musical's premier shows this August. The production was a visual treat, with dramatic battle scenes, a choreographed dance, elaborate Vedic temple sets, colorful costumes and atmospheric lighting.
The actors hurled themselves into their roles, both in the dramatic scenes and humorous ones written with the help of professional devotee comedian Yadunath Das.
And the live musicians, playing piano, flute, percussion and keyboard added a whole new level of experience, integrating songs seamlessly into the narrative. "Welcome to Ayodhya," was a joyful piece by the residents of Lord Rama's city; "Shall I Stay or Shall I Go?" saw Rama expressing his internal dilemma about going on exile; and "Like the Mighty Wind That Blows" described the demon Ravana's evil plan to abduct Sita and kill Rama.
Meanwhile "Rama Laments for Jatayu," in which the Lord mourns the passing of an accomplice who tried to save Sita, was a special moment for Kripamaya – as it used that first melody he wrote back when he was twelve years old.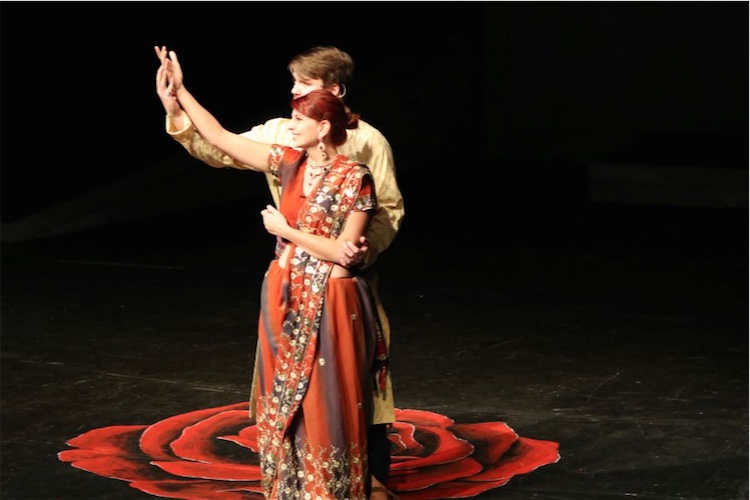 Rama and Sita
Making the Ramayana Accessible to an Unfamiliar Audience
One of Kripamaya's challenges was to make the ancient epic story of good versus evil accessible to a Western audience with no previous understanding of it, and to deliver its true spiritual essence within a short time.
This he did by weaving the power of Rama's name throughout the script.
"The play starts with all the actors 'asleep' on stage," Kripamaya says. "Then Hanuman, Lord Rama's eternal vanara servant, comes on, introduces himself and explains that he has been blessed to live as long as the Ramayana is sung. He tells the audience, 'Now let me wake up my sleeping friends with a melody that never ends,' and chants 'Sri Rama, Jai Rama, Jai Jai Rama,' until all the actors wake up, and the play begins."
To quickly explain the themes of the play, Ravana is introduced as the antagonist early on, a powerful demon who has found a spark of dharma ignited in the kingdom of Ayodhya by Prince Rama, and immediately wants to extinguish it.
The battle between good versus evil then gets underway, with the power of Rama's name continuing to appear as a theme throughout.
When King Sugriva and his vanara troops can't figure out how they'll cross over the ocean to Ravana's island fortress of Lanka, for instance, they discover that by writing Rama's name on boulders they can make them float and build a bridge.
And after the battle, when Ravana has been killed, Sita blesses Hanuman saying, "Wherever you chant Rama's name, you will bring joy into the hearts of men, and they will rise above the miseries of this world."
Hanuman then chants "Sri Rama, Jai Rama, Jai Jai Rama" again, and as at the beginning of the play, all the dead actors come to life.
"I had a respondent come from the Kennedy Center to evaluate the play, and he said, "That was a very powerful moment for me,'" Kripamaya grins. "He told me it made the drive out worthwhile!"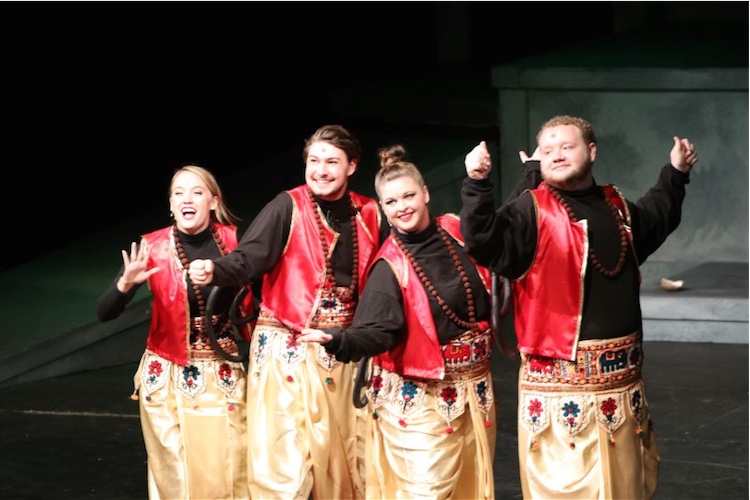 The vanaras sing 'Sarve Sukhino Bavantu'
Glowing Reviews
The production was impactful for many. "Over 400 students and professors came over the four days," says Kripamaya, "And one professor said she has been at West Liberty for forty years and never saw so many faculty come to a performance before."
Other academics traveling to Wheeling for the performance also commented. E Burke Rochford, professor of religion at Middlebury College in Vermont and a scholar of ISKCON for the past 25 years, called it "astounding."
Arnold Smith, Professor of Religion at Youngstown State University, Ohio, said, "Your Ramayana was quite wonderful. I know that Valmiki is owed a lot of the credit, but you have made the story come alive."
Meanwhile the cast themselves expressed what a meaningful experience it had been. "Working on this Ramayana has meant so much to me," said one student. Another encouraged Kripamaya, "Never give up – I can't wait to see how far you take it."
The Future
Sure enough, Kripamaya has high hopes for the future of his Ramayana musical, and bringing to a broad audience. He is currently submitting it to a musical theater festival in New York, plans to shop it around to theater producers in Pittsburgh, and wants to take it to India as part of the Indian government's cultural exchange program.
"I just feel extremely grateful to Srila Prabhupada and all the Vaishnavas – their dedication to Krishna consciousness is what gave me the dedication to follow through with this project," he says.
[
drama
] [
ramayana
] [
west-virginia
]