for ISKCON News on Dec. 21, 2018
The Lord's Holy Names continue to be chanted in every town and village, no matter how exotic or remote. Devotees on Réunion Island held their second annual Rathayatra in the city of St. Pierre on Saturday December 8th, summertime for the island.
The festival was small yet ecstatic, and was warmly received by locals.
Réunion, an island in the Indian Ocean, is a "department" of France. With a total population of about 800,000 people, its only spoken language is French.
ISKCON has been active in Réunion since the 1980s. There are about fifty practicing devotees, but no real ISKCON center. Many regular programs, however, are held in devotees' houses.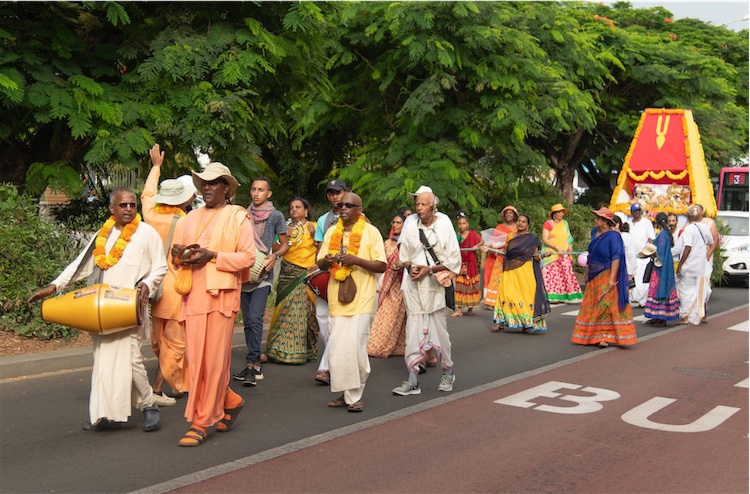 There are only fifty devotees on Reunion Island, but the held their own Rathayatra this year, intent on spreading the Holy Names
"There are two or three main cities in Reunion, about two hours apart, so it is not so easy for the devotees to get together," says GBC Bhakti Chaitanya Swami. "For many years the devotees had no contact at all with ISKCON outside Réunion, but now there is more contact, and they are very seriously following Srila Prabhupada and his standards."
About forty devotees from all over the island took part in the Rathayatra, which was organized by Dayanidhi Das and started at 2pm in Terre Sainte on the Southside of the city.
The parade, featuring a beautiful little homemade Rathayatra cart and recently donated full-size Jagannath, Baladeva and Subhadra Deities, crossed the city's main thoroughfare where people were doing their Christmas shopping, and ended on the Northside.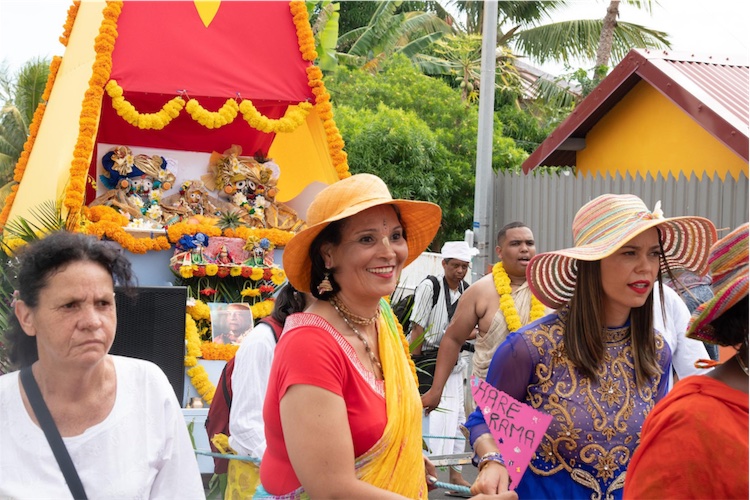 Devotees pull their brand new full-size Jagannath Deities in the Rathayatra parade
The parade lasted two hours and was brought to life by a rousing kirtan with mridanga, kartals, wompers and djembe drum. Among the chanters were Bhakti Chaitanya Swami and several devotees from Mauritius who had come to help, including sannyasa candidate Sundarlal Das; Kaunteya Das, who had given the Réunion community their new Jagannath Deities; and 16-year-old djembe virtuouso Nakula Das.
Hundreds of people saw the cart and the Lord of the Universe as they passed through.
"The response was generally very nice," says Bhakti Chaitanya Swami. "Many books – about 200 – and much prasadam was distributed on the procession. Hare Krishna is quite well known in Réunion, and many people greeted us and some sang along and walked a bit with us."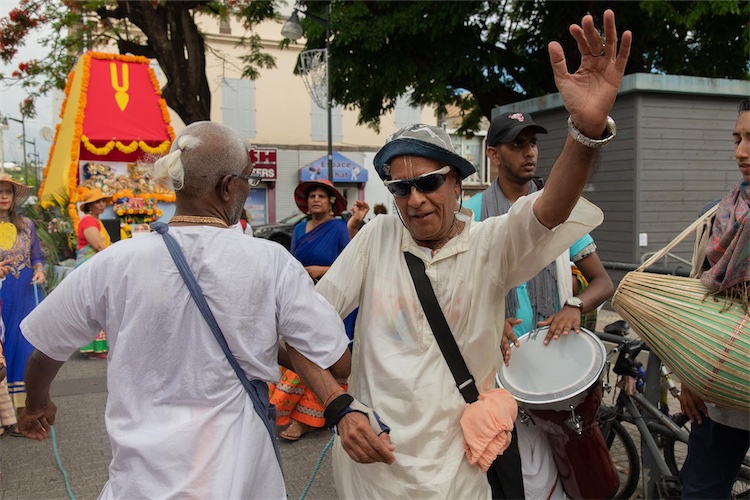 Reunion devotees dance with joy
At 5:10pm at the end of the parade, devotees arrived at a Tamil temple called Narasinga Peroumal, where they chanted in front of Deities of Lord Krishna, Lord Nrsimhadeva and Hanuman Ji.
AsRéunion Rathayatra is a small affair and does not yet feature a public festival after the parade, devotees went to the waterfront to have prasadam together upon leaving the temple.
Organizer Dayanidhi Das says that this year's Rathayatra was an improvement on last year's, with a better chariot and full-size Jagannath Deities rather than last year's small murtis.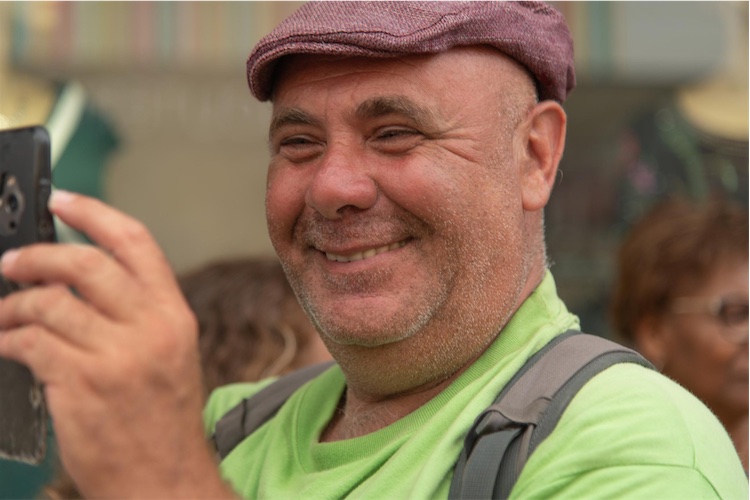 The Rathayatra was warmly received by delighted passersby, who snapped photos constantly
"We are already planning two Rathayatras for next year, one in December again and another one in June," he explains. "We hope to build an even better chariot, and will start the parade in a different place, at a large, green public park near the main street. We will finish in the park and then have kirtan, book distribution, prasadam distribution, and a talk for the public. We will then invite all people to the waterfront to have a big prasadam feast in the evening."
"We hope to improve our Rathayatra every year," he concludes.
[
island
] [
ratha-yatra
] [
reunion
]