for ISKCON News on April 5, 2019
Chatigram (Chattogram), Bangladesh, was blessed by the divine appearances of some of Sri Chaitanya Mahaprabu's important eternal associates such as Sri Pundarika Vidyanidhi Thakur, Sri Basudev Dutta Thakur, Sri Mukunda Dutta Thakur, Sri Dhananjaya Pandit, and so many other great souls.
Recently, with the divine blessings of their lordships Sri Sri Radha Madhava, Sri Jagannatha, Sri Baladeva , Sri Subadra Maharani, Sri Sri Goura Nitai and His Divine grace A.C. Bhaktivedanta Swami Srila Prabhupada ISKCON Nandankanan organized a 'Gaura Katha', a 3-day program for the second time at Chatigram's J.M.Sen hall.
Sri Jagannatha, Sri Baladeva , Sri Subadra Maharan of Chattogram.
Naru Gopal Das, GBC representative for ISKCON Bangladesh graced the grand occasion, and offered "Gaura Kathamrita" to all attendees. Along with him, Chinmoy Krishna Das President of ISKCON Pundarik Dham, Radha Govinda Da, President of ISKCON Cox's Bazar, Pandit Gadadhar Das President of ISKCON Chattagram, Nitai Gouranga Das, President of ISKCON Feny, Balaram Karuna Das Congregational Councilor of Chattogram and many other senior devotees marked the 3-day program with their auspicious presences. Altogether, nearly 1,500 devotees attended the event.
Later, enchanting kirtan was performed and delicious Krishna prasad was served among the devotees.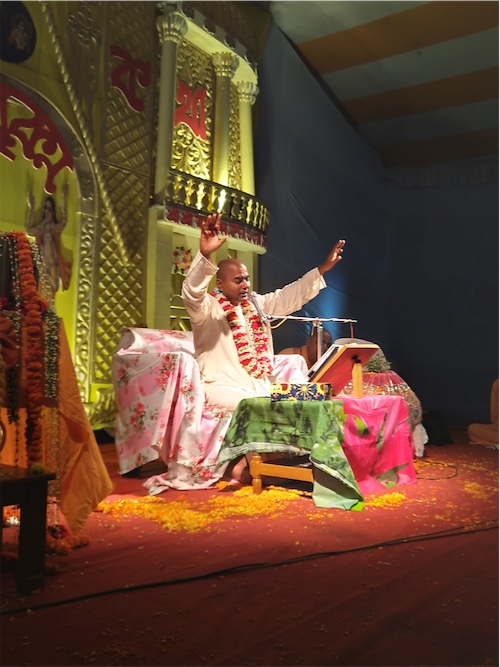 Naru Gopal Das on stage talking about the pastimes of Lord Chaitanya and his associates.
[
bangladesh
] [
caitanya
] [
gaura-katha
] [
gauranga
] [
mahaprabhu
]