Bhavatarini Devi Dasi, or Pishima as she was commonly known to the International Society for Krishna Consciousness (ISKCON) devotees, was the younger sister of Srila Prabhupada. Pishima departed from this world on March 13, 1980.
On Wednesday, April 7, 2021, ISKCON's Vaishnavi Ministry will honor Pishima's disappearance day with two guest speakers: Srutirupa Devi Dasi (ACBSP) and Ananga Manjari Devi Dasi (ACBSP) who were privileged to have Pishma's personal association. They will share sharing never-before-heard pastimes about Pishima's life, the exalted Vaisnava qualities that she displayed, and the example that she set for others around her.
Event: Remembering Pishima: An Exalted Vaishnavi
Date: April 7, 2021
Time: 10:00-11:30 PDT/ 13:00 - 14:30 EDT
Venue: Facebook Live - https://www.facebook.com/Iskcon-Vaishnavi-Ministry-748463408608318
Pishima, three years younger than Prabhupada was his intimate friend, childhood playmate, and constant companion in worshipping the Radha and Krishna deities that were gifted to Prabhupada by their father. Being raised in a staunch Vaisnava family, Pishima was unflinching in her faith in Krishna. "In 1948 when riots flared up between the Hindus and the Muslims in Calcutta, no one dared go out—except Pisima. Every day she walked alone through the deserted streets to the Radha-Krsna temple." (Bhakti Caru Maharaj, BTG 1980)
"Pishima would often invite family to her home, where she would have me lead kirtan and play mridanga. Thereafter she would preach strongly to her family members about Krishna Consciousness" Ananga Manjari Devi Dasi (ACBSP). She was fearless in her worship and preaching. She respected the system, honored sanyasis and senior devotees. In this traditional society where she was protected and her femininity blossomed and she was able to fully engage all her propensities in devotional service. She was a wife and mother, and she was a preacher, performed deity worship, and was a scholar of Vaisnava literature. "Srila Prabhupada told Bhakti Caru Maharaj that if he wanted to understand the Caitanya Caritamrita, he should ask Pishima as she knew it very well." Srutirupa devi dasi (ACBSP).
We hope that you will join us in honoring a pure Vaisnava. For more information about the Vaishnavi Ministry: http://vaishnaviministry.org/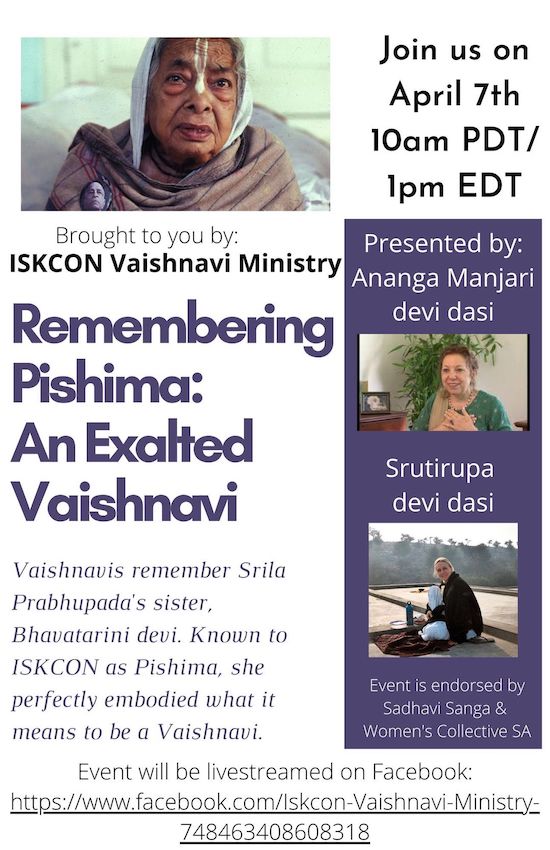 [
#ministry
] [
#pishima
] [
#vaishnavi
]